A Budding Industry
A Budding Industry
Stockton graduates cultivate careers in cannabis.
By Diane D'Amico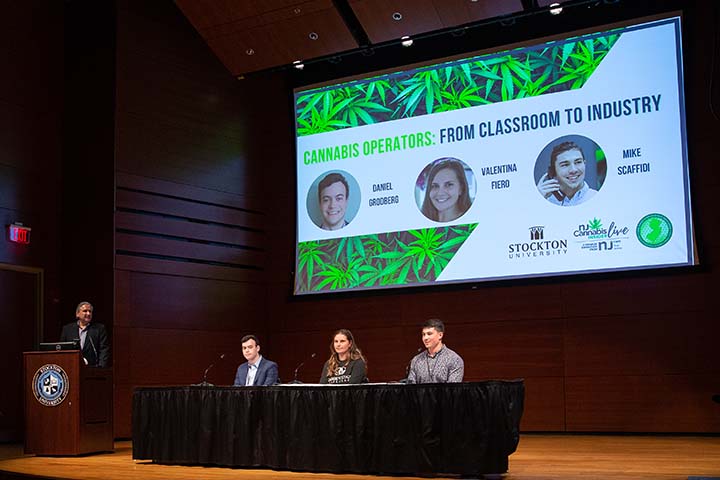 Daniel Grodberg majored in Business Studies.
Valentina Fiero majored in Environmental Science.
Michael Scaffidi was a Health Science major.
Jenna Misciascio was a Hospitality and Tourism Management Studies major.
The four recent Stockton graduates had very different majors, but all minored in Cannabis Studies and are now working in the cannabis industry in New Jersey.
Stockton launched the Cannabis Studies minor in Fall 2018 as talk of legalization grew in New Jersey. Recreational cannabis for those 21 and older became legal in the state in 2021, and more than 60 Stockton students have graduated with the minor and more than 100 are in the program now.
Program coordinator and Professor of Biology Ekaterina Sedia said the goal of the program is to give students the educational foundation they need to work in the industry. Courses include cannabis law, medical cannabis and an internship.
Stockton also offers an Online Cannabis Certificate for adults through the Office of Continuing Education and hosts a Cannabis Career Fair and Business Expo to connect students and alumni with representatives in the industry.
"We want to show people the possibilities beyond just dispensaries," Sedia said. "Through our research and education we can be a leader in academia and in assisting businesses and the community in adjusting to this new industry."
Graduates of the Cannabis Studies minor said it gave them an edge in an industry that is still in its infancy and often misunderstood.
Scaffidi started working in the Curaleaf medical dispensary while he was still a student. He is now a community outreach coordinator.
"When we were opening a site, I went to neighboring businesses to introduce us and met some people who were really against it," Scaffidi said. "I was so used to being around people who use it and benefit from it, it made me realize how much education is still needed in order to achieve destigmatization."
There is still plenty of stigma, and education is what will break that. You can come from any major and find a place in Cannabis Studies."
Fiero works in cultivation with Ayr Wellness, Grodberg is in insurance with Bennabis Health and Misciascio is in the hospitality industry with Bootleg Avocado and Happy Travelers Weed Tours.
All said the variety of students with different majors in their classes was an asset to the program.
"The minor really brought all of the different majors together," Fiero said. "There is still plenty of stigma, and education is what will break that. You can come from any major and find a place in Cannabis Studies."
Fiero said she used medical cannabis and got interested in the field when she saw how much it benefitted a friend with multiple sclerosis.
"I want to do hands-on plant work," she said. "To me, this is about how people will use it and benefit from it. This is my calling."
Scaffidi has also used medical cannabis and wanted to help others the way it helped him.
"The Cannabis Minor got me into the industry with a good base of knowledge," Scaffidi said.
Grodberg said the minor gave him background in different areas that has helped him in his current job providing insurance for individuals who use medical marijuana.
Misciascio works to make connections with people in the industry and develop tours that would incorporate cannabis.
"People are shifting and learning how to accommodate the legal industry," Misciascio said. "But you need to be flexible and adapt."
All of the graduates said continuing education will be vital as the industry expands and adapts to state regulations and public demand for different products.
The new Cannabis and Hemp Research Initiative at Stockton (CHRIS) is meeting the need for education and research with a quarterly series of panel discussions and events that address emerging issues. Adjunct instructor Rob Mejia said the initiative incorporated hemp to raise awareness and open up new opportunities for hemp-based products and services. New Jersey has guidelines for hemp cultivation, but the industry is still in its very early stages. Mejia sees opportunities for growers, processors, and manufacturers as well as sales.
Learn more about Stockton's School of General Studies here