50 Years of the Argo
50 Years of The Argo
Student newspaper chronicles Stockton, U.S. and world history.
By Laurie Melchionne '21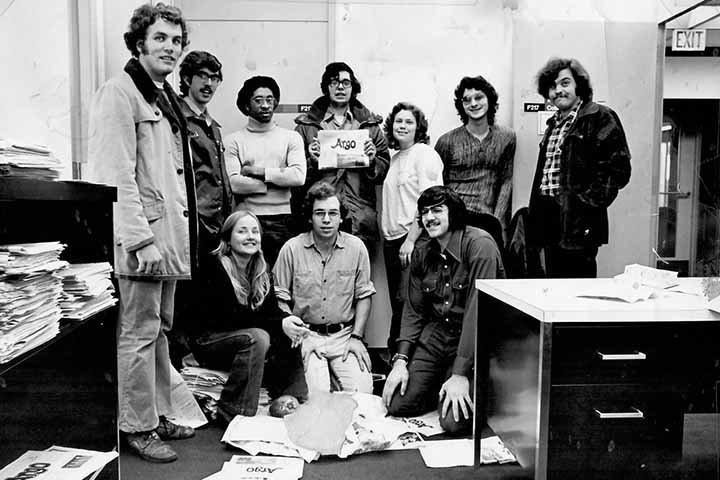 The following feature is excerpted from "50 Years of the Argo: Stockton's Legends of Journalism" published for Stockton Stories
T he Argo hit stands for the first time on October 29, 1971, but that's not what people called it when flipping through its pages. In fact, it didn't have a name at all. Dan McMahon, founder and first editor-in-chief, along with his initial team, wanted to leave the naming up to the community. In a contest featured in the first issue, students were asked to submit ideas. The eventual winner, however, wasn't a student, but Professor Demetrios Constantelos. Why out of all the other submissions did Constantelos' nod to Greek adventurer Jason and the Argonauts perk McMahon's attention?
It was simple, McMahon says: "I liked Greek mythology."
But that doesn't mean what followed was easy. In a recent interview, McMahon detailed the story of The Argo, its early days, and how his experiences at Stockton affected his career for the rest of his life. McMahon contributed a lot more to the paper (and to the college) than bequeathing its Hellenistic name.
"It was a tense atmosphere," said McMahon, describing the relationship between administrators and students/faculty in the early days of Stockton. "It very much felt like an us against them kind of thing."
It isn't hard to imagine the difficulties McMahon encountered when establishing the newspaper, while at the same time maintaining it as an independent, student-run publication that received its funding from the college. In the "tense atmosphere" that McMahon describes, there were many protests and strikes that followed Stockton's road to the Galloway campus, which was still under construction at the time the first semester rolled around in fall 1971.
Given this environment, McMahon and his friends realized that Stockton needed a medium through which students could share news with and from student voices.
He and his friends plastered flyers for their idea on the walls of the Mayflower Hotel. Did anyone want to see Stockton with its very own newspaper? Would an official publication hurry the college into becoming recognized state-wide—even nationally—by other well-known, competing schools? These questions would be answered in the meeting room of the Mayflower Hotel, where about thirty people showed up to plan.
Before the meeting, and before enrolling at Stockton College, McMahon had attended other schools, where he put his reporting skills to the test. Raised in Oaklyn, New Jersey, he went to high school at Collingswood High, where he got his feet wet at the school newspaper first as a reporter, then as a feature editor. After high school, he enlisted in the Navy during the Vietnam War, where he was stationed in Iceland as a radioman. Even overseas, the world of reporting fell easily into his lap. In the Navy, he would write messages in old type and used Morse code to put words together into sentences.
When he returned to the U.S., the GI Bill conveniently paid for his college education. He attended Camden County College, where he was an associate editor for their publication, Common Sense. He also worked for the Times Journal Daily, located in Vineland, New Jersey, as well as for the Press of Atlantic City, where he found a great mentor in then-editor in chief, Chuck Reynolds. Despite being a Literature major by the time he arrived at Stockton, he had made his interest in journalism abundantly clear.
This is probably why he felt compelled to see that Stockton had its own paper and that it was done right. Flash forward to that group of thirty people in the Mayflower meeting room: it was McMahon to speak first on the need for Stockton to have its own newspaper.
John Connors, one of his friends from Camden County College, had been listening in the audience when he stood up, faced the crowd, and proclaimed, "All those raise your hands who think Dan should be the editor."
Chuckling at the memory, McMahon told me, "And everyone raised their hands."
Read the rest of the Argo story here.
Listen to Laurie talk about her involvement with the Argo and its history from the radio extension of Stockton Now.
Learn more about Stockton's 50th Anniversary