Stockton News - Feb. 17, 2023
WHAT WE'RE TALKING ABOUT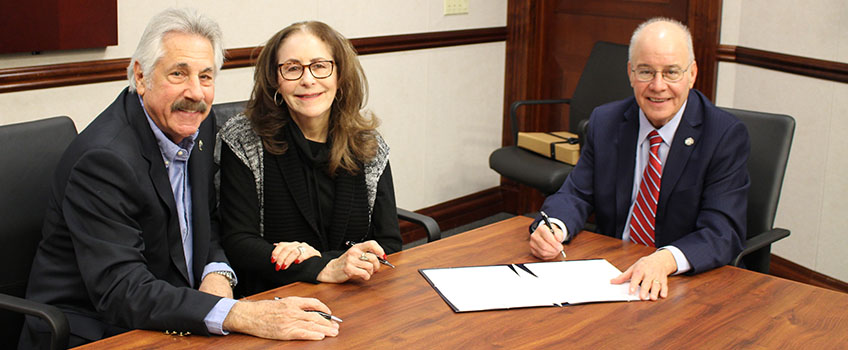 Donation Creates Scholarship for Holocaust Studies Students
Students studying the Holocaust at Stockton can benefit from the new Helen and Murray Fassler Memorial Endowed Holocaust Studies Scholarship.
Rita and Stuart Stromfeld, of Linwood, made a gift to the Stockton University Foundation in memory of Rita's parents, Helen and Murray Fassler, who were Holocaust survivors. The donation will support the Sara and Sam Schoffer Holocaust Resource Center Legacy Campaign for the Future for education and outreach initiatives and establishes an endowed scholarship for undergraduate students.
The Fasslers came to America from Poland and settled in Brooklyn, New York, and later Queens. They supported their family in America using their tailoring skills; Helen worked as a seamstress and Murray was a tailor.
---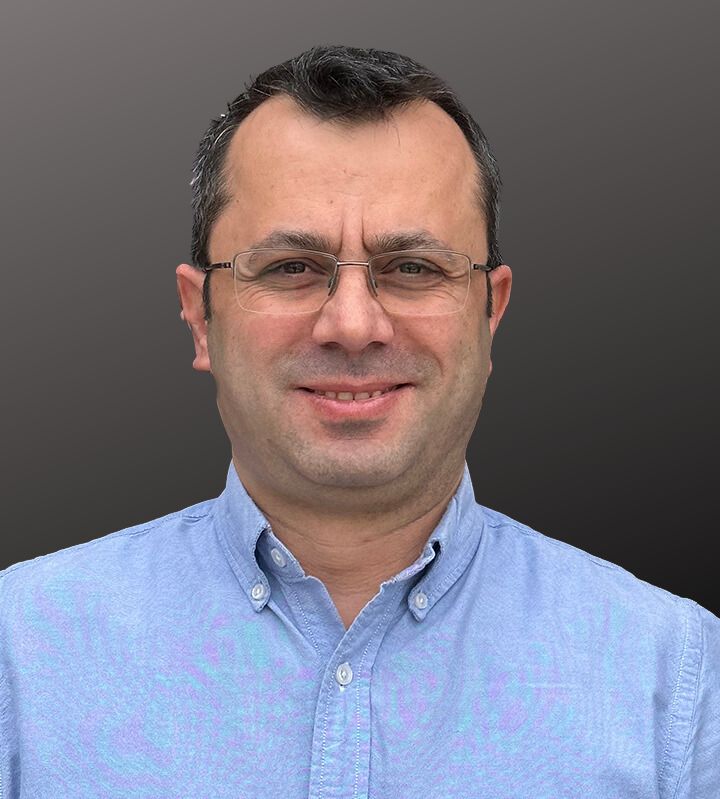 Research Looks to Examine Police-Community Relations
Police-community relations remain at the forefront of important discussions, news headlines and research. Stockton has partnered with local police departments through a U.S. Department of Justice $702,956 grant, and data is now being collected to examine and raise awareness about this topic.
The EPJETS project (Enhancing Procedural-Justness of Encounters Through Substantiation) is an initiative with the University and the Atlantic City and Pleasantville police departments that will assess whether releasing body-worn camera footage of police-citizen interactions, using procedural justice scripts, and providing citizens with evidence of why agencies conduct traffic stops at certain locations (identified through Risk-Terrain Modeling) improve police-community relations and affect citizens' attitudes toward police.
The data started being collected in October 2022, and since then, there have been a total of 250 random traffic stops.
"What is unique about this program is we are sharing the interaction footage with the people who are stopped," said Stockton Assistant Professor of Criminal Justice Nusret Sahin, the lead investigator on the project.
---
Two Events Highlight 'Weekend in the Pines' at Stockton
Gain a new appreciation for the beauty of the Pinelands National Reserve during a "Weekend in the Pines" on March 11 and 12 at Stockton.
The weekend kicks off Saturday, March 11 with the 34th annual Pinelands Short Course. The daylong event will feature 28 presentations, including 21 new programs that will explore the region's unique history, ecology, culture and music.
"Stockton University is thrilled that there are so many new educational programs at this year's Pinelands Short Course," said Leamor Kahanov, provost and vice president for Academic Affairs. "We are especially excited about the presentation featuring our thriving Stockton Maple Project."
STOCKTON UNIVERSITY ATLANTIC CITY
Continuing Studies Adds In-person Seminars for Social Workers
Stockton's Office of Continuing Studies and Adult Education is expanding its Social Worker Continuing Education Program this spring to include more in-person seminars.
"For the past two-and-a-half years, we have offered distinctive online courses for the mental health community, and now are ready to provide more in-depth classroom-based training," said Diana Strelczyk, assistant director of Continuing Studies and Adult Education
The first in-person workshop is designed for social workers and mental health professionals and will focus on defining Ethical Non-Monogamy (ENM), learning the differences between ENM and polyamory relationships, and help social workers identify the clinical applications and resources for working with their patients in ENM relationships.
WHAT'S TRENDING

@ #STOCKTONU

Instagram: When you go off to college & your family comes with you... 💙💛
Twitter: Who else is ready for spring?
Facebook: Decoys are a main character in the story of the Noyes Museum of Art of Stockton University.
FROM THE SIDELINES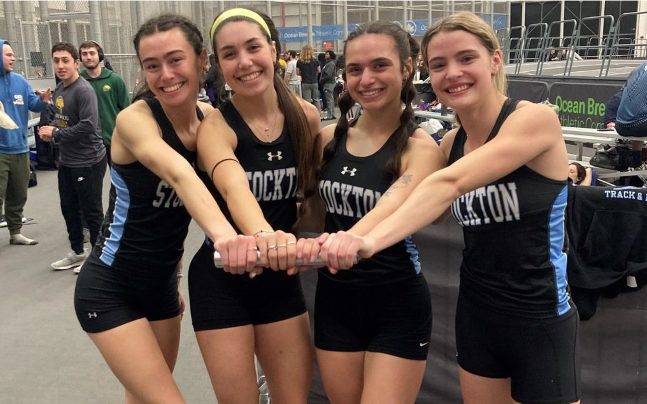 Stockton Sets Two Records at Big Apple Invitational
The Stockton track & field team set two school records and narrowly missed a third on Feb. 11 in the Big Apple Invitational at Ocean Breeze Athletic Complex. The meet included teams from all three NCAA divisions.
Lauren Maldonado and a trio of freshmen, Kayla Kass, Emma Conroy and Emma Petrolia broke the six-year-old school record in the 4x400 relay by just under two seconds with a time of 4:00.57.
The quartet finished fourth out of 18 teams and was the only Division III unit that placed in the top 10.
---
Four Ospreys Qualify As NFHCA Scholars Of Distinction
Four Stockton field hockey players were recognized as NFHCA Division III Scholars of Distinction by the National Field Hockey Coaches Association. The requirement for the honor is a cumulative grade point average of 3.90 or higher through the Fall 2022 semester.
The quartet consisted of senior Rhian Freire, junior Hannah McKensie and freshmen Miana Alessandroni and Elizabeth Connors.
---
🗓️ View the full schedule of upcoming athletic events here.
OSPREY NOTES

Tune into the February episode of Stockton Now at 11 a.m. on Saturday, Feb. 18 on 101.3 FM, 101.9 FM or 1310 AM. The episode will also air on WLFR Monday afternoon. This month's episode includes conversations with
Ian Marshall
, dean of the School of Arts and Humanities, on his vision for ARHU;
Tierra Houston
, program coordinator, and
Van Nhi Ho
, graduate coordinator, discussing upcoming programming at the Women's, Gender and Sexuality Center; and
Aiysha Lee
, assistant director of Alumni Relations, talking about the new alumni clubs.
If you missed previous episodes, you can listen online at the Stockton Now
archive page
.
---
REMINDER: No Holiday Schedule Next Week
Please be reminded that on Monday, Feb. 20 (President's Day), the University will be open for regular work hours and will follow a nonholiday workweek schedule.
---
Priority Deadline March 1 for FAFSA
Get it done by March 1! Did you know that some financial aid programs, including Federal Work Study, have limited funding? Please encourage your students to file their 23-24 FAFSA by March 1 to be considered for all programs with limited funding.
Students can file at fafsa.gov by logging in with their FSA ID and Password. For more information as well as helpful tips and tricks, visit stockton.edu/fafsa
UPCOMING EVENTS
Spring Professional Development Opportunities
🎭 Spring Programming at the PAC
📅 February is Black History Month
Now-May 31: "The Armenian Genocide, One Family's Story" exhibit
Feb. 17: The World-Famous Harlem Gospel Choir
📖 Feb. 21: Stephen Dunn Reading Series: Nathan Long, Nancy Reddy, Michelle Servellon, & Jenna Geisinger
Feb. 22: Multicultural Center Grand Opening, Leadership Game Plan for Workplace Wellness course
Feb. 28: Black Men in Tech
March 2: Criminal Justice Lecture series
🩰 March 2-4: Spring Dance Concert
March 6: Terminate Hate with Arnold Schwarzenegger
🌿 March 10: Destination Cannabis webinar
March 11: 34th Annual Pinelands Short Course, Shirat Hayem Speaker Series
🍀 March 18: Tartan Terrors