Donation Creates Scholarship for Holocaust Studies Students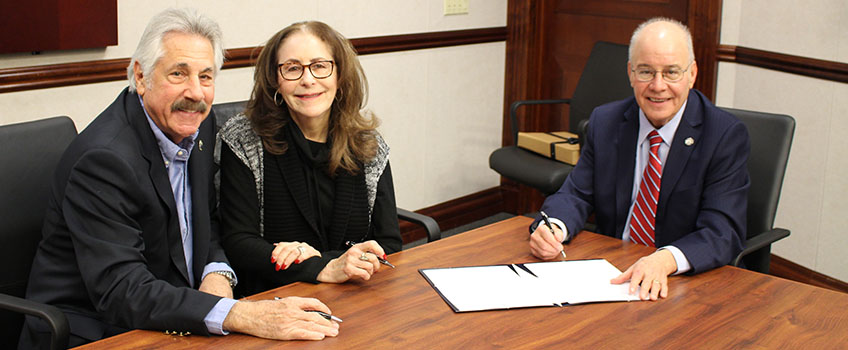 Galloway, N.J. — Students studying the Holocaust at Stockton University can benefit from the new Helen and Murray Fassler Memorial Endowed Holocaust Studies Scholarship.
Rita and Stuart Stromfeld, of Linwood, made a gift to the Stockton University Foundation in memory of Rita's parents, Helen and Murray Fassler, who were Holocaust survivors. The donation will support the Sara and Sam Schoffer Holocaust Resource Center Legacy Campaign for the Future for education and outreach initiatives and establishes an endowed scholarship for undergraduate students.
I realized the only way my granddaughter would know her great-grandmother was if I told her stories.
The Fasslers came to America from Poland and settled in Brooklyn, New York, and later Queens. They supported their family in America using their tailoring skills; Helen worked as a seamstress and Murray was a tailor.
Helen and Murray often shared stories with their daughters, Rita and Blanche, about their challenges during the Shoah and the lessons they learned. In the fall of 2022, the sisters published the book "My Mother's Words," which includes a compilation of the stories as remembered by Rita, Blanche and friends.
"I realized the only way my granddaughter would know her great-grandmother was if I told her stories," Rita Stromfeld said, recalling how she first wrote the stories on a yellow notepad, never expecting she would go on to publish the book with Stockton. The book is now being used at Stockton and in local high school classes.
"What you are doing here, providing the opportunity for students to learn and transfer that knowledge about the Holocaust to others, is the perfect antidote" to misinformation in the public realm, President Harvey Kesselman said. "We are eternally grateful."
The Stromfelds have philanthropically supported the Foundation, specifically the Sara & Sam Schoffer Holocaust Resource Center, since 2018.
The Stockton University Foundation scholarship program is supported by Stockton alumni, faculty, staff, parents and community members. Gifts are welcomed to honor loved ones, build existing scholarships or create new opportunities. For more information, contact the Stockton University Foundation at (609) 626-3546 or stockton.edu/foundation.
# # #
Media contacts:
Stacey Clapp
Director of Strategic Communications
Stacey.Clapp@stockton.edu
609-626-3645
609-412-8069
stockton.edu/media


Mark Melhorn
Associate Director of News and Media Relations
Mark.Melhorn@stockton.edu
609-652-4593
609-569-6026
stockton.edu/media