Stockton News - Friday, Dec. 21, 2018

WHAT WE'RE TALKING ABOUT
Celebrate Stockton University's "Best of 2018 & now"

The Fall/Winter 2018 edition of Stockton Now, the University's e-zine, is now available and highlights the "Best of 2018" stories and photos.
---
Students Help Build Esports Teams for 2019 Competitions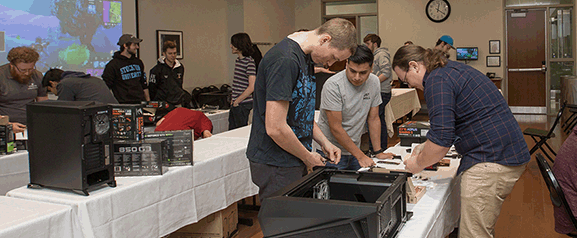 Stockton University students will compete in collegiate esports competitions beginning in the spring 2019 semester.
An initial meeting to discuss the teams attracted more than 60 students. On Dec. 12 some 30 students worked in small groups to build several of the specialized machines that will be set up in the esports facility.
The meeting gained media attention from SNJ Today, CBS Philadelphia and the Press of Atlantic City.
---
50th Anniversary Website Launched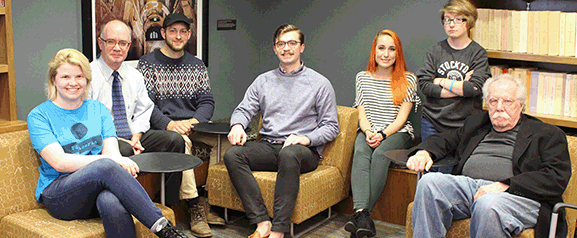 The "Stockton Stories" website is live and will include historical information for Stockton's 50th anniversary of teaching in fall 2021.
Co-Chairs of the commemoration project, Thomas Kinsella and Ken Tompkins, along with student interns, presented the first projects on the website in December.
Every semester, new information regarding Stockton's history from the last 50 years will be added. All historical materials derive either from archives or contributions from alumni, faculty, staff and community members.
---
Ebola Lecture a Family Issue for Pre-Med Student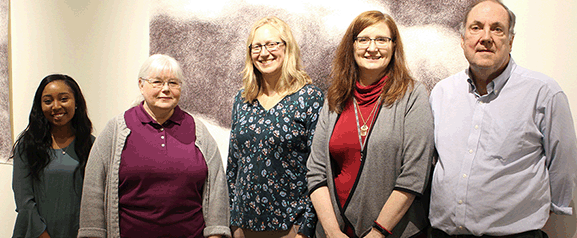 The Ebola virus may seem like an illness that doesn't affect Americans. But a lecture by Dr. Catherine Bolten touched very close to home for Stockton student Wilhemina Kennedy.
Born in Liberia, Kennedy's mother was from Sierra Leone. Kennedy came the United States with her family when she was four years old, and grew up in Galloway Township. But family members remained behind, and some were lost to the deadly virus, including a cousin who was a medical student.
---
Stockton Joins Age-Friendly University Network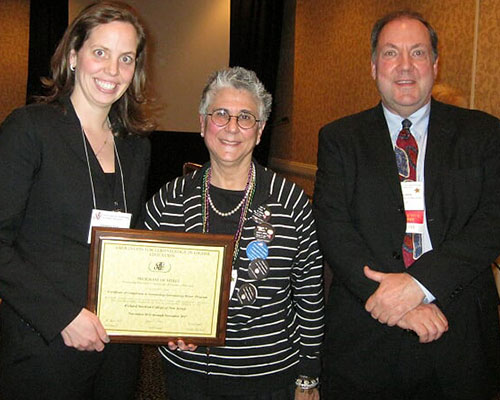 Stockton University has joined the Age-Friendly University Global Network, a consortium of higher education institutions which agree to support its 10 principles to becoming more age-friendly in programs and policies.
STOCKTON UNIVERSITY ATLANTIC CITY
Shuttle Departure Times during Winter Break
The shuttles between Stockton University Atlantic City and Galloway campus will be operating on a reduced schedule during Winter Break. The schedule for this period, (Wednesday, Dec. 19-Sunday, Jan. 13) is below. Please note the shuttles will not be operating on Tuesday, Dec. 25 or Tuesday, Jan. 1.
Atlantic City: 9 a.m., noon, 3 p.m. and 6 p.m.
Galloway: 10:30 a.m., 1:30 p.m., 4:30 p.m. and 7:30 p.m.
SPOTLIGHT ON
High Recognized at Atlantic City City Council Meeting on Dec. 12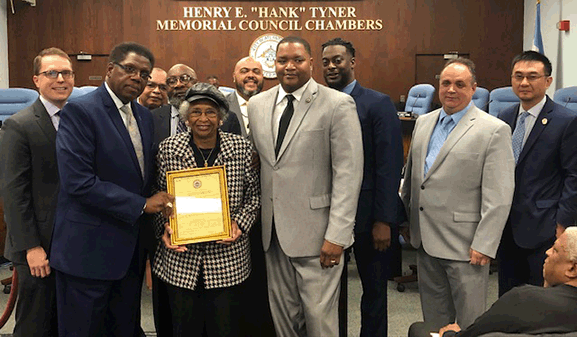 Juanita High, retired administrator and Foundation Board of Directors member at Stockton, was recognized with a special resolution acknowledging her role and leadership related to the 50th anniversary of the EOF program at the Dec. 12 Atlantic City City Council Meeting. High is also a member of the Council of Black Faculty & Staff at Stockton.
High recently received a Special Recognition Award presented by Brian Jackson, chief operating officer of Stockton Atlantic City, at the 37th annual Council Awards Dinner & Dance on Nov. 9 at the Carriage House.
---
Howard Bacharach Scholarship Foundation Establishes Endowment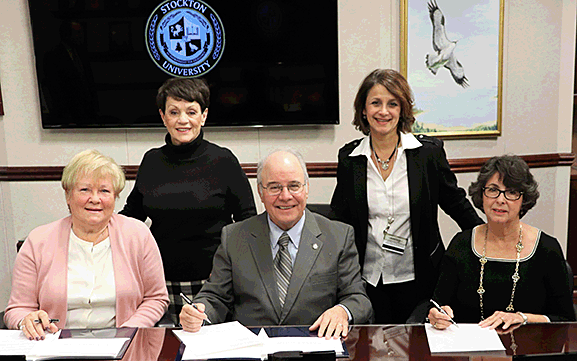 The Howard Bacharach Scholarship Foundation has established an endowed scholarship for hospitality, tourism and culinary students at Stockton University.
Bacharach's wife, Ronnie, and Maureen English, vice president of the foundation, presented a check for $26,000 to Stockton President Harvey Kesselman and Chief Development Officer Daniel Nugent at the Scholarship Recognition Dinner Nov. 7.
PHOTO: From left, Ronnie Bacharach, widow of the late Howard Bacharach; Maureen English, vice president of the Howard Bacharach Scholarship Foundation; Stockton University President Harvey Kesselman; Donna Albano, associate professor of Hospitality and Tourism Management Studies; and Johanna Johnson, chair of the Stockton University Foundation, attended a brief signing ceremony Dec. 17, to formally establish an endowed scholarship for hospitality, tourism and culinary students at Stockton University.
---
NJECC Sweepstakes Winner: Lori Tomaro
Congratulations to Lori Tomaro, assistant coordinator of Field Education in Social Work, for winning last week's Stockton New Jersey Employees Charitable Campaign (NJECC) sweepstakes. Tomaro "made a wave" and was rewarded a $100 gift card to Macy's and a $20 gift card to Casciano's Coffee Bar in Hammonton.
The statew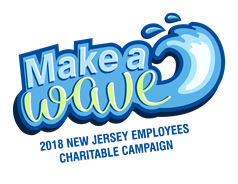 ide campaign runs through Monday, Dec. 31. Every week, all Stockton employees who have donated through the campaign will be put into a drawing for a sweepstakes prize.
If you plan to make a gift through payroll deduction, you can register and donate through the NJECC online giving portal or fill out a paper pledge form. If you plan to make a one-time donation, please fill out a paper pledge form. Email stocktonnjecc@stockton.edu or stop by Human Resources (J115) to request a paper pledge form. *All donations received after Monday, Dec. 17, will not have deductions start until the second pay period in January.
FRAME-WORTHY
Holiday Gift Drive Helps Nine Families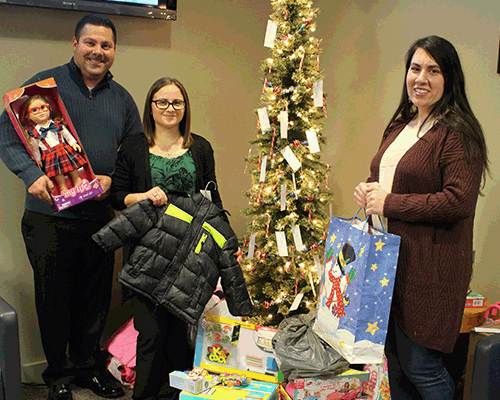 The student staff at the Stockton University Office of Event Services and Campus Center Operations coordinated with the Atlantic City Rescue Mission for a campus-wide Angel Tree drive to support nine families assisted by the Rescue Mission. Donors provided toys, jackets and other requested items. Pictured, from left, are Associate Director Joe Lizza, facility coordinator Maria Gallo, and graduate student Taylor McKay, who coordinated this year's drive.
---
Gingerbread House Competitions Winners Announced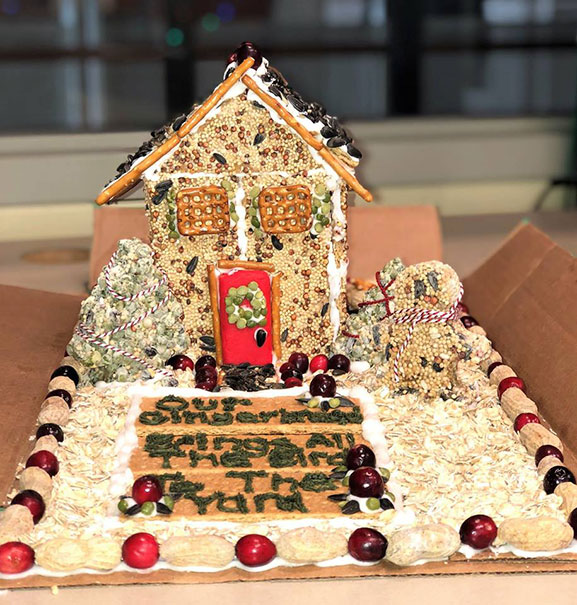 The Office of Financial Aid would like to thank all participants and those who voted in the Fourth Annual Gingerbread House Contest. The talents of the many offices are boundless, and this year's submissions were the best yet. We had a record breaking number of votes, breaking 10,000 for the first time ever! First place went to Student Development, and the Dean of Students received the Sponsor's Choice Award. Congratulations to the winners and all who participated!
WHAT'S TRENDING #STOCKTONU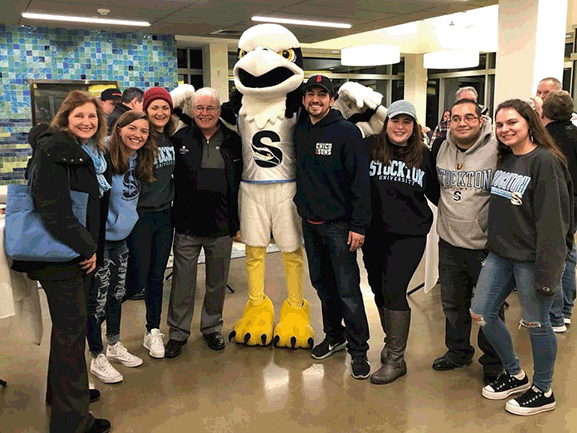 Facebook: Stockton Atlantic City hosted more than 100 students at the Taste of Atlantic City Tailgate Party before heading to Boardwalk Hall to watch Stockton's men's basketball team top Kean 76-72 on Dec. 14. Students enjoyed pizza from Tony's Baltimore Grill, subs from Chico & Sons and cannolis and biscotti from Formica Brothers Bakery. President and Mrs. Kesselman and Talon joined the students. Go Ospreys!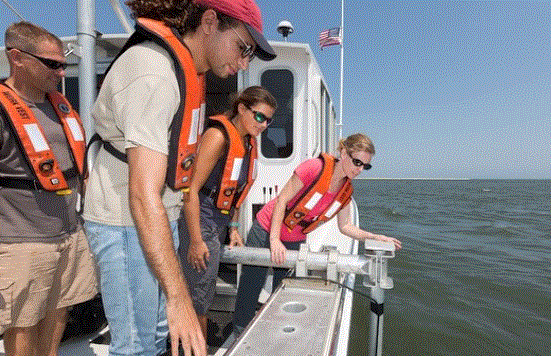 Instagram: This year, @usgs charted #StocktonU's research vessel, the R/V Petrel, to map Little Egg Inlet. In the new year, Anna Pfeiffer-Herbert, assistant professor of #MarineScience, will continue her research that expands on the mapping work to describe how water flows through the inlet. A photo story is also posted about it.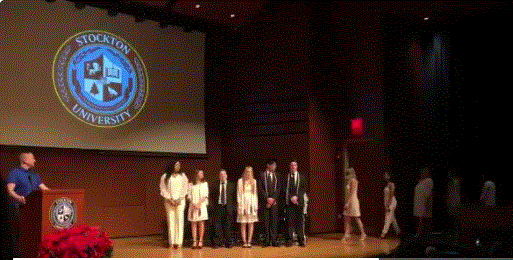 Twitter: The Pinning Ceremony for the 2018 Bachelor of Science in Nursing students was held on Dec. 14.
OSPREY NOTES
Strategic Planning Feedback Reminder
Don't forget to provide your feedback for the Institutional Strategic Plan before Stockton pauses for the holiday break, by clicking the Questions and Feedback link on the Institutional Strategic Plan website or send an email to StrategicPlan@stockton.edu.
---
Take the Stockton University ADA Campus Survey
The Stockton ADA-Rehabilitation Act Steering Committee is conducting a survey to gauge campus understanding of the services and practices that help to make our physical and online campus a welcoming environment for all. The University community is invited to take the survey.
FROM THE SIDELINES
Stockton Men's Soccer Team 'Signs' 13-year-old with Cystic Fibrosis
The Stockton University Men's Soccer team gained a new member on Dec. 15, 13-year-old Ryan Hamilton who has cystic fibrosis. Team IMACT, a nonprofit that matches children with serious or chronic illnesses with college athletic teams, coordinated the event with the soccer team. Hamilton will have the opportunity to go to practices, attend games and participate in other team events. The Press of Atlantic City posted a feature about the inspiring story.
---
Ospreys Set Record, Wins ECAC Championship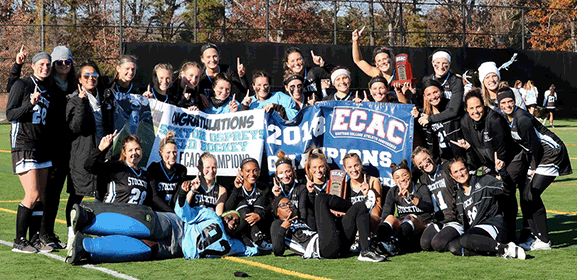 The Stockton field hockey team had a record-setting 2018 season and capped it off with the school's first-ever postseason championship. The squad captured the ECAC Division III title in dramatic fashion, scoring the game-winner in overtime, and set school records with 15 wins, a 1.18 goals against average and nine shutouts.
UPCOMING EVENTS
Monday, Jan. 14 – Spring classes begin.
---
Monday, Jan. 21 – Join us to make a difference at the 15th Annual Martin Luther King Jr. Day of Service
SEASON'S GREETINGS FROM STOCKTON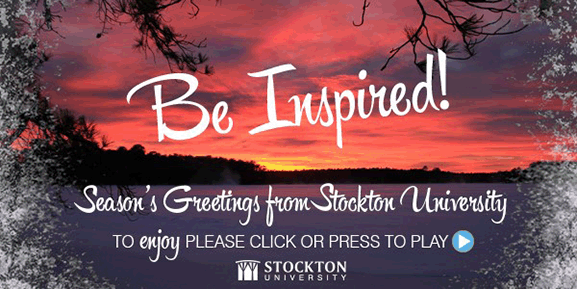 In case you missed it, get inspired by watching Stockton University's Season's Greetings holiday card.
Wishing everyone a great winter break and Happy New Year! Stockton News will return on Friday, Jan. 4.