Preferred Name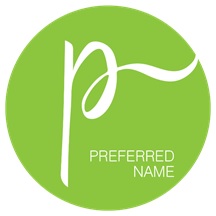 Stockton University recognizes that some of its students use a name other than their legal name to identify themselves. To encourage a more open and inclusive campus environment, Stockton allows students to use a first name different than their legal first name on certain university records. The goal of this service is a consistent preferred name experience across University systems and use of a preferred name wherever a legal name is not absolutely necessary.
Click here to request to complete a preferred first name change within specific university records. Please note that changing your preferred name for certain records does not change your legal first name with Stockton University.
Below is a listing of all the areas in which your preferred name will appear (once changed) and areas in which your legal first name will still appear. *There are certain self-select registration systems on campus in which a student would need to personally update their preferred name.


Preferred First Name Will Appear
Alumni records
Athletic team lists
Blackboard
Class rosters
Commencement programs
Dean's list
Degree Audit
Diploma
Emergency contact lists
Faculty advisee lists
GoPortal online directory
Library records
Residence life rosters
Student ID card (provided you request one from student records)
Legal First Name Will Appear
Financial aid & billing records, including communication
Official transcripts
Paychecks and paystubs
Registrar's office records
Study Abroad – travel forms
Time entry system
Transfer credit evaluation
Tax records



Stockton reserves the right to remove a preferred name if it contains inappropriate or offensive language, or if the name is being used for misrepresentation. Any review would be conducted by the Care & Community Standards Office.
For questions, please contact Laurie Dutton at WGSC@stockton.edu