Two-Factor Authentication (Duo)
Networking and information technology allow us to improve our reach and efficiency, but with great power comes great responsibility. Cyber criminals often target large organizations like Stockton with phishing scams and social engineering, 2-Factor Authentication is currently the most powerful defense available against these attacks, and Stockton University is leveraging the Duo Security platform to enable easy and non-intrusive 2-Factor Authentication across secure services such as Banner and E-mail.
To begin, download the Duo Mobile App for your smart phone. Although the Duo Security platform has multiple ways to provide a second authentication factor, we recommend using the Duo Mobile app for IOS and Android for the best experience.
On your Android device open up the Google Play store and search for "Duo Mobile". It can also be found here.
Tap "install" to start the applicaiton installation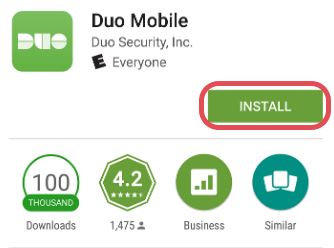 To perform the next step, your account will have to already be enrolled in Duo. If you're installing the application prior to your previously specified enrollment date please wait until prompted by the Stockton Go Portal to begin your enrollment.
If your account has already been enrolled open a web browser on your computer and navigate to the Stockton goPortal at https://go.Stockton.edu to login to your account by clicking on the "Login to goStockton Portal".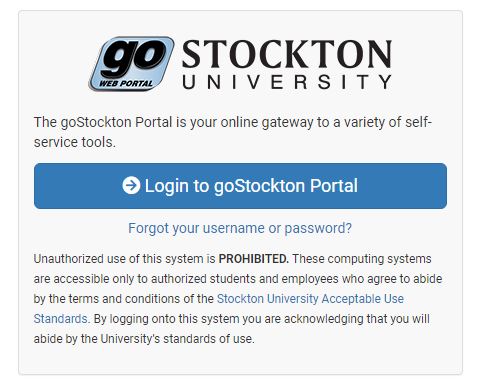 After entering your username and password you will be prompted by Duo to enroll in 2-Factor Authentication click on the "Start Setup" button and choose the setup option "Mobile phone".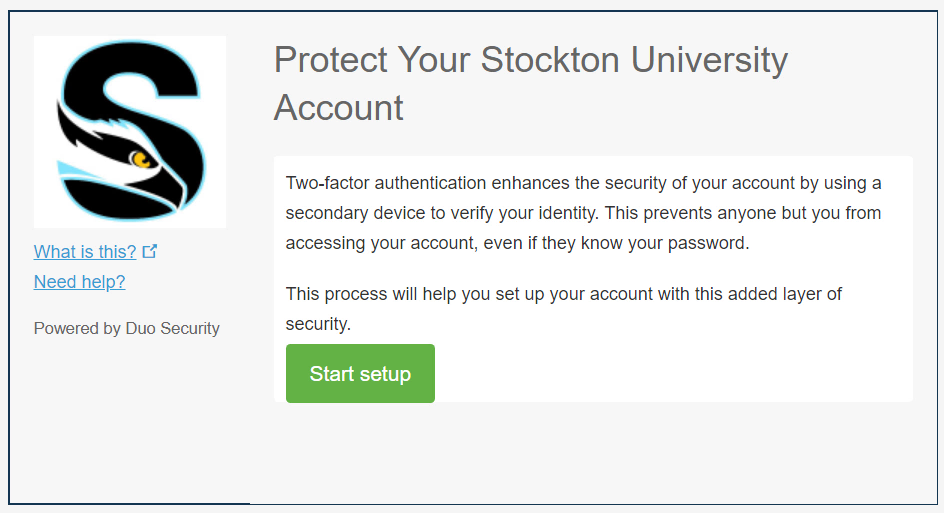 Next, select the setup option "Mobile phone".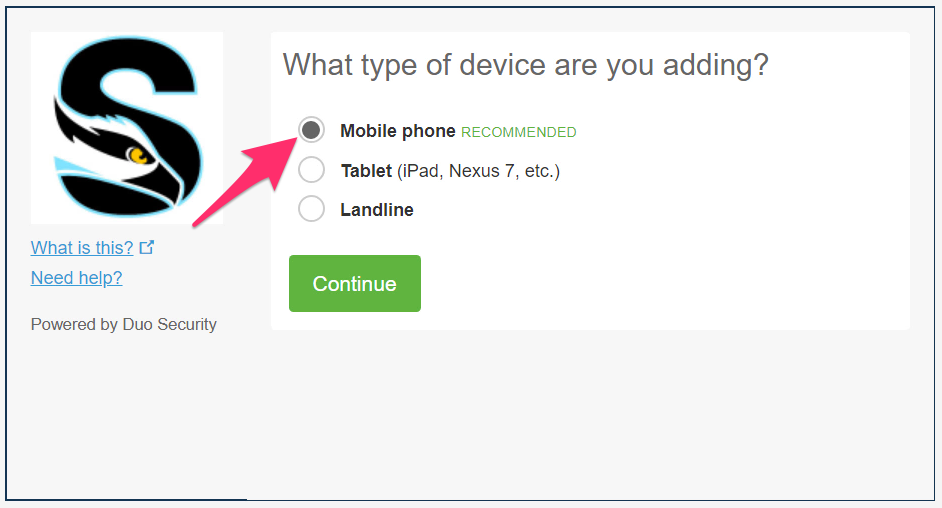 Enter the phone number of the device you're enrolling in 2-Factor Authentication, make sure to check the confirmation box that your phone number is correct.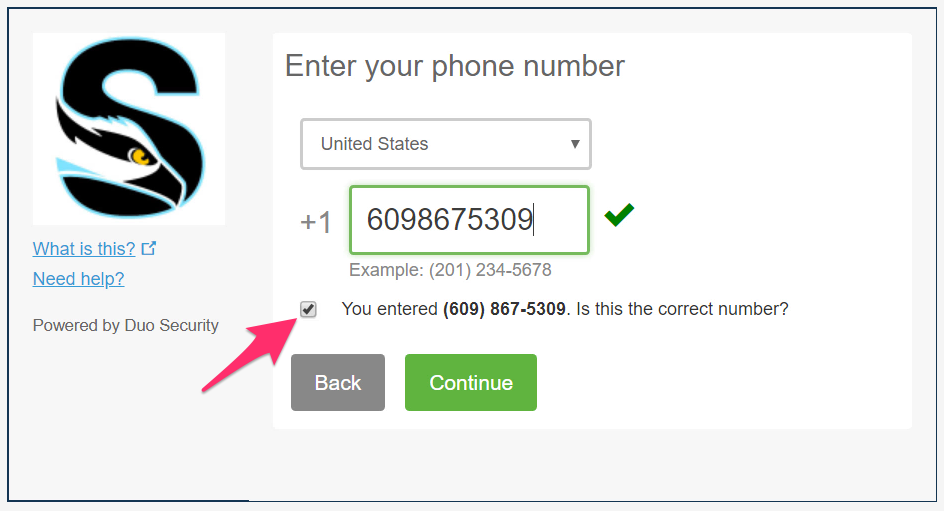 Select a device type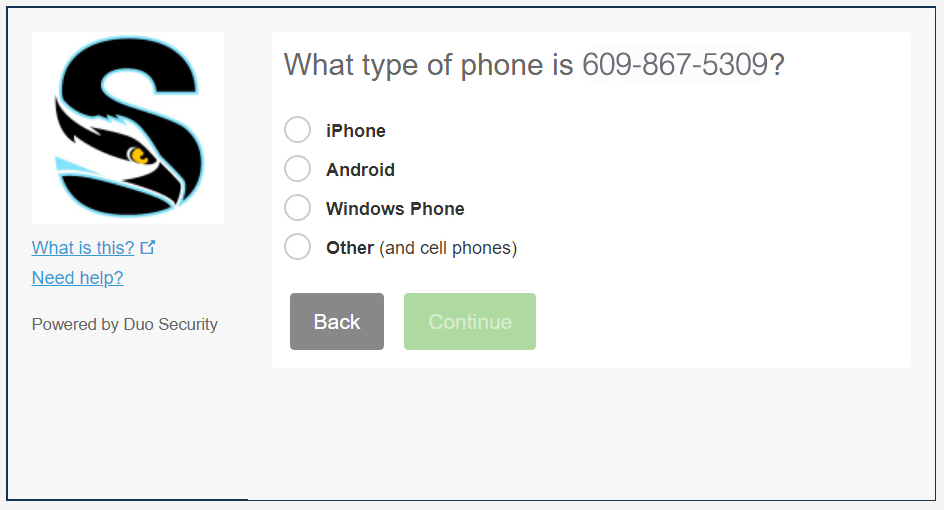 Depending on the device you'll be using to enroll in 2-Factor Authentication, follow either the Android or iPhone instructions below. If selecting "Other" you'll receive the option of either receiving a phone call or a text message passcode to authenticate.
Launch the Duo Mobile app, then tap on the "Add Account" button to open up your camera and scan the QR code on your computer screen.
Launch the Duo Mobile app, accept the license agreement, then tap on the plus icon (+) button at the top-right of your phone screen to open up your camera. Scan the QR code on your computer screen to proceed.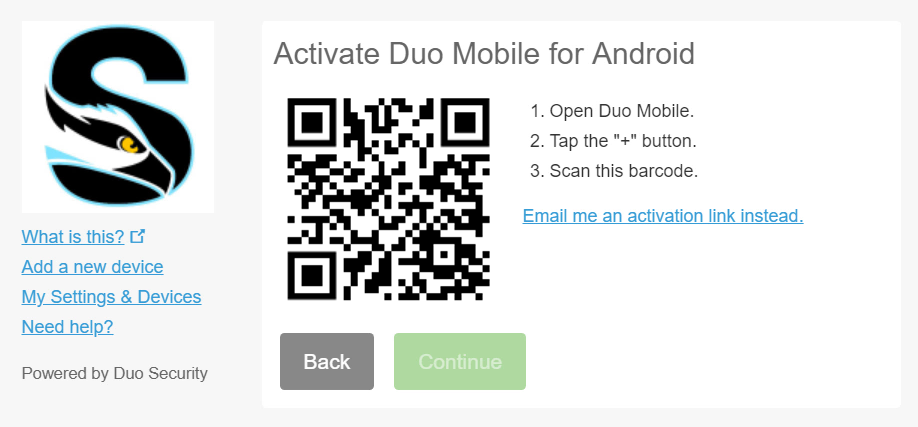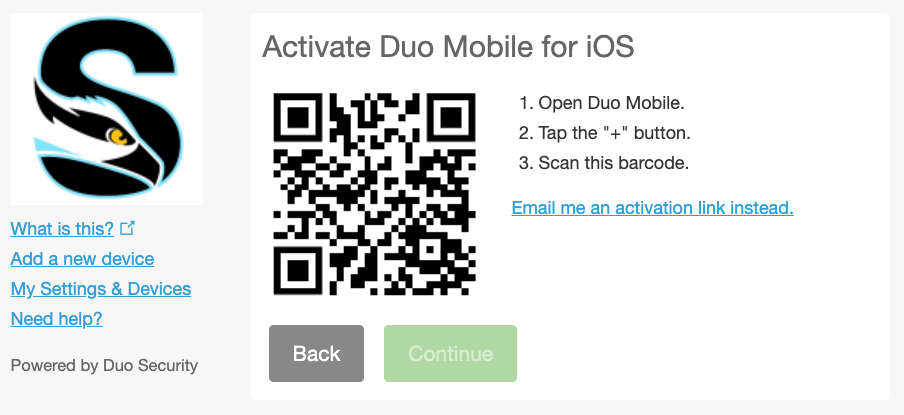 If your scan was successful, you should see a green check mark appear over the QR code. Click Continue to proceed.
Choose an authentication method to proceed with logging in to your account, you may check the "Remember me for 30 days" box to remain authenticated with Duo for 30 days.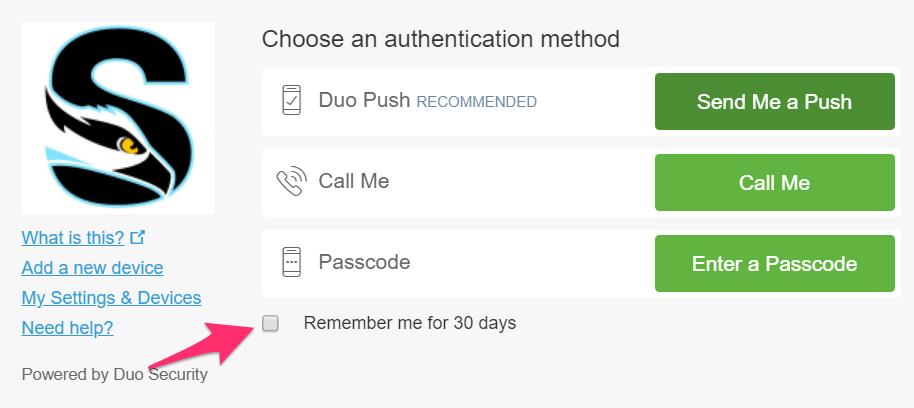 If using "Send me a Push" Duo will create a notification on your phone when you attempt to log into a secure service.

Tap the green button to approve your login attempt.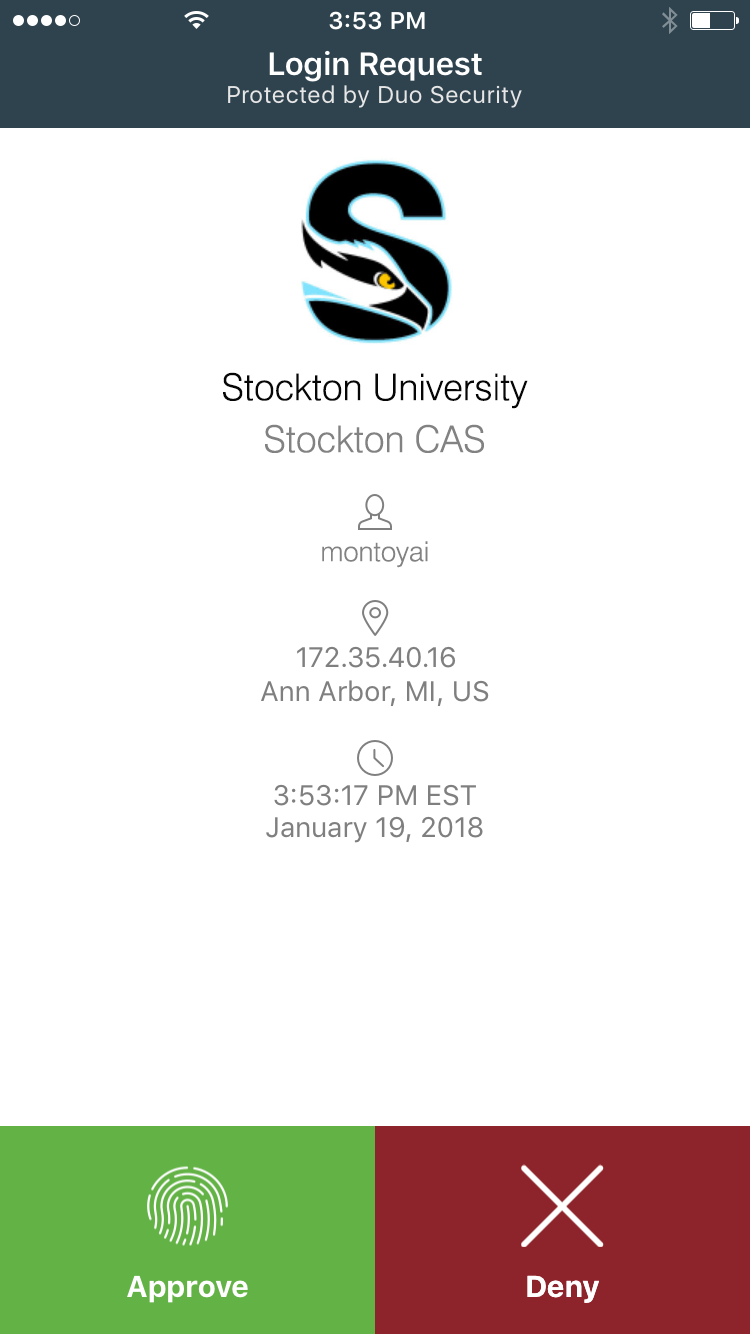 If you experience any issues enrolling with Duo 2-Factor Authentication, contact the IT Services Help Desk at 609-652-4309.
If you do not wish to install the Duo mobile app on your smartphone, there are several alternative options:
Text message (SMS): A text message with a one-time use code is sent to your phone.

Voice call: A call will be made to the number on file. Press 1 to accept, press # to report a fraudulent authentication attempt.

Hard token: A small physical device that you carry around. Press the button and it generates a one-time use code.
If you previously enrolled your phone with the Duo app and would prefer to use only the voice/text options, simply uninstall the app from your device and choose the desired option (SMS or voice) next time you're prompted for a second factor.
If you would like to obtain a hard token or wish to adjust your enrollment method, please contact information.security@stockton.edu via email or by phone (609-652-4779).