Welcome
Global Learning at Stockton University
Global Perspectives is one of Stockton's Primary Values. Recognizing its place in an increasingly global economy and society, Stockton University is committed to providing students, faculty, and staff with exposure to diverse cultural perspectives. Stockton seeks to create and sustain the global awareness and understanding necessary for their meaningful participation in the world as independent critical thinkers and informed and prepared global citizens. We envision laying the foundation of our global theme by building a community capable of developing opportunities to collaborate across a diverse world of cultures, race, gender, orientation and age which prepares us for global participation. We understand that building a global perspective, is not limited to travel abroad. We do believe that in this effort, we should strive to capture the wealth of diversity and opportunity which exists locally, regionally, and nationally. Accomplishing this theme is a continuum that we will pursue over time.
Read more about Stockton's Mission, Vision, and Values.
Read more about Stockton's 2025 Strategic Plan.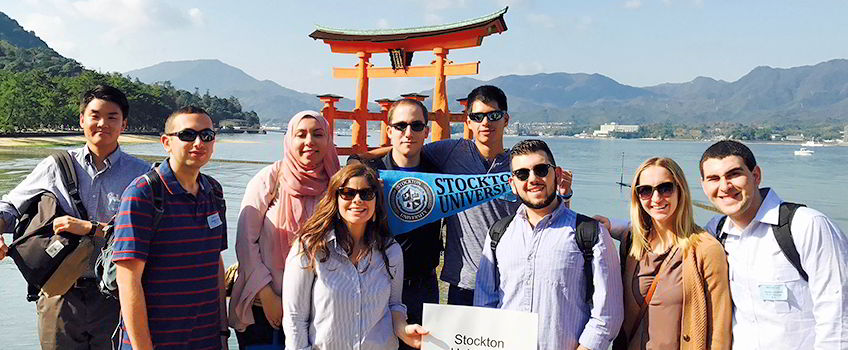 (Photo above: Stockton Model United Nations Team in Japan)
Global Awareness is an Essential Learning Outcome
As one of ten essential learning outcomes, Global Awareness is the appreciation of the world as an interconnected, interdependent system encompassing political, socioeconomic, and environmental interactions. Globally aware citizens pursue knowledge about people and places beyond their own realm of existence, and value multicultural communication, engagement, and collaboration. Such citizens exhibit an understanding of challenges affecting the globe and shaping its future. They possess the skills and competencies to challenge assumptions and analyze issues from multiple perspectives.
Read more about Stockton's Global Awareness Map.
Read more about Stockton's Essential Learning Outcomes.
What is Global Learning?
Association of American Colleges and Universities (AAC&U) defines global learning as "a critical analysis of and an engagement with complex, interdependent global systems and legacies (such as natural, physical, social, cultural, economic, and political) and their implications for people's lives and the earth's sustainability.
Through global learning, students should:
1) become informed, open-minded, and responsible people who are attentive to diversity across the spectrum of differences,
2) seek to understand how their actions affect both local and global communities, and
3) address the world's most pressing and enduring issues collaboratively and equitably." (AAC&U)
---
Global Learning and Comprehensive Internationalization
American Council on Education, Center for Internationalization and Global Engagement defines comprehensive internationalization as "a strategic, coordinated process that seeks to align and integrate policies, programs, and initiatives to position colleges and universities as more globally oriented and internationally connected institutions." (ACE, CIGE)