Virtual Outbound Student Exchange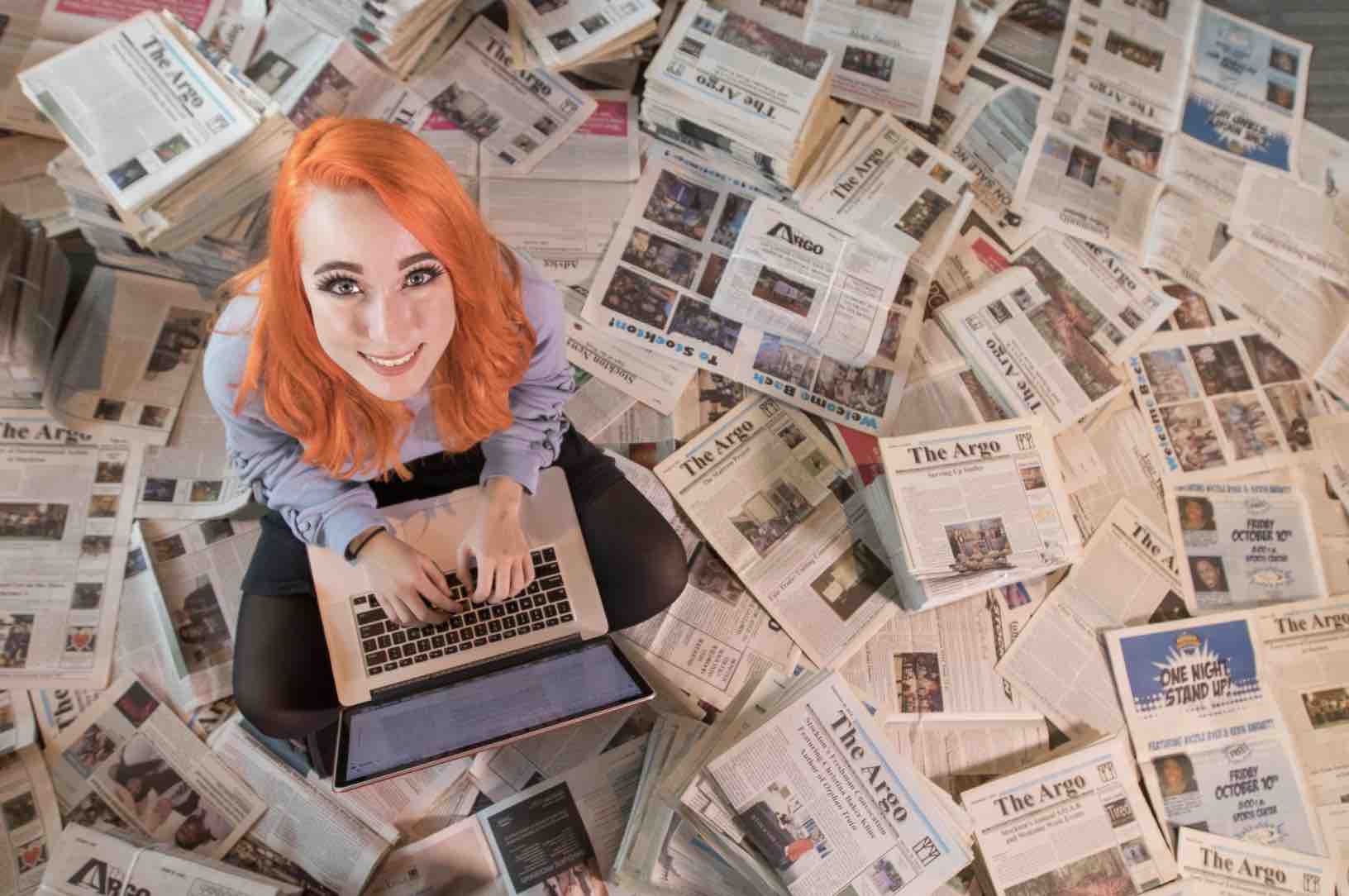 What is Virtual Outbound Student Exchange?
In this program, Stockton students will have the opportunity to take virtual courses - synchronous or asynchronous - from Stockton's Partner institutions. The credits of these virtual courses will be transferred back to Stockton.
Contact oge@stockton.edu for questions.
Application to Virtual Outbound Student Exchange
Interested students need to complete the application to the Office of Global Engagement. The Office of Global Engagement will nominate students to partner institutions.
Students select available courses and work with their Preceptor/Academic Advisor to complete this Education Abroad Course Selection Form.
The application package includes:
A short essay (written in the course language): stating background, interests, and expected learning outcomes

Completed

Education Abroad Course Selection Form

with Preceptor/Academic Advisor's signature

Transcript
Language Proficiency Test, if you're taking courses taught in other languages
Other basic information
Virtual Exchange Programs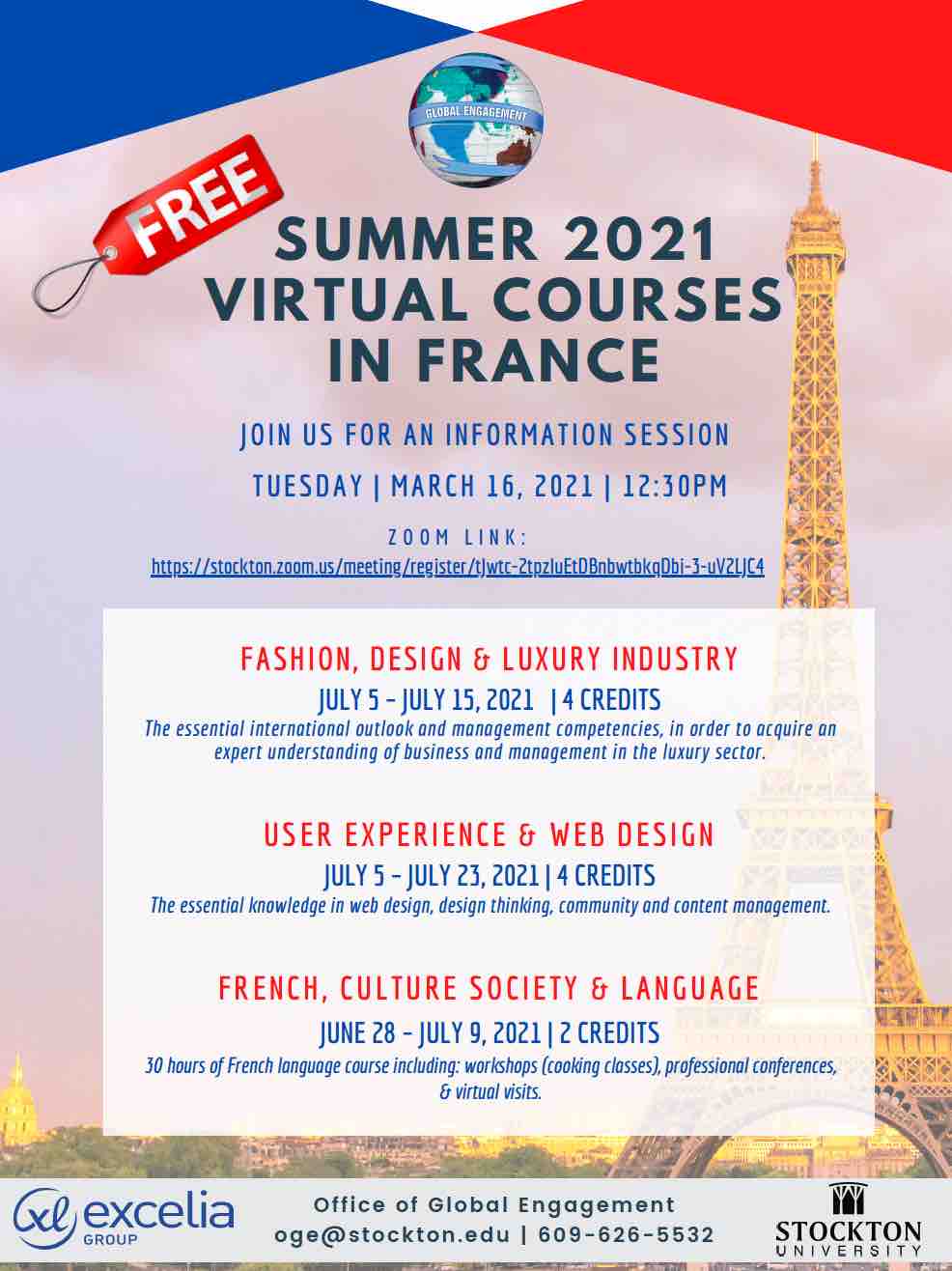 Please see here for the slides of the Info Session.
Collaborating with the Excelia Academy in France, we are excited to provide three virtual summer courses in France free of charge to Stockton students! The Excelia Academy is both AACSB and EPAS accredited, and the Financial Times has ranked it amongst the best business schools in the world.
These short courses are designed especially for our students who want to seek international experience at home and aim to provide a great opportunity to students to experience the "French Touch" in 3 specializations.
July 5 – July 15, 2021 | 4 credits
The essential international outlook and management competencies, in order to acquire an expert understanding of business and management in the luxury sector.
July 5 – July 23, 2021 | 4 credits
The essential knowledge in web design, design thinking, community and content management.
June 28 – July 9, 2021 | 2 credits
30 hours of French language course including: workshops (cooking classes), professional conferences, & virtual visits.
Interested students need to be nominated by the Office of Global Engagement.
Applications
If you're interested in taking one or more of these virtual summer courses, please submit your Application here. In the application, you will need to provide:
Part 1 Personal Information;

Part II Course Selection;

Part III Documents (1-page Application Essay, 1 Letter of Recommendation, and the Course Selection Sheet with your Preceptor/Advisor's signature).
Deadline: April 9, 2021 at 11:59pm.
Rikkyo University, one of Stockton's Global Partner Institutions in Japan, offers an online short-term intensive Japanese program in summer 2021 with two sessions: Session 1: Monday, June 14 - Wednesday, June 23, 2021 and Session 2: Monday, July 12 - Wednesday, July 21, 2021.
The program comprises 1,400 minutes (50 minutes x 28 classes) of online instruction, and "beginner's" level classes will be offered. This program is limited to the Stockton students, and upon completion, the participants will be given a certificate of completion and an official transcript for 1 credit. Virtual student exchange, in addition to the regular classes, is being developed.
Please also note that there is time difference. The classes will start at 07:50pm and end at 11:25pm EDT. Please go to the link below for detailed information: https://cjle.rikkyo.ac.jp/english/sijp/default.aspx
Cost: Japanese Yen 15,000 (roughly USD $130).
Application deadline: May 7, 2021
Contact oge@stockton.edu if you have any questions or are interested.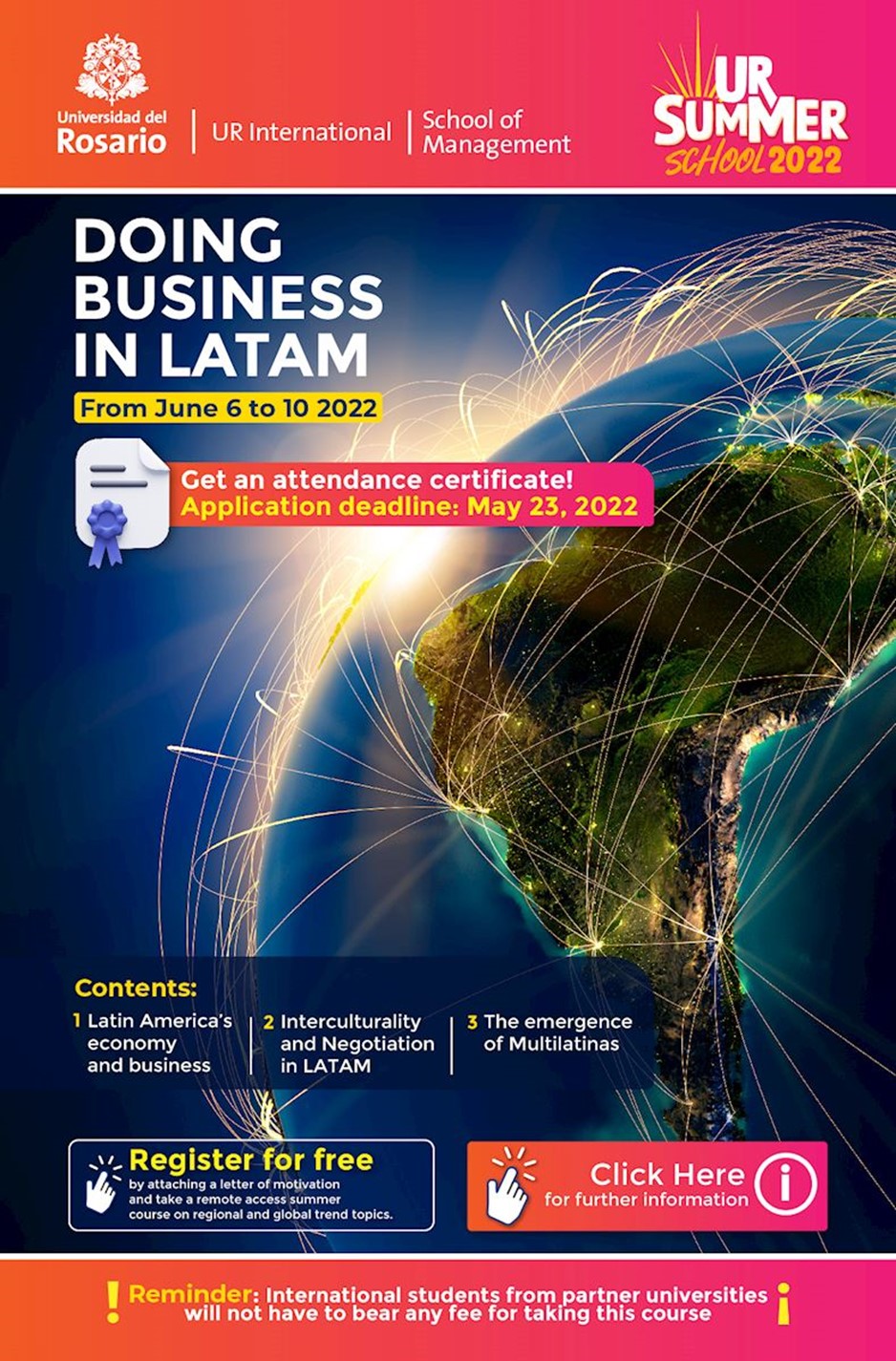 Taking into account the outstanding relationship of academic cooperation that we have built over the years, the Vice Presidency for International Affairs at Universidad del Rosario, together with the School of Management, would like to extend the invitation to 10 Stockton students to participate in the summer course "Doing Business in LATAM".
This program lasts 10 hours, from June 6 to 10 from 9 to 11 am *Colombian time*, and grants a certificate of attendance at no cost; it also has the leadership of our career professors, who have extensive background in this field and will provide your community with tools for negotiation. The course will be lectured in English.
Please see the attached program information where you can find relevant information about it (objectives, academic content, speakers, etc)
Below is an email with relevant information about the course that can be shared within your university. Hugs from Colombia!
If you're interested in this program, please respond to oge@stockton.edu by the end of May 25.