Stockton Mourns Lydia Fecteau
Lydia Fecteau, longtime adjunct instructor and member of the ADA-504 Steering Committee, passed away May 1. Priti Haria, associate professor of Education, paid tribute to her colleague: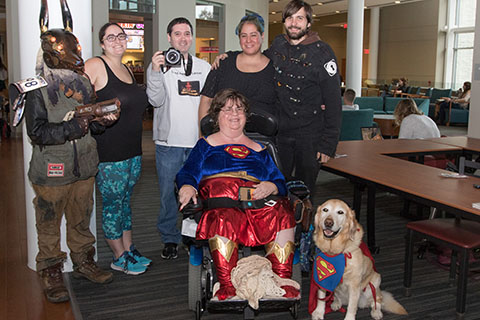 "Like everyone, I am shocked and still trying to process. Lydia was a friend, mentor and colleague who taught me a lot about disability rights and activism. Lydia was a fierce advocate and kept us all in line and made sure that we were upholding policies and laws such as Americans with Disabilities Act (ADA) at Stockton.
Lydia was instrumental in proposing a Disability Studies minor. Relentlessly, we worked together for 4 ½ years to bring the Disability Studies minor to the Stockton campus. We were one of the first universities that offered a Disability Studies minor in New Jersey.
Lydia collaborated with so many colleagues on campus and beyond. Lydia worked closely with Claire Abernathy, John O'Hara and Addie Holton to bring so many amazing and high-profile speakers (Judy Heumann, Rosemary Garland-Thomson) to Stockton so our students could listen and meet nationally and internationally renowned disability rights activists.
Lydia has touched so many of our students, colleagues and community partners in New Jersey and nationally. As Arnaldo Cordero-Roman reminded us, Lydia worked hard to bring American Sign Language to the ARHU Language program. She was a pioneer and trailblazer who broke many grounds to support individuals with disabilities.
It feels so unreal, as on Thursday, April 28, Lydia and I were making plans to meet during the summer to discuss proposing new G-courses and a Disability Studies major. Our next steps were to work toward a Disability Studies major, and in our every meeting, she would talk about creating a center for Disability Studies.
Heartfelt condolences to Lydia's dad Richard, her friends, and family.
Only solace is that on Thursday, she met many of her friends, she looked well and peacefully went to Phoenix. Lydia, we already miss you."