Stockton News - March 30, 2018

WHAT WE'RE TALKING ABOUT
Program Review
Stockton held its 2018 Institutional Program Review on March 29 in the Campus Center Event Room. The University's leadership team presented its institutional budget and answered questions regarding Stockton's strategic priorities. Visit this year's IPR web page, which includes a video about Stockton's growth and highlights many of Stockton's key institutional and divisional accomplishments over the past year.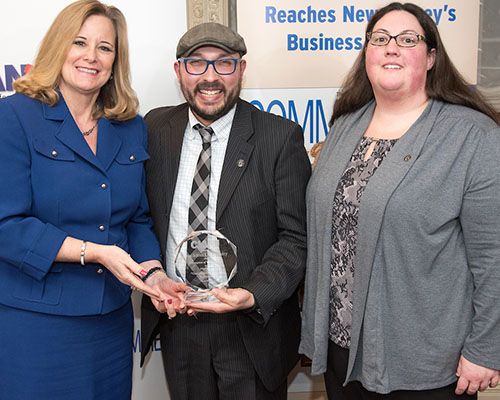 'Champion of Good Works'
Stockton University's annual Martin Luther King, Jr. Day of Service was honored as a "Champion of Good Works" by the Commerce and Industry Association of New Jersey and COMMERCE Magazine at their Fifth Annual Chairman's Reception on March 20 at Nanina's in the Park in Belleville. The award was accepted by Director of Service-Learning Daniel Tomé and Day of Service co-chair Diana Strelczyk.
AC UPDATE
Classes leading to an Ed.D. in Organizational Leadership are among the more than 100 courses that will be offered at Stockton's new Atlantic City campus this fall. Hear what George Sharp, instructor of Educational Leadership, has to say about the program.
Pictured below: A group of Stockton faculty and staff recently toured the new Hard Rock in Atlantic City.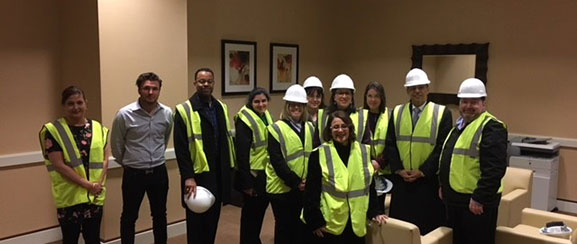 SPOTLIGHT ON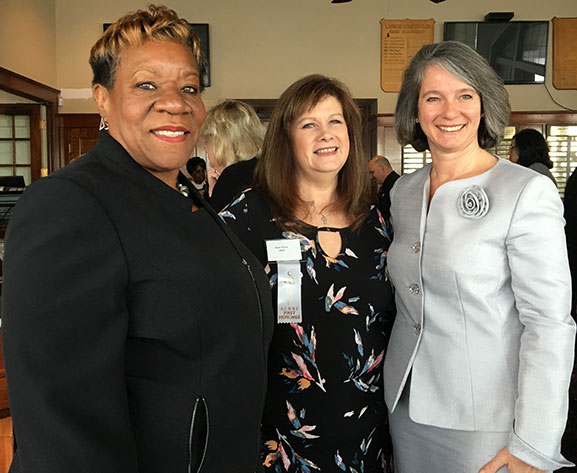 Claudine Keenan, dean of the School of Education, was inducted into the Atlantic County Hall of Fame. The induction ceremony was held on March 22 at the Linwood Country Club. Keenan is pictured right with Diane Epps, Stockton retiree and Women's Hall of Fame board member, and Fran Wise, United Way and Hall of Fame member.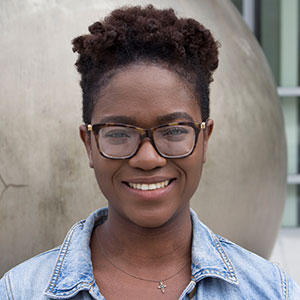 Senior Jodie Davis was recently named a fellow by the Newman's Own Foundation. The foundation, which began in 1982 works to uphold the legacy of actor Paul Newman, who dedicated his life to philanthropy. Through the foundation's fellowship program, Davis will have the opportunity to gain work experience in the philanthropic sector. "The fellowship searches for recent college graduates to eliminate issues such as poverty, economic inequality, food insecurity, racism and other systems of oppression," Davis said.
FRAME-WORTHY
Faculty, Students Attend National Council for Black Studies Conference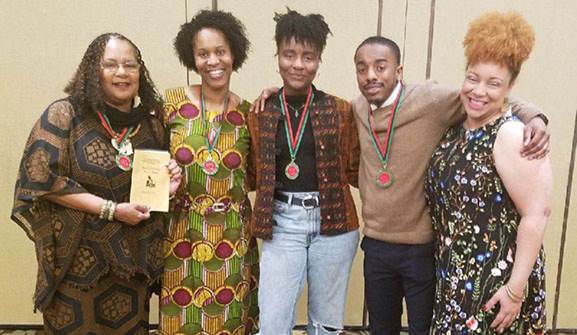 Seven Stockton students were recently inducted into the Africana Studies Honor Society
Two of the student inductees, Sa'Miyah Wright and Haashim Smith-Johnson recently attended the National Council for Black Studies (NCBS) 42nd annual conference in Atlanta where they were recognized. Donnetrice Allison, Pat Reid-Merritt and Garrison Paige, Vera King Farris Fellow, also presented on various panels at the conference. Allison was also inducted as an Africana Studies Scholar. The student inductees were Niya Calloway, Sydnei Devose-Fletcher, Mariah Jones, James Gordon Sieber Jr. and Nala Williams.
WHAT'S TRENDING #STOCKTONU
Facebook: One of these rooms with a view could be yours if you choose to #LiveStocktonAC this fall! Returning students choose your bed in AC April 15! Visit stockton.edu/ac for details
Instagram: Reporter Ted Greenberg takes Stockton Communication Studies students through a day in the life as a news reporter in the 4th largest television market in the country. He also addressed the current demands of maintaining a strong social media presence as it relates to reporting TV news.
ROLE CALL
Rosa Perez-Maldonado will begin as Stockton's new assistant dean of the School of Arts & Humanities on May 14. Perez-Maldonado comes to Stockton from Columbia's Mailman School of Public Health, where she was director of the Office of Educational Programs. Prior to her current position at Columbia, she served as director of the Educational Opportunities Center at Kean University and as executive assistant to the dean of the William J. Maxwell College of Arts and Sciences at New Jersey City University.
UPCOMING EVENTS
Wednesday, May 2 – Academic Quad Ribbon Cutting Ceremony


Spring 2018 - Take a Jitney Shuttle Tour to Stockton's Atlantic City Campus
Learn more about living and learning at Stockton in Atlantic City. Mobile tours will all leave from the Stockton Campus Center. The short version tours will be about one hour. Longer tours, which include a walking tour, will take about two hours.

Tour Dates:
April 3 – long – 10 a.m.
April 17 – long – 2 p.m.
April 26 – long – 10 a.m.
For more information, contact Haley Baum or Brian Jackson.
Stockton News | View More News