More Than 100 Courses Ready for Atlantic City Campus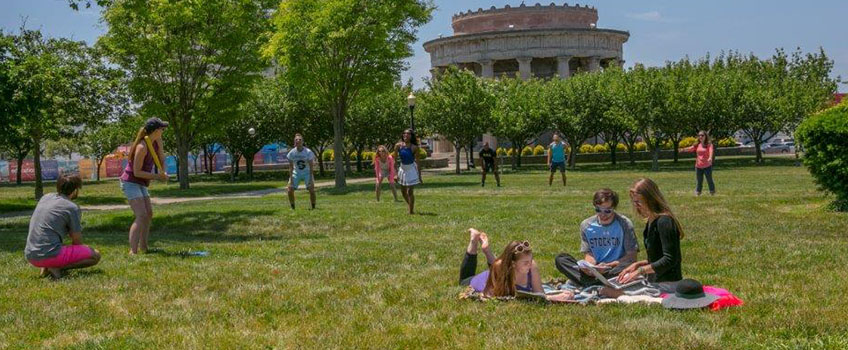 Galloway, N.J. - What makes people happy?
Study at Stockton University's Atlantic City campus and you might find out.
Perspectives on Happiness is just one of the more than 100 courses being offered at the new campus when it opens in fall 2018.
Taught by Professor Jessie Finch, this course will explore interdisciplinary research on happiness from the historical to the economic, political and biological. Students will also learn practical strategies to enhance their own happiness.
Speaking of happiness, classes are just one aspect of the new campus, which also features beachfront housing for more than 500 students and a parking garage with enough space for every resident.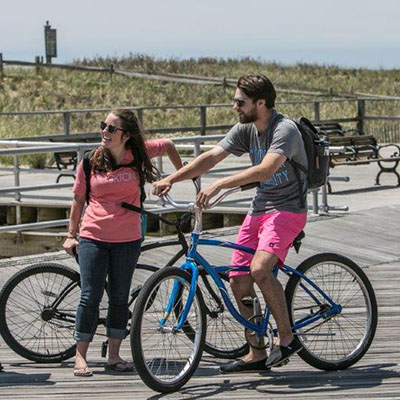 Atlantic City offers a rich city culture and proximity to cultural centers, local schools, and Atlantic City entertainment that will offer students opportunities for service leaning, internships, and engagement,
Students can cook in their apartments, or dine in the café in the academic building or at neighboring coffee shops. A campus bookstore/ convenience store will have grab-and-go offerings and household essentials.
The services and convenience of the Osprey Card will be available in the retail/dining establishments on the Atlantic City campus as well as off-campus.
But you don't have to live in Atlantic City to take courses there.
Shuttle service will be available, coordinated with the academic schedules of the Galloway and Atlantic City campuses.
What are some of the other course options in Atlantic City?
For hospitality and tourism majors, Contemporary International Tourism and Introduction to Gaming Industry Management will take advantage of the proximity to a major tourism destination.
Ecology and Saltwater Fishing focuses on the history, behavior, and science-based techniques for catching local saltwater fish, with specific emphasis on striped bass.
Through critical examination of the U.S. immigration and naturalization process, The Paths to U.S. Citizenship will give students the chance to attend and assist in community-based naturalization classes facilitated by the Stockton Center for Community Engagement.
The Stockton Center for Community Engagement and the Office of Service Learning have over 25 community partners in Atlantic City and dozens more in Atlantic County where students can access community engagement opportunities. Several of Stockton's majors already offer clinical placements and internships in Atlantic City. As Stockton's presence in the city expands, these opportunities will also grow.
The Part-Time Clinical Experience in Education course will offer a guided experience of the activities and responsibilities of a K-12 teacher including a 50-hour clinical placement in an urban K-12 setting.
From Accounting and Statistics, to Discover Africa and the Vietnam War, the Atlantic City campus has something to suit all majors and interests
Why Poetry Matters will show students how poetry speaks to our experience as humans and reflects our day-to-day lives, emotions, and relationships in the world.
Performance for Film and Video is a course accessible to all majors of study, including writers, performers, artists, and anyone with an interest in exploring truth at 24 frames per second are welcome. Students taking this course will learn to get comfortable in front of the camera.
Forensic Psychology: This introductory survey course systematically examines how psychologists help the police, courts, and corrections deal with people who exhibit deviant behaviors, as well as other situations that result in legal processes.
Community Leadership will investigate various leadership topics in-depth as well as synthesize class and real-life experiences to demonstrate how leadership is applied to everyday life.
For graduate students, the Master of Social Work Program, the Master of Arts in Education/Alternate Route Certificate for teachers, and the doctoral program in Organizational Leadership will be based at the new Atlantic City campus.
At Stockton's new Atlantic City Campus, there is a course for everyone.
For a complete list of fall 2018 courses go to stockton.edu/ac
_ Reported by Jessica Jacob
# # #
Contact:
Diane D'Amico
Director of News and Media Relations
Galloway, N.J. 08205
Diane.D'Amico@stockton.edu
609-652-4593
stockton.edu/media