Stockton News - March 2, 2018

Friday, March 9, 2018
WHAT WE'RE TALKING ABOUT
Former Ambassador Hughes Meets with Teachers from Panama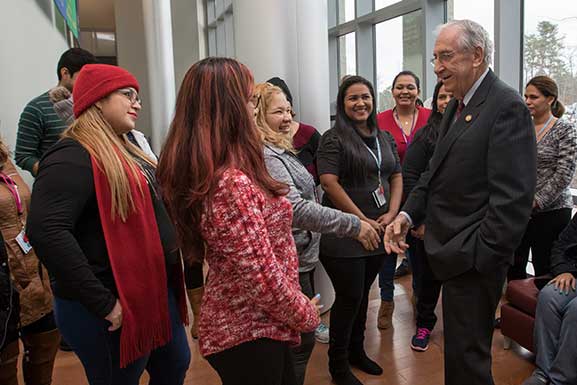 Former Congressman and Ambassador to Panama William J. Hughesmet some teaching ambassadors from Panama at Stockton on Feb. 26. Stockton is hosting 21 teachers from Panama for eight weeks as part of the Panamanian government's Panama Bilingue Initiative to train 10,000 teachers in English and the latest teaching methods.

Stockton's Marine Field Station Recovers Lost Oyster Cages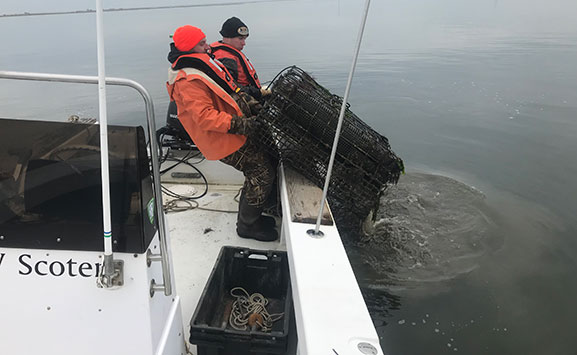 Local oyster farmers are locating gear that was displaced by the recent bay freeze with help from Steve Evert, associate director of the Stockton University Marine Field Station, and his team. During the freeze, buoys moved with the tides for days, dragging cages full of oysters off their leases, Evert explained.

HR Launches New Employee Assistance Program
The Deer Oaks Employee Assistance Program (EAP) is a free, confidential benefit offering short-term counseling, resources and referrals for Stockton employees and all members of their households.
The program includes services that cover a broad range of work/life areas, including stress, depression, anxiety, substance abuse, marital and family issues, legal and financial referrals, and health and wellness concerns. The EAP benefit covers up to five confidential short-term counseling sessions per person, per issue, per year.
Learn more and how to access this new service by visiting the Human Resources website.

Be Prepared – Sign Up for Text Message Alerts

Students, faculty and staff are urged to "Opt In" to the University emergency text-messaging system to receive urgent text messages in the event of an emergency. To subscribe, log into goStockton, go to the Employee tab, then click on Update Emergency Text Messaging Contacts in the Personal Information section, and provide contact information.



Student Climate Survey
The Student Climate Survey is available on the goStockton until March 9. Please encourage your students to take the survey and make their voices heard. It should only take 5-10 minutes to complete.
SPOTLIGHT ON
Caitlin Quinn Pittenger, assistant professor of Dance, was recently honored as a "female choreographer to watch" in Philadelphia. The recognition came from Jeanne Ruddy, executive director of the Performance Garage, in its January newsletter. Pittenger continues to show her choreography throughout the region, most recently in New York City.
FRAME-WORTHY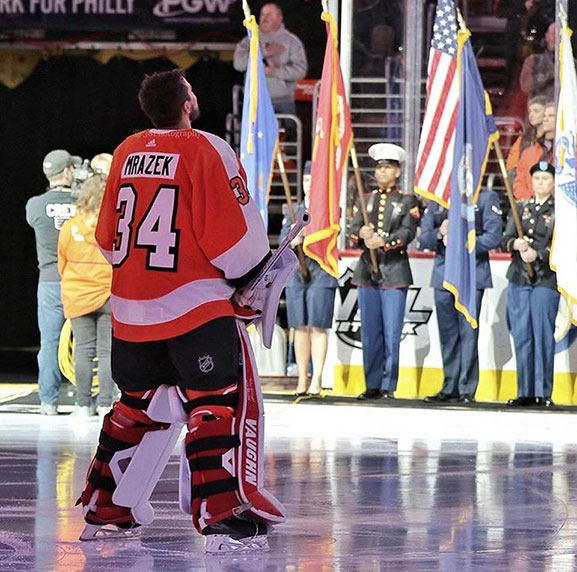 Stockton University Student Veterans Organization presented the colors at the Philadelphia Flyers Game on Feb. 22. Pictured above, left-right: Director of the Office of Military & Veteran Services Jason Babin, and student veterans Tarleesha Lowery, Caitlin Gillum, Matthew Talavera, Makenzie Cox, Kirsten Chervenak, Azael Gale and Arz Nammour.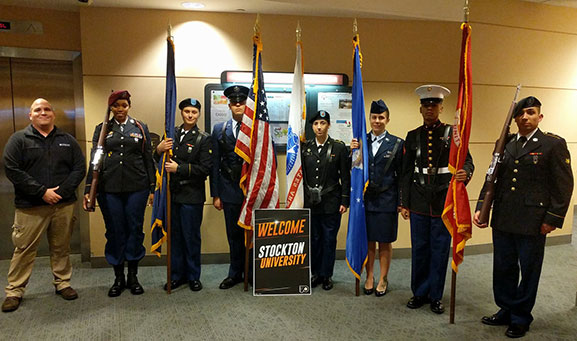 WHAT'S TRENDING #STOCKTONU
Facebook: Distinguished Professor of Physical Therapy Mary Lou Galantino spent the day on Capitol Hill Tuesday advocating for patients and the profession as the APTA representative for the Commission on Cancer.

Instagram: Stockton is one of 50 schools selected to participate in #OneMillionActsofGood with Ellen DeGeneres and Cheerios. Studentspackaged snacks to donate to the local food bank Tuesday.
Instagram Story: Drop-in sessions called Contacting Congress 101 offered students the opportunity to learn how to share their opinions with their elected officials this week.
ROLE CALL
Stockton women's basketball Coach Joe Fussner is retiring after 410 wins in 26 seasons on the Osprey bench.

Brooke Stanley joined as a visiting instructor of Global Literatures in the School of Arts & Humanities. Stanley is a Ph.D. candidate in English at the University of Pennsylvania, where they received their master's degree in English. Stanley earned a bachelor's degree in English and Italian Area Studies from Kenyon College. They work at the hinge of postcolonial studies and environmental humanities, focusing on 20th-century and contemporary literature with interests in globalization, food studies, indigeneity, gender and sexuality, and theory of the novel. Their current research examines the politics of food in contemporary environmental fiction from South Africa, South Asia and the US.
IN THE NEWS
"This event is special because it is not just people talking to the scouts about different fields …Professionals from different fields of study actually meet with scouts in a lab or the art gallery." - Margaret Lewis, professor of Biology and organizer of the Merit Badge Academy, in The Press of Atlantic City.
FROM THE SIDELINES
Eleven members of the men's indoor track & field team earned NJAC all-conference honors for the 2017-18 season. Senior Jared Lewis was voted NJAC Outstanding Field Athlete for the second consecutive season to head the list of honorees.
Sixteen members of the women's indoor track & field team earned NJAC all-conference honors for the 2017-18 Indoor Season. Leading the way was senior Emily Higbee who earned NJAC First Team honors in the weight throw and shot put and fellow senior Kaitlyn Dermen who was NJAC First Team in the pole vault.
AC UPDATE
100+ Courses Scheduled at AC Campus for Fall 2018!
View the list of courses and spread the word to your students.

UPCOMING EVENTS
March is Women's History Month – Let us know if you are organizing an event at the University. Email UniversityRelations@stockton.edu.

Wednesday, March 7 - Spring 2018 Career and Internship Fair

Thursday, March 8, 11:30 a.m.-12:30 p.m. – Opening Ceremony for newly expanded Manahawkin site. R.S.V.P. to 609-626-3883.
Spring 2018 - Take a Jitney Shuttle Tour to Stockton's Atlantic City Campus
Learn more about living and learning at Stockton in Atlantic City. Mobile tours will all leave from the Stockton Campus Center. The short version tours will be about one hour. Longer tours, which include a walking tour, will take about two hours.

Tour Dates:
March 21 – long – 10 a.m.
April 3 – long – 10 a.m.
April 17 – long – 2 p.m.
April 26 – long – 10 a.m.
For more information, contact Haley Baum or Brian Jackson.
Stockton News | View More News