Stockton News - Friday, March 16, 2018

WHAT WE'RE TALKING ABOUT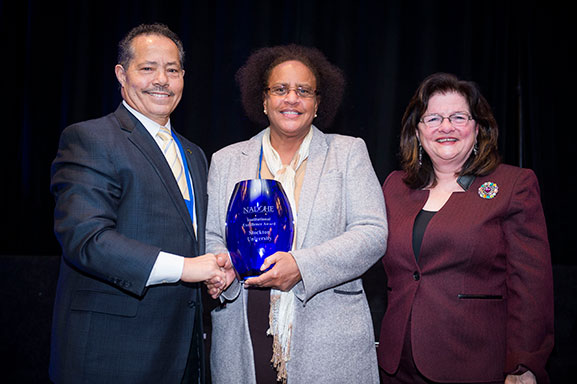 Stockton Receives National Excellence in Diversity Award
Stockton received the 2018 Institutional Excellence Award from The National Association of Diversity Officers in Higher Education (NADOHE). Chief Officer for Institutional Diversity and Equity Valerie Hayes (pictured middle) accepted the award on behalf of the University at the NADOHE conference in Washington, D.C. on March 9.

Stockton Interactive Viewbook Wins Silver Award
Stockton University's interactive viewbook has received a silver award in the 33rd Annual Educational Advertising Awards, sponsored by Higher Ed Marketing Report.
SPOTLIGHT ON
FRAME-WORTHY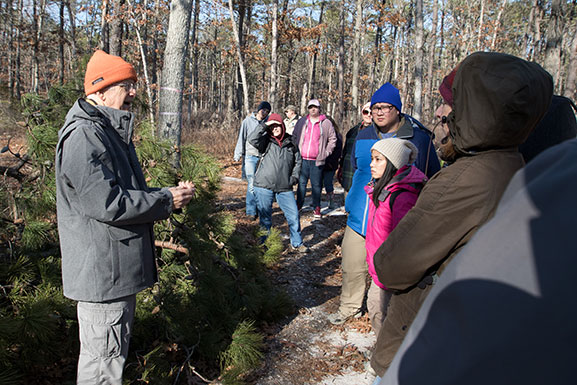 Pinelands-Themed Events Attract Hundreds
Hundreds of people gathered at Stockton for a weekend immersion into Pinelands ecology, history, culture, arts and crafts as part of the 29th Annual Pinelands Short Course (left) on March 10 and the 13th annual Lines on the Pines on March 11.
Safety First
The Risk Management Environmental Health and Safety Office (RMEHS) in conjunction with the National Safety Council (NSC) recently conducted a three-day Supervisor Safety Development Program (SSDP) in the Campus Center (bottom right). The SSDP trains supervisors and managers to incorporate best safety practices into their daily management activities. A key feature of the program requires participants to demonstrate they have acquired the knowledge and skills from training and are prepared to implement them in the workplace. Participants included Steve Brown, assistant supervisor building repairs; Ed Champion, painter; Bette Feldeisen, crew supervisor-plumber/steamfitter; Matt Gettings, engineer in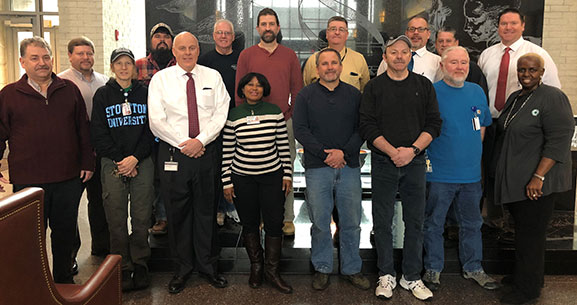 charge of maintenance; Bob Haviland, associate director of Facilities Management & Plant Operations; Humu Kaloko, housekeeping supervisor; Jim McIntyre, head grounds worker; Janet Mazzocca, professional service specialist; Albin Montag, assistant supervisor building repairs; Gary Suhr, assistant supervisor of building repairs; Bob Wallace, assistant supervisor, facilities; Jack Wilson, assistant supervisor building repairs; Dave Wood, supervisor of landscape maintenance; Chris Keyser, automotive mechanic; Don Hudson, vice president for Facilities & Operations; John Fritsch, director of Facilities Management & Plant Operations; Chris Corea, manager of Environment/Health/Safety; and Tamia Boyer, NSC instructor.
WHAT'S TRENDING #STOCKTONU
FROM THE SIDELINES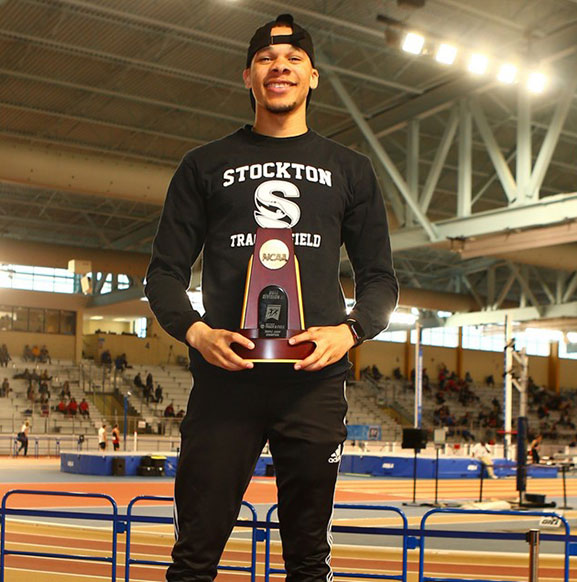 Senior Jared Lewis (pictured left) was chosen as the NJAC Men's Field Athlete of the Week after winning the NCAA championship in the indoor triple jump for the second straight year.

Seniors Sasha Williams and Najha Treadwell were chosen all-region by D3hoops.com. Williams was voted D3hoops.com All-Atlantic Region First Team after two straight Second Team nods.
AC UPDATE
In case you missed it: Michelle McDonald, associate vice president for Academic Affairs, discussed Stockton's expansion into Atlantic City during an interview with Comcast Newsmakers last fall. More than 100 courses are scheduled at the AC Campus for Fall 2018. View the list of courses and spread the word to your students.

UPCOMING EVENTS

Spring 2018 - Take a Jitney Shuttle Tour to Stockton's Atlantic City Campus
Learn more about living and learning at Stockton in Atlantic City. Mobile tours will all leave from the Stockton Campus Center. The short version tours will be about one hour. Longer tours, which include a walking tour, will take about two hours.

Tour Dates:
March 21 – long – 10 a.m.
April 3 – long – 10 a.m.
April 17 – long – 2 p.m.
April 26 – long – 10 a.m.
For more information, contact Haley Baum or Brian Jackson.
Stockton News | View More News