Stockton News - April 13, 2018

WHAT WE'RE TALKING ABOUT
Stockton Board Approves Sale of Seaview Hotel & Golf Club


The Stockton University Board of Trustees on April 9 approved a resolution to sell the Stockton Seaview Hotel & Golf Club.
Stockton President Harvey Kesselman said due to the opening of the new campus in Atlantic City, and the ongoing expense of maintaining Seaview, it was in the best interest of Stockton and its students to find a buyer for the property.
The new beachfront housing for 533 students at the new Atlantic City campus will eliminate the need for the student housing at Seaview. The future of Stockton's Hospitality & Tourism Management Studies program is also in Atlantic City, where students can get internships and hands-on experience at dozens of locations.
Stockton University Commemorates Yom HaShoah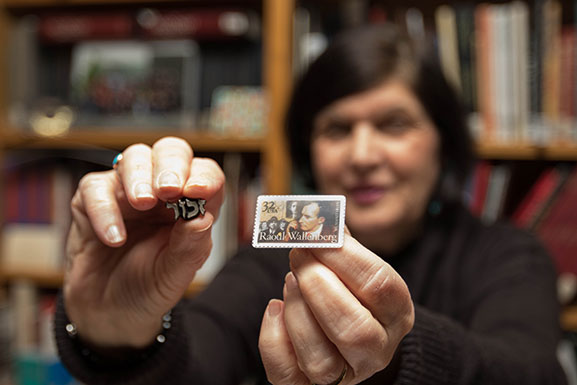 The Stockton community commemorated Yom HaShoah, a day to remember the 6 million Jewish victims of the Holocaust, which falls on the anniversary of the Warsaw Ghetto Uprising when victims fought back. Gail Rosenthal (pictured right), director of the Holocaust Resource Center, explained, "in Hebrew, Yom means day and Shoah means consumed by fire." The April 10 commemoration included a presentation by Rosenthal as well as a service featuring speaker and Holocaust survivor David Wisnia at Beth Israel in Northfield. The service was captured on Facebook LIVE by Ted Greenberg, Jersey Shore Bureau reporter for NBC10.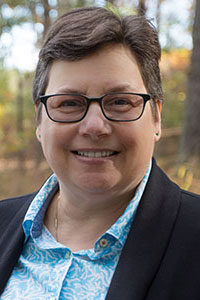 State Public Bank Would be Good for N.J. According to Hughes Center Report
In the report, "Exploring a Public Bank for New Jersey: Economic Impact and Implementation Issues," prepared for the William J. Hughes Center for Public Policy Deborah M. Figart, distinguished professor of Economics predicts a state public bank for New Jersey would have a large positive effect on jobs and state earnings. "With the important economic issues that a public bank could address for the residents of New Jersey – like student loans, infrastructure investment, and loans to small businesses – Dr. Figart's report offers the governor and other elected officials key financial estimates and a blueprint for moving forward," said Michael W. Klein, interim executive director of the Hughes Center.

Financial Literacy
The Financial Aid Office co-sponsored two financial literacy events with the Stockton Center for Economic and Financial Literacy this week. On April 9, Assistant Director of Financial Aid Nancy Martorano organized Real Money 101, a brown bag lunch session for students and staff. During the presentation, representatives from the NJ Higher Education Student Assistance Authority shared tips for setting good economic goals and how to take control of personal finances. On April 12, Assistant Professor of Business Studies, Accounting Jean Abbott organized "Understanding Employee Benefits Seminar." During the personal financial management seminar featuring financial advisers from the Merrill Lynch branch in Egg Harbor Township, students and staff were able to learn about benefits that employers may offer such as 401K plans, pension plans, and disability, life or health insurance. The seminar also focused on the importance of banking, investing and managing personal finances.
AC UPDATE
The new Atlantic City residential complex will house more than 530 students in a variety of affordable campus apartments. Encourage your students to consider living in Atlantic City this fall!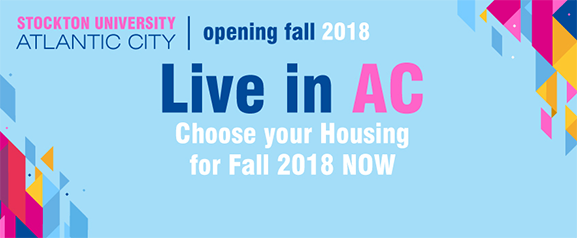 SPOTLIGHT ON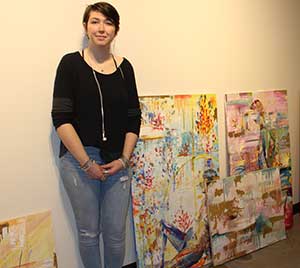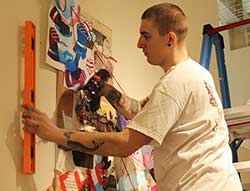 The work of more than 20 students is currently on display in the Bachelor of Fine Arts Senior Exhibition in the L Wing Art Gallery through Thursday, April 26. Works include paintings, visual communications, print-making and photography. View the photo gallery.
Tait Chirenje, associate professor of Environmental Studies, this semester signed an agreement with the N.J. Department of Military and Veterans Affairs to run an internship program with Stockton students to work on various remediation and site investigation sites around New Jersey.
FRAME-WORTHY
Congratulations, EOF Students!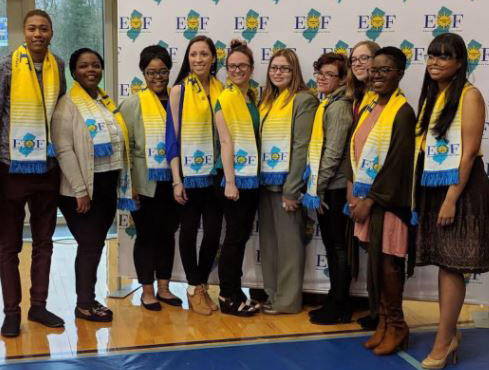 Twenty-nine Stockton students received New Jersey Educational Opportunity Fund 2018 EOF Graduate Achievement Awards during an award ceremony on April 6 at Georgian Court University.
Senior Jodie Davis was chosen to represent Stockton's EOF program as the spotlight student. Davis was recognized with an Outstanding Achievement Award.
Pictured are award recipients: Sasha Williams, Naijasia Thomas, La-Tasha Randolph, Brianna Gonzalez, Shawn Feldman, Kathleen Connelly, Alicia Bauman-Jeanty, Courtney Lepping, Jodie Davis and Flor Cruz-Morillo.
Energy Field Trip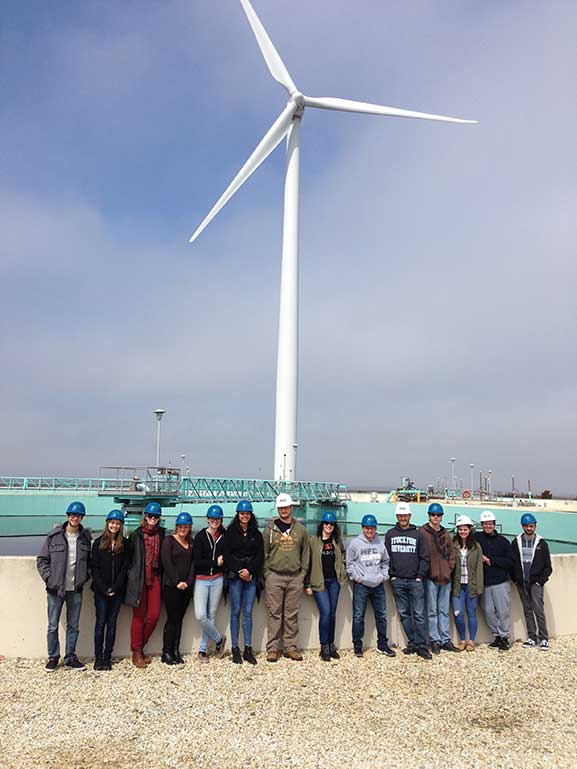 Associate Professor of Environmental Science and Geology Daniel Moscovici and his Energy Planning students took a field trip to the Atlantic County Utilities Authority where they toured the Jersey-Atlantic Wind Farm March 29.
WHAT'S TRENDING #STOCKTONU
YouTube: BREAKING THE SILENCE: Tearing Down The Taboos Associated With Disordered Eating features a total of four Stockton community members' narratives of struggling, recovering and then using their stories to help others. The project arose from a partnership between Kent Green of Production Services and the Disordered Eating Awareness and Prevention Team.
Instagram Story: The cast of Avenue Q took over Stockton's Instagram to promote their performances of the heartwarming and hilarious comedy this week.
IN MEMORIAM

John Ziemba, senior building maintenance worker in the Custodial Department of Facilities Management and Plant Operations, passed away on April 6, 2018. John worked at the University for the past 17 years. He loved cars, gardening, playing basketball and watching the San Francisco 49ers. The visitation and funeral service was held on April 10 at Maxwell Funeral Home in Little Egg Harbor, N.J.
ROLE CALL
Adrian J. Wiggins was named director of Campus Public Safety effective May 29, 2018. Wiggins recently served as the executive director of Campus Safety and Public Safety at Morgan State University in Baltimore, Md. Prior to that role, he served as Morgan State's chief of police for seven years. Before working at Morgan State, Adrian served 11 years with the City University of New York (CUNY) Public Safety Department, advancing through the ranks to deputy director of Public Safety at the Borough of Manhattan Community College in New York City. He earned a Post Baccalaureate Certificate in Security Assessment and Management and a Master of Science in Integrated Homeland Security Management from Towson University. He is also a graduate of the National Emergency Management Advanced Academy in Emmitsburg, M.D.
Did You Know?
Stockton now offers University employees and all members of their households access to the Deer Oaks
Employee Assistance Program
(EAP), a free and confidential program that offers a wide variety of counseling, referral and consultation services. Did you know Stockton's EAP provides services and resources on daily living?
Learn more
.
UPCOMING EVENTS
Wednesday, May 2 – Academic Quad Ribbon Cutting Ceremony

Thursday, May 17 – Stockton Center on Successful Aging's (SCOSA) Annual Festival

Spring 2018 - Take a Jitney Shuttle Tour to Stockton's Atlantic City Campus
Learn more about living and learning at Stockton in Atlantic City. Mobile tours will all leave from the Stockton Campus Center. The short version tours will be about one hour. Longer tours, which include a walking tour, will take about two hours.

Tour Dates:
April 17 – long – 2 p.m. June 18 – 2 p.m.
April 26 – long – 10 a.m. July 10 – 10 a.m.
May 24 – 10 a.m. July 17 – 3 p.m.
June 5 – 11 a.m. July 31 – 11 a.m.
For more information, contact Haley Baum or Brian Jackson.
Stockton News | View More News