Stockton News - Friday, Dec. 6, 2018

WHAT WE'RE TALKING ABOUT
Ambassador Hughes Remembers Former President Bush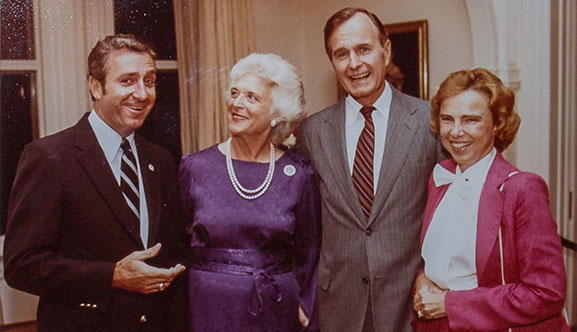 As the nation mourns the loss of former President George H.W. Bush, the William J. Hughes Center for Public Policy at Stockton University asked Ambassador Hughes to reflect on his experiences serving in the U.S. House of Representatives during the 41st president's term in office.
---
Trustees Approve Summer Tuition Discount
Undergraduate students will again be able to get a discounted tuition rate from Stockton University for summer 2019 courses. The Stockton Board of Trustees approved the rates at the Dec. 5 meeting.
---
Stockton Hospitality Students to Sharpen Skills in Atlantic Cape Kitchen
On Nov. 27, the Academy of Culinary Arts at Atlantic Cape Community College welcomed 14 Stockton University Hospitality & Tourism Management Studies students who will take a new Advanced Food and Beverage Management class this spring in the commercial teaching kitchens at Atlantic Cape's Worthington Center in Atlantic City.
SPOTLIGHT ON
Cox Presents Workshop; Promotes Books at Social Work Meeting in Orlando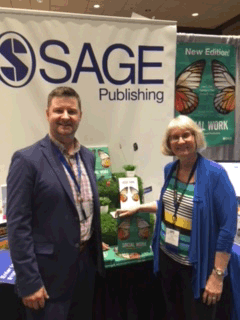 Lisa Cox, professor of Social Work, presented an hour-long workshop, "Considerations When Submitting Journal Manuscripts Examining Interprofessional Education," at the 64th Annual Program Meeting of the Council on Social Work Education, Nov. 8-11, in Orlando, Fla.
Cox also participated in two "Meet the Authors" events during the conference. On Nov. 9, SAGE Publications hosted Cox and her co-authors Carolyn Tice of University of Maryland, and Dennis Long of Xavier University, featuring the second edition of their textbook, "Introduction to Social Work: An Advocacy Based Profession," and on Nov. 10, Cognella Publishing hosted an event that featured Cox's edited book, "Narratives on Positive Aging."
"Participating in both 'Meet the Author' events was so rewarding because conference attendees shared how much they liked the advocacy model, content and resources found in the texts," Cox said.
Amy Traylor, associate professor of Social Work at the University of Alabama, has used "Introduction to Social Work: An Advocacy Based Profession" for three years. "I was drawn to Cox, Tice, and Long's book because their advocacy model emphasizes the transformative opportunities and contributions of social work at the clinical/client, organizational, community, national, and international levels," Traylor said.
Cox is pictured right with SAGE Publications Acquisitions Editor Joshua Perigo.
---
Stockton Student Presents at Sports Medicine Conference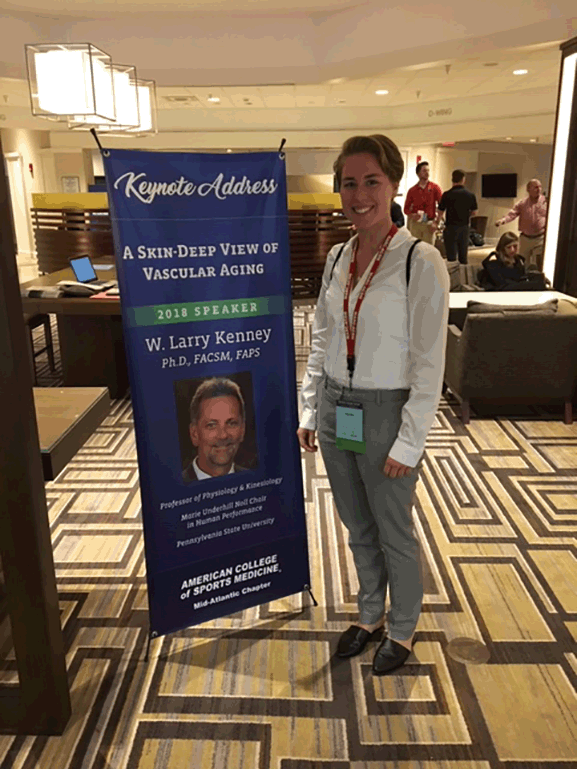 Harlee York, a junior Exercise Science major, presented at the Mid Atlantic Regional Conference of the American College of Sports Medicine (MARC-ACSM) on Nov. 2 in Harrisburg, Pa. She presented her abstract, "Analgesia, Hyperphagia and Behavior Modifications are Mediated by Endogenous Opioids Following Forced Swimming Exercise" during an undergraduate oral presentation session. York had received a Research Experience for Undergraduate (REU) award from Stockton to help fund the project which is under the direction of John Guers, assistant professor of Exercise Science.
"I'd like to thank Dr. Guers for being my mentor in helping me gain this valuable experience which I hope to build on in the future, doing more research and sharing it with the exercise science field. Next, I hope to get my abstract chosen for the regional conference in the spring and raise money with the Exercise Science Club in order to have more students also have the opportunity to gain valuable experience for the future," York said.
---
NJECC Sweepstakes Winner: Loraine Koed
Congratulations to Loraine Koed, professional services specialist in Purchasing, for winning last week's Stockton New Jersey Employees Charitable Campaign (NJECC) sweepstakes. Koed "made a wave" and was rewarded a $100 gift card to the Knife and Fork.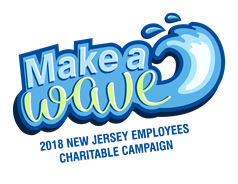 The statewide campaign runs through Dec. 31. Every week, all Stockton employees who have donated through the campaign will be put into a drawing for a sweepstakes prize.

If you plan to make a gift through payroll deduction, you can register and donate through the NJECC online giving portal or fill out a paper pledge form. If you plan to make a one-time donation, please fill out a paper pledge form. Email stocktonnjecc@stockton.edu or stop by Human Resources (J115) to request a paper pledge form.
FRAME-WORTHY
Picture Stockton...Catching a Wave Through History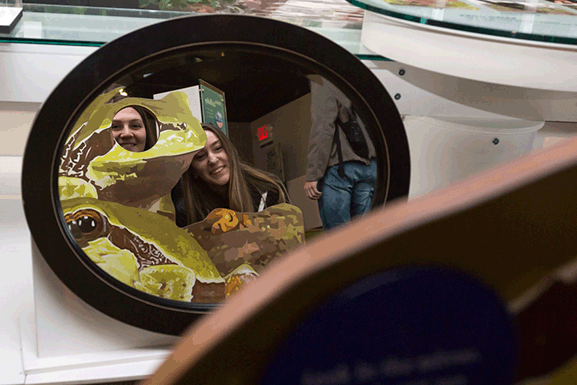 Students who take Dave Werner's course, "The Science of Forecasting Waves," at the Manahawkin location, learn about the history, culture and science that revolves around the art and sport of wave riding.
---
CWA Holiday Party
View photos from the from the CWA Holiday Party on Dec. 5 at the Smithville Inn.
WHAT'S TRENDING #STOCKTONU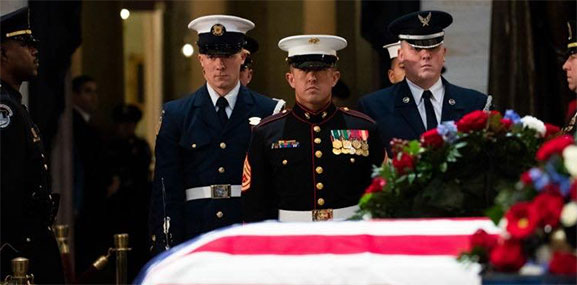 Facebook: Seaman Matthew Lesyk, a 2017 Marine Science graduate, guarded former President George H.W. Bush's casket on Wednesday during the funeral service. "Having the privilege to stand among history and to honor a president that was a true American hero was extremely humbling. This is an honor I will cherish for my entire life, and I am extremely proud to have represented the U.S. Coast Guard and stand among our joint military branches." Matthew is pictured on the left.
OSPREY NOTES
Annual MLK Day of Service Registration is Open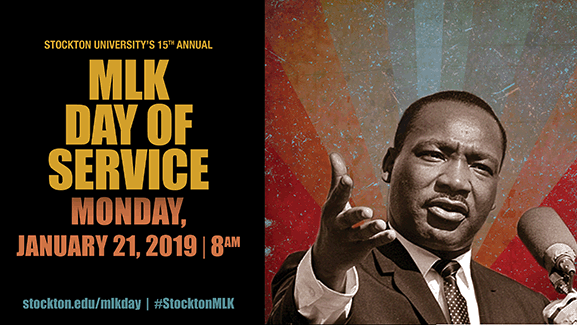 Stockton will celebrate its 15th anniversary of the Dr. Martin LutherKing, Jr. Day of Service on Monday, Jan. 21, at all locations.
You can also nominate a student, club, staff or faculty member or an alumnus for a Community Engagement Award. Submissions are due by 5 p.m., Friday, Dec. 14.
Register to participate in Day of Service or submit a Community Engagement Award nomination here.
---
Strategic Planning Message from the Provost
"I have thoroughly appreciated the dialogue with faculty and staff on the Institutional Strategic Plan over the last few weeks at our Open Forums and School meetings. The Strategic Plan power point slide deck I used during my presentations is posted for you online for you to enjoy at your convenience. Please provide your responses to the questions that I have posed before Tuesday, Dec. 18, by clicking the Questions and Feedback link on the Institutional Strategic Plan website or send email to StrategicPlan@stockton.edu. To refresh your memory, here are the questions: 1) Weigh in on the five areas of focus – Are they the correct ones? 2) Provide questions for exploration for each proposed area of focus. 3) Suggest guiding principles for the implementation plan.
I wish you a happy and safe holiday season and a smooth finish to the semester. Many thanks for all that you do for Stockton and for our community."
-Lori A. Vermeulen, provost and vice president for Academic Affairs
---
Your Feedback Requested- Stockton University ADA Campus Survey
The Stockton ADA-Rehabilitation Act Steering Committee is conducting a survey to gauge campus understanding of the services and practices that help to make our physical and online campus a welcoming environment for all. The University community is invited to take the survey.
FROM THE SIDELINES
John Bancheri Named First Full-Time Rowing Coach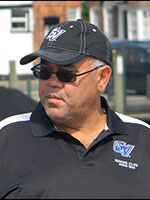 Stockton University has selected Atlantic City native John Bancheri as its first full-time head rowing coach. Bancheri returns to the Garden State with nearly 35 years of college coaching experience. He will direct the Stockton women's intercollegiate team and also work with the men's club team.
---
Dave Lorber Named Head Baseball Coach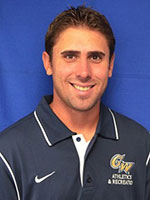 Stockton has selected Freehold, N.J. native Dave Lorber as its first full-time head baseball coach. Lorber brings 10 years of experience as an assistant coach at the college level to his new role at Stockton, which has upgraded the head baseball coach position from part-time to full-time.
---
Caiazzo & Gilligan Selected to All-Region Second Team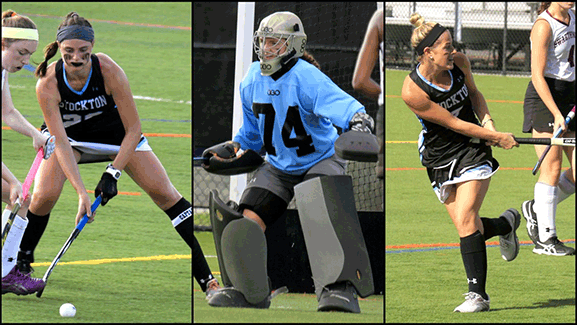 Stockton field hockey teammates Victoria Caiazzo and Emily Gilligan were selected to the South Atlantic Region Second Team by the National Field Hockey Coaches Association (NFHCA).
UPCOMING EVENTS
Friday, Dec. 14 – Faculty and staff are invited to Stockton's Annual Holiday Party. Festivities begin at 2 p.m. in the Campus Center. Please remember to bring a non-perishable food item to support our local food pantry.
Friday, Dec. 14 – Men's Basketball Game at Boardwalk Hall