Stockton News - Friday, March 27, 2020
WHAT WE'RE TALKING ABOUT
Virtual Commencement Scheduled for May 15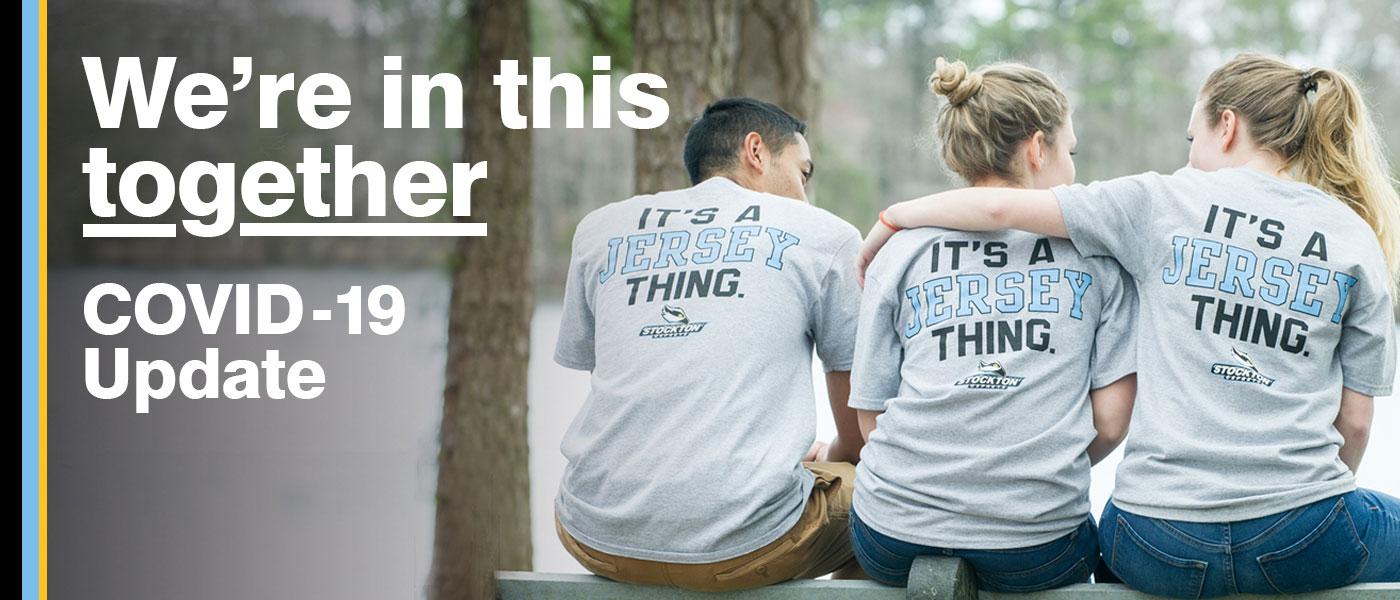 Classes have resumed remotely following an extended Spring Break to allow faculty time to convert to alternate delivery options for the remainder of the semester.
In-person events and meetings scheduled through May 31 should be considered cancelled or postponed at all sites. Some events and meetings have converted to online/virtual and are listed in the Campus Calendar. Events scheduled after May 31 remain under review.
Stockton will postpone traditional commencement ceremonies in May and instead hold a virtual commencement on May 15 and plan for a ceremony in the fall.
Please check the
Coronavirus website
for the most up-to-date information on procedures, FAQs for faculty and staff and other important announcements.
---
Data Science Major Prints Masks for Health Care Workers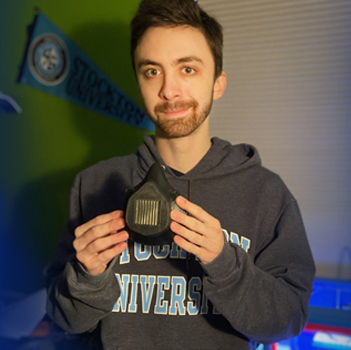 When graduate student Gavin Rozzi heard that health care workers on the front lines of the coronavirus pandemic were facing a shortage of personal protective equipment, he used his technology hobby to turn household items into masks with respirators.
Over Stockton University's spring break, Rozzi began cutting vacuum cleaner bags into masks and fitting them with plastic respirators printed from his home with a 3D printer.
"Neighbors and friends are contributing supplies, so this has been a community effort," the Ocean County resident said.
WE'RE HERE TO HELP
Resources Available to Staff, Faculty During COVID-19
There are many resources and best practices being made available to staff and faculty working remotely that can be found by visiting Instructional Technology's website. Additionally, tips for online course instruction can be found here.
The Office of Human Resources shared this week's online training spotlight that focuses on helping you effectively manage your time while working from home. Additional online training opportunities can be found here.

The Richard E. Bjork Library is offering online live help available via their "Ask Us!" chat service, available 9 a.m.-9 p.m, Mondays-Thursdays; 9 a.m.-3 p.m. Fridays; and noon-8 p.m. Saturdays and Sundays. You can also contact any of our subject librarians to schedule a personal consultation via phone, online chat or zoom. All online library databases, ebooks and videos are available 24/7. Subject guides, an FAQ page and links to other resources available anytime here.
Stockton News invites faculty and staff to share any tips & tricks for working and teaching remotely and your stories on your experiences operating remotely. Please share by emailing UniversityRelations@stockton.edu.
SPOTLIGHT ON
Esports Team Finishes Second in 'Rocket League' Conference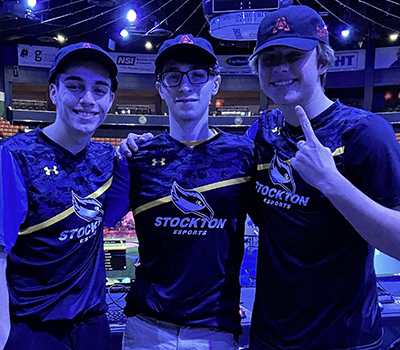 Stockton University's Rocket League esports team finished the spring season in second place in the 2020 Collegiate Rocket League eastern conference playoffs.
The team of Vincent Nelson from Bayville, Geno Copertino from Brigantine and Alex Lee from Linwood was ranked sixth in the conference going into the playoff tournament. The games were played remotely from March 16-18.
The Press of Atlantic City posted about their placing.
FRAME-WORTHY
The Arrival of Spring
In the midst of all that is going on, spring still arrives and offers with it hope and the awe of nature. Our campus is one that wears every season beautifully.
If you need a reminder or just some gorgeous sunsets over Lake Fred, enjoy these scenes captured by David Carr, retired professor of Political Science and a former administrator.
Carr spent a year capturing Stockton through the seasons.
Don't forget to stop and smell the flowers. 🌷
WHAT'S TRENDING #STOCKTONU
Instagram:
As we begin online classes today, remember: we're in this together. We are here to support, comfort and help one another through these uncertain times. We are #StocktonUStrong 🖤💙💛
Facebook:
The best way to get through this challenging time is together. The Stockton Greek Council asked Instagram followers to submit senior shoutouts.
---
👉Seeking Your Words of Wisdom
As we make the transition to a virtual learning environment, our social media team is asking faculty members to submit a short video clip offering reassurance to students. Share your best advice to encourage students to finish strong, stay positive and make the most of the circumstances. How you share your words of encouragement is up to you. Maybe it's a story you tell, a poem you read, music or dance that you perform, or simply taking a moment to record a brief message. We will take your video messages and post them to Stockton's Instagram story next week. 🐾 Pet appearances are welcomed! Email your submissions to UniversityRelations@stockton.edu.
FROM THE SIDELINES
Four Ospreys Qualify as NFHCA Scholars of Distinction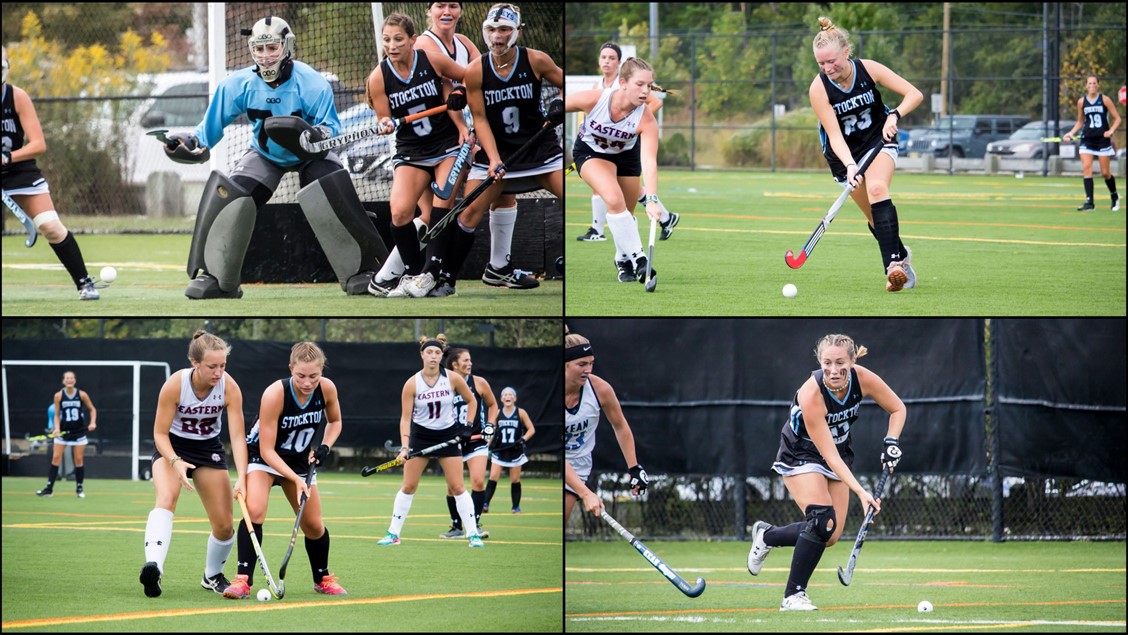 Four members of the Stockton University field hockey team were recognized as
Zag Field Hockey/NFHCA Division III Scholars of Distinction
by the National Field Hockey Coaches Association. The requirement for this recognition is a cumulative grade-point average of 3.90 or higher through the Fall 2019 semester.
Senior
Emily Gilligan
qualified as a Scholar of Distinction for the third consecutive year while junior
Issy Gilhooley
and sophomore
Kelsey Andrus
earned the academic honor for the second straight year. Sophomore
Lainie Allegretto
made the grade for the first time.
OSPREY NOTES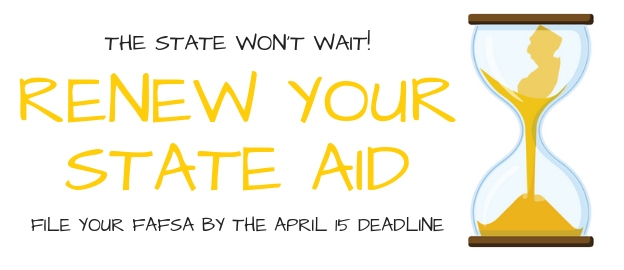 FAFSA Filing Deadline April 15
Faculty, please encourage your students to file the 20-21 FAFSA by April 15. Anyone who misses this deadline will lose out on over $7,500 of free money for the 20-21 academic year, if eligible.
Please note: All remaining FAFSA Friday sessions for the Spring 2020 semester have been cancelled; however, the Office of Financial Aid is still available to help.
Remember, the State Won't Wait! Students can apply at fafsa.gov.
Staff in the office are working remotely, so please have students contact us at finaid@stockton.edu with any questions they may have and someone will work to respond as soon as possible.