Stockton News - Friday, Jan. 18, 2019
WHAT WE'RE TALKING ABOUT
Dual Credit Course Fills 'Math Gap' for High School Seniors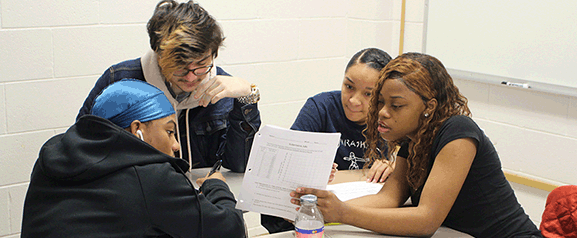 Isja'monee Banks, 18, didn't have to take a math class her senior year at Egg Harbor Township High School. But she plans to attend college and wants to be prepared. So she registered for the new Survey of Mathematics dual credit course with Stockton University, which will sharpen her math skills and provide her with college credit.
---
Art Faculty Members Display Work in Art Gallery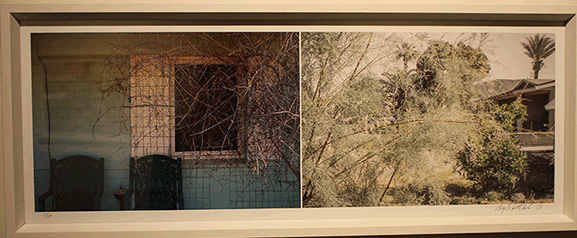 Mariana Smith, assistant professor of Art (Printmaking), and Joseph Podlesnik, adjunct faculty member, have their artwork on display until March 27 in the art gallery. Smith's collection, titled "Liminal Spaces," is in the lower wing of the gallery, and Podlesnik's photographs, titled "Acts of Looking," are displayed in the upper level of the gallery. Stop by and take in their talent.
STRATEGIC PLAN UPDATE
Upcoming Open Sessions Announced
The University community is invited to attend the following open sessions to discuss the Institutional Strategic Plan: 2:10-3:25 p.m., Wednesday, Jan. 30, in the Board of Trustees Room; 4:30-5:30 p.m., Thursday, Jan. 31, in Meeting Room 5 of the Campus Center; 4:30-5:30 p.m., Tuesday, Feb. 19, in HSC-302; 3-4 p.m., Friday, Feb. 22, in the Board of Trustees Room; 2:10-3:25 p.m., Monday, Feb. 25, in Meeting Room 5 of the Campus Center; 4:30-5:30 p.m., Thursday, Feb. 28, in the TRLC; 12:45-1:45 p.m., Friday, March 1, in the Board of Trustees Room; in the 3:30-4:30 p.m., Tuesday, March 5, in the Campus Center Event Room.
If you have any questions, email StrategicPlan@stockton.edu.
STOCKTON UNIVERSITY ATLANTIC CITY
Catch a Movie at Stockton University Atlantic City
This spring semester, the entire Stockton community is invited to enjoy six feature films, free food and drinks, as part of "AC Campus Movie Nights: Cinema in the City." Prizes will be available to students who go. Attendees are asked to bring their Stockton IDs. Movies will be shown at 8 p.m. in the Stockton University Atlantic City residential classrooms B119/120 on the following dates: Friday, Jan. 25, Venom; Tuesday, Feb. 5, Blackkklansman; Friday, Feb. 22, Greenbook; Friday, March 22, Aquaman; Tuesday, April 9, Bumblebee; and Friday, April 19, Spiderman: Into the Spiderverse.
---
'Coffee and Connection in Atlantic City' Spring Dates Announced
Stop by for a cup of coffee and share feedback about Stockton University Atlantic City during "Coffee and Connection in Atlantic City" at one of the following sessions: 3-5 p.m., Feb. 7, in the Academic Center Lobby; 1-3 p.m., March 7, in the Residential Staircase Lounge; 10 a.m.-noon, March 20, in the Academic Center Lobby; and 2-4 p.m., April 10, in the Residential Staircase Lounge. Attendees will have the opportunity to connect with special guests from the Atlantic City community and staff from the division of Student Affairs.
SPOTLIGHT ON
Karavackas Joins IBAVI Institute Advisory Board
India Karavackas, director of Office of Global Engagement, was asked to join the International Beliefs and Values Institute (IBAVI) Advisory Board in November. IBAVI is a nonprofit and nonpartisan organization that was established in 2004 as a response to the 9/11 attacks to study the processes and outcomes of international learning.
"Being asked to join the IBAVI Board is a real honor as it offers an opportunity to contribute to the discussion of the nature and direction of the ongoing work of the nonprofit. The nonprofit is unique in the sense that it seeks to understand the influence of beliefs and values as a core component of global societal conflicts, whether it be around race relations, climate change, war, terrorism, etc.," Karavackas said. "Some of its initiatives focus on bringing together individuals from around the world who are creating and employing deep transformative learning experiences of the 'self' in order to better understand the 'other.' At Stockton, we endeavor to do this is several ways, one of which happens to be through international education."
FRAME-WORTHY
Picture Stockton…Conducting Science in Space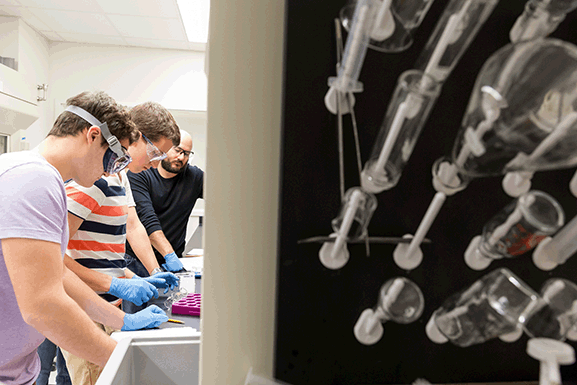 Stockton University researchers want to know if the absence of gravity can impair how human cells repair damaged DNA. The sky is not the limit in their quest for answers.
Students Daniel Stoyko, Matthew Elko and Joseph Romanowski are working with Michael Law, assistant professor of Biology, to design an experiment that will launch to the International Space Station (ISS) this summer.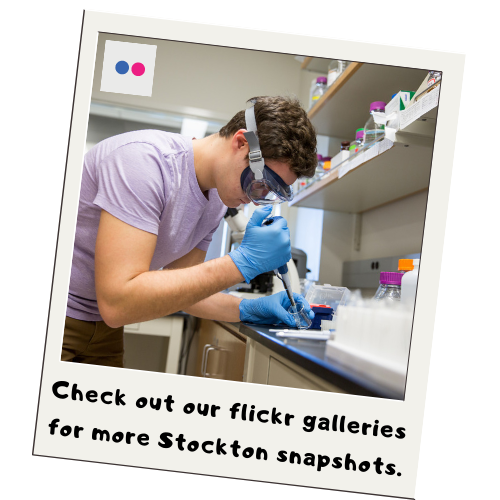 WHAT'S TRENDING #STOCKTONU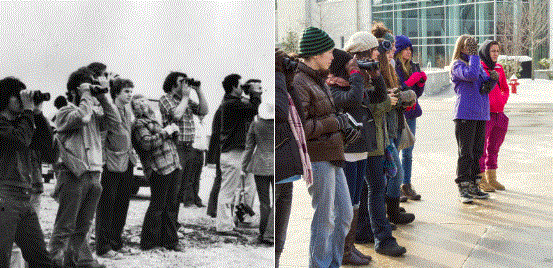 Twitter: #StocktonThenandNow: Students look through binoculars during an ornithology class.
Instagram: Welcome back, Ospreys Instagram Story highlights the many events and organizations students can get involved with during the Spring semester.
Facebook: Two sisters discovered a 5-foot wide crater in the sand on a Jersey shore beach. Could it be from outer space? Joseph Trout, associate professor of Physics, talks about the possibilities with Ted Greenberg of NBC 10 News.
FROM THE SIDELINES
Stockton Track & Field Season Hits the Ground Running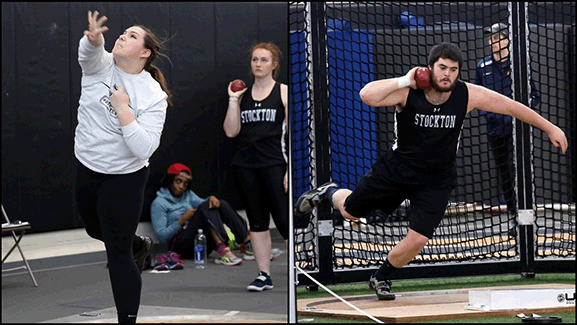 Stockton University's 2018-19 indoor track & field season leapt back into action at the TCNJ Indoor Invitational on Jan. 12 at the historic New York Armory. Notably, the Osprey men finished fourth out of 15 teams.
'ROLE' CALL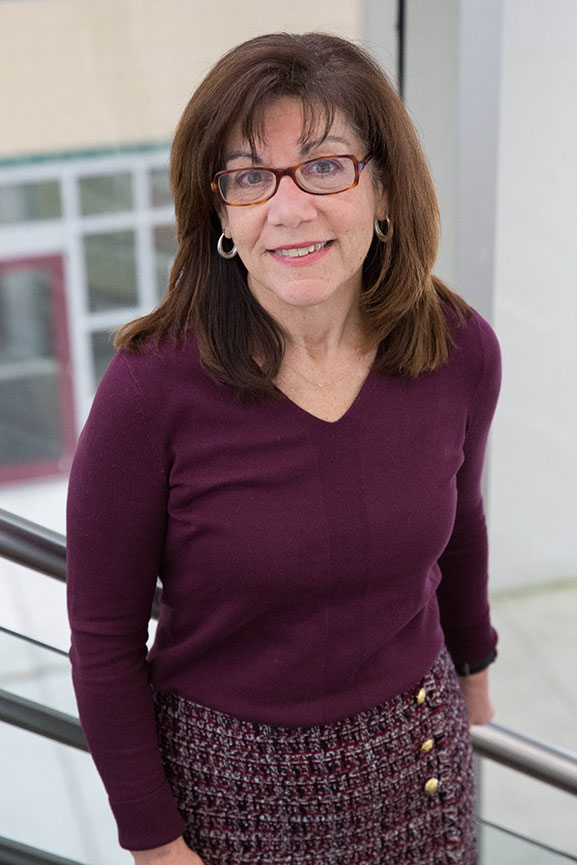 Susan Werner has been appointed as the interim associate director of Development, effective January 2019. She will oversee the annual giving program, maintain a prospect portfolio with donors at various levels and work to support the overall Development program.
Werner has held several previous positions including director of Institutional Advancement at Holy Spirit High School, director of Development and Marketing at Gilda's Club South Jersey, and corporate director of Marketing and Public Relations at AtlantiCare, bringing a range of skills and expertise to her new role at Stockton. Werner has also held volunteer Board of Director positions with the Chamber of Commerce Southern New Jersey, United Way of Atlantic County and the Deborah Heart and Lung Center, further illustrating her ties to the community and assisting nonprofits. She earned a B.S. in Human Resources/Consumer Economics from University of Delaware.
OSPREY NOTES
Spring Semester FAFSA Fridays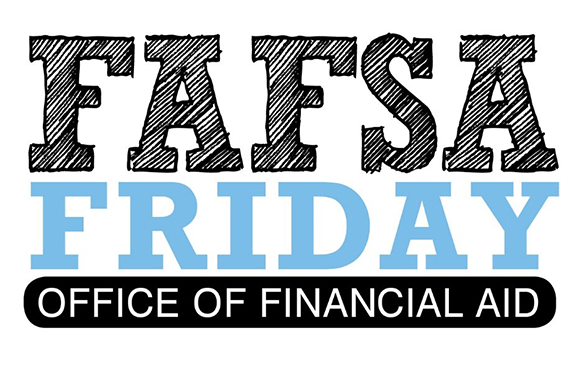 Do you have students who are looking for financial aid assistance? The Office of Financial Aid is hosting "FAFSA Fridays" from 11 a.m.-1 p.m. every Friday, Jan. 25-April 19, in the F114 computer lab to assist students with the financial aid process. Encourage your students to file their FAFSA applications by Stockton's March 1 priority deadline and NJFAMS applications for State aid by April 15.
UPCOMING EVENTS
Monday, Jan. 21 – Join us to make a difference at the 15th Annual Martin Luther King Jr. Day of Service
Wednesday, Jan. 30 – Transfer Admissions Day at Manahawkin Location