Stockton News - Friday, Jan. 11, 2019
WHAT WE'RE TALKING ABOUT
Middle School Girls Get Wrapped Up at Tween Tech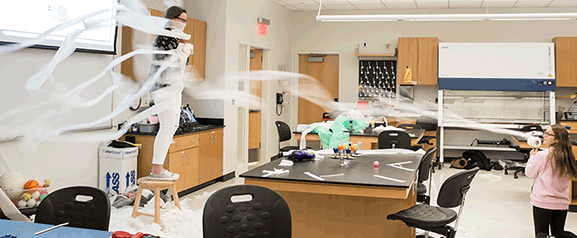 Egg-dropping and blowing toilet paper were just some of the STEM fun 250 girls experienced at the Third Tween Tech on Jan. 4 at Stockton. Each girl was able to participate in two of 22 STEM-related workshops during the event.
The Press of Atlantic City and SNJ Today covered the event.
---
OceanFirst Foundation Awards $50,000 for Scholarships
The OceanFirst Foundation presented a check for $50,000 to Stockton on Jan. 8 that is providing 20 scholarships for Stockton students. Jeffrey Ropiecki, vice president of commercial lending at OceanFirst, said OceanFirst awards scholarships to assist students with the financial hardships that may arise during their time in college, as well as to thank the University for its services.
STOCKTON UNIVERSITY ATLANTIC CITY
'Coffee and Connection in Atlantic City' Spring Dates Announced
Stop by for a cup of coffee and share feedback about Stockton University Atlantic City during "Coffee and Connection in Atlantic City" at one of the following sessions: 3-5 p.m., Feb. 7, in the Academic Center Lobby; 1-3 p.m., March 7, in the Residential Staircase Lounge; 10 a.m.-noon, March 20, in the Academic Center Lobby; and 2-4 p.m., April 10, in the Residential Staircase Lounge. Attendees will have the opportunity to connect with special guests from the Atlantic City community and staff from the division of Student Affairs.
---
Facebook: AtlantiCare staff gave a virtual tour of their new location next to #StocktonAC and explained their expanded services to serve the community, Stockton students and visitors.
SPOTLIGHT ON
UNIDOS Collects Toys for Three Kings Day Celebration in Atlantic City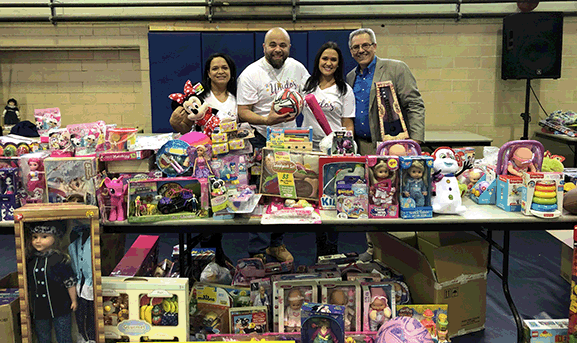 UNIDOS supported the 20th Annual Three Kings Day Celebration, sponsored by the Hispanic Alliance of Atlantic County, on Jan. 5, at Our Lady Star of the Sea Church in Atlantic City by collecting toy donations for less fortunate children at Stockton University. Nearly 100 donations were collected by the Stockton community, an excellent outcome for this community-driven initiative.
Across Spain, Latin America and heavily populated Latino communities throughout the U.S., Three Kings Day (Dia de los Tres Reyes Magos) is a tradition celebrated commemorating the three wise men visiting Jesus after his birth. "As a little girl in New York City, I remember preparing for the arrival of the three kings by putting grass in a shoebox for the camels to eat and a glass of water for the three kings to drink. If we were good, me and my sister would wake up to presents the next morning," said Yubi Pena, recording secretary of UNIDOS.
"The Three Kings Day Celebration was an amazing success. It brought together several hundred members of our Atlantic County community. The members of the University community present for the day and the prep work leading up to the event were current Stockton students and alumni, and the UNIDOS Stockton faculty and staff organization, said Pedro Santana, assistant vice president for Student Affairs, Division Administration and Strategic Initiatives, and president of UNIDOS. "Events like the Three Kings Day celebration are a reminder of why UNIDOS exists and strives to fulfill its motto, 'We exist because the progress and development of our community is vital.'"
PHOTO: From left to right, Yubi Pena, recording secretary of UNIDOS; Pedro Santana, president of UNIDOS; Jessica Grullon, corresponding secretary of UNIDOS; and Bert Lopez, president, Hispanic Alliance of Atlantic County.
FRAME-WORTHY
Picture Stockton…Looking at Maritime History Uncovered in Stone Harbor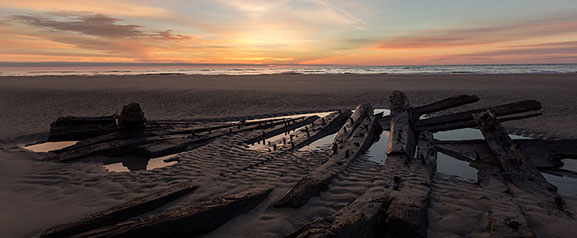 Last month, the ocean uncovered hidden history. What remains of an old wooden ship is now visibly resting on the beach at Stone Harbor Point in the intertidal zone. As the ocean recedes, sturdy oak timbers forming the ship's ribs jut out from the sand until they are covered again by the high tide.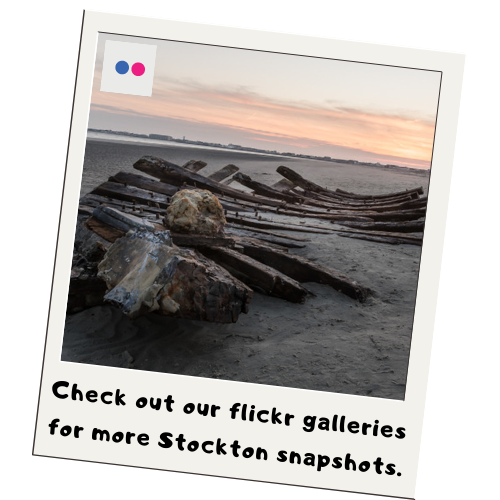 WHAT'S TRENDING #STOCKTONU
Twitter: Jill Horner of @ComcastNewsmkrs speaks with Amanda Copes, clinical supervisor from the #StocktonU Speech and Hearing Clinic, about evaluation and treatment services for the community.
---
Facebook: Students from across the country submitted their stories to a national book highlighting mental health. Four Stockton students had their stories selected and published and the Press of Atlantic City covered it. #StocktonSavesLives
FROM THE SIDELINES
Athletes Help Make Special Olympics a Gold Medal Event
Stockton University hosted more than 800 participants in the Special Olympics New Jersey Winter Olympics on Jan. 4-6 and University athletes and coaches were directly involved in helping make the event a success.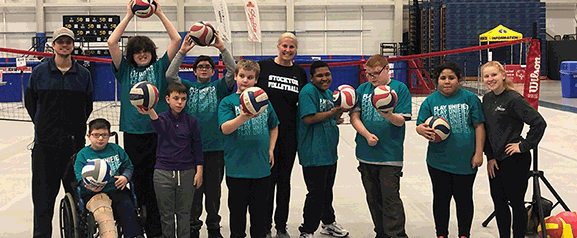 'ROLE' CALL
Shakera McAllister joined the Stockton University Police Department as a clerk typist in December. In her new role, McAllister will be assisting the police administration with tasks that include public contact, record keeping, document processing along with a host of other duties as assigned. Previously working as an administrative coordinator for Jingoli and Sons Construction, McAllister served as a point of contact between employees, internal department, external parties while handling clerical and administrative duties. McAllister worked in construction for three years, and prior to that she completed a dialysis technician course and is currently a certified hemodialysis technician.
---
Christina Birchler has been appointed as the director of Stockton University at Hammonton, effective January 2019. Birchler has been with Stockton since 2010. In 2012, she joined Eileen Conran-Folks, and was instrumental in assisting with all aspects related to the official opening and operation of Stockton's Hammonton location. She has served as the assistant supervisor of the location for the last five years where she honed her administrative, financial and supervisory skills. Worth noting are the program partnerships that she has cultivated with the diverse community organizations throughout the Hammonton area, including non-profit, for profit and educational partners. Birchler earned a MAIT from Stockton in 2016 and holds a B.S. in Sports and Recreation Management from Temple University.
UPCOMING EVENTS
Monday, Jan. 14 – Spring classes begin.
---
Monday, Jan. 21 – Join us to make a difference at the 15th Annual Martin Luther King Jr. Day of Service
---
Wednesday, Jan. 30 – Transfer Admissions Day at Manahawkin Location