Middle School Girls Get Wrapped Up at Tween Tech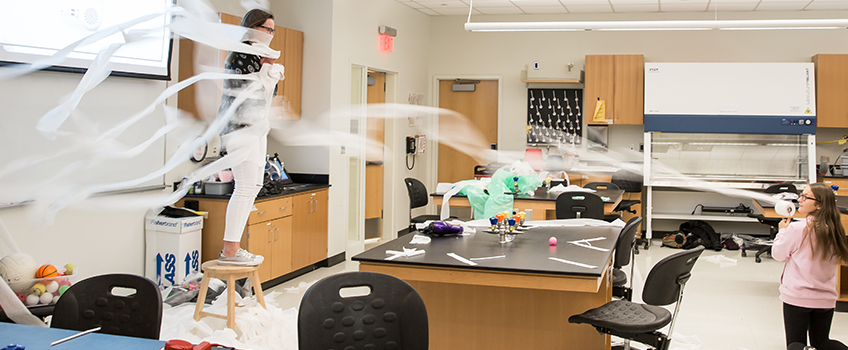 Galloway, N.J. _ Medford Memorial Middle School student Samantha Barrile sat with her head covered with sensors, watching her brain waves appear on a computer screen in Stockton University Associate Professor of Psychology Jessica Fleck's brain research lab.
Keo O'Donnell from the Margaret Mace School in North Wildwood took little time in turning a pile of littleBits electronic building blocks into a personalized vehicle that rolled across the floor of a meeting room in the Stockton Campus Center.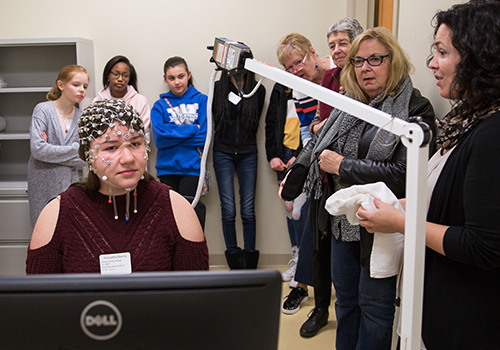 In the Unified Science Center and other rooms across campus middle school girls folded and animated origami robots with Associate Professor of Education Norma Boakes, and soldered electronic flashing badges with Professor of Biology Tara Luke-Harmer.
The third Tween Tech sponsored by Stockton and the Atlantic and Cape May branches of the American Association of University Women brought 250 girls in grades six through eight from a dozen area school districts to Stockton on Jan. 4 for a day of hands-on Science, Technology, Engineering and Math, or STEM workshops. Each girl was able to participate in two of 22 workshops.
"Middle school is a crucial age for girls and science," said Stockton Dean of Education Claudine Keenan. "We want to show them all the opportunities there are as they prepare to enter high school."
The AAUW got involved to encourage more girls to enter STEM fields.
"The more exposure we can give them, the better," said Atlantic County branch president Linda Harmon.
"We hope that they can see people who are excited about STEM fields and that can promote an interest in taking STEM courses when they get to high school," said Cape May branch president Karen Weis.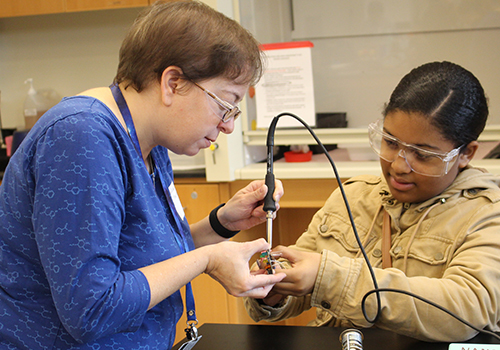 The Atlantic County Institute of Technology sent teachers and a dozen students to facilitate four workshops.
"This helps build relationships and is aspirational for both groups of girls," said Monica Amadio who teaches Informational Technology at ACIT. "The age jump is close enough that the middle school girls can see themselves doing what the high school students are doing. And it's a boost of confidence for the high school students to present and have the younger girls look up to them."
Some students already know they want to enter a STEM field. Nilima Rahman, 14, an eighth grader at the Richmond Avenue School in Atlantic City also attended last summer's Tech Trek camp. She plans to go into the medical field.
"I like science and I want to help people," she said. She said the summer camp let her connect with girls who are interested in the same things she is, and also gave her the chance to try new things.
"I was able to do things that are right up my alley, and pick new things to see if I might like them," she said.
Thalia Arce, an eighth grader from Farmingdale wants to be an aeronautical engineer. A highlight of her education has been a trip to the Air and Space Museum in Washington D.C., and her experience at Tech Trek.
"I thought I wanted to be a microbiologist, but then I realized I really like engineering," she said.
This is the third year Stockton has hosted Tween Tech. Participating school districts included Atlantic City, Bishop McHugh, Egg Harbor Township, Evesham Township, Hamilton Township, Linwood, Maple Shade, Medford Township, Monroe Township, North Wildwood, Southern Regional and Tabernacle.
Stockton also hosts a Teen Tech day for high school girls in May and a week-long summer Tech Trek summer camp for rising eighth grade girls that will be held from July 21-27, 2019.
View a gallery of photos on flickr.
# # #
Contact:
Diane D'Amico
Director of News and Media Relations
Stockton University
Galloway, N.J. 08205
Diane.DAmico@stockton.edu
609-652-4593
609-412-8069
stockton.edu/media