Stockton News - Friday, Feb. 22, 2019
WHAT WE'RE TALKING ABOUT
Rowing is Growing at Stockton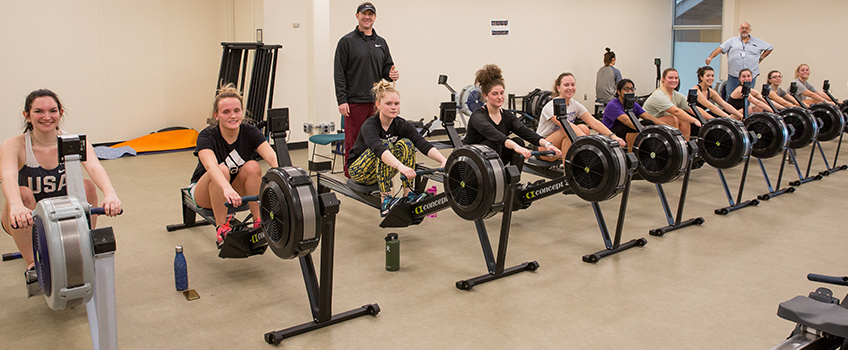 Written above a poster for the 2019 Jefferson Dad Vail Regatta are the words "Our Terminal Goal." The poster, taped to a whiteboard in room F103 at Stockton University is motivation for the women of Stockton's rowing team as they spend cold February mornings in sweaty 1.5 hour workouts on the "erg" rowing machines that line the room.
See the team in action during this twitter post.
---
Ventnor Couple Establishes Scholarship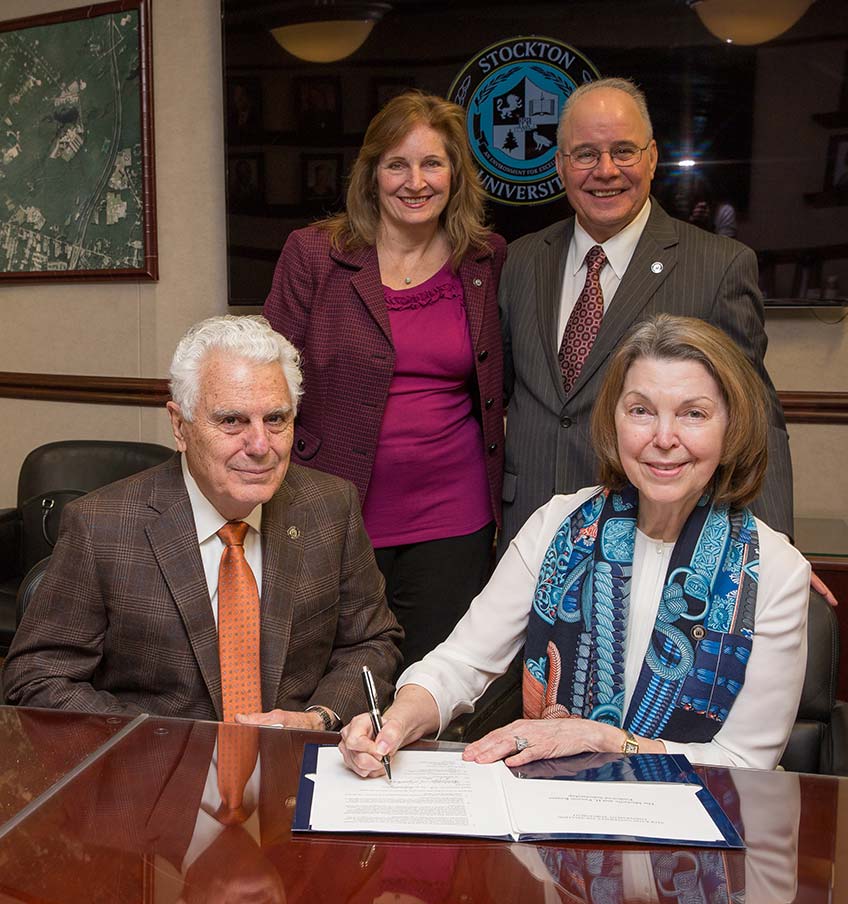 Michelle and H. Paxson Keates of Ventnor have donated $50,000 to the Stockton University Foundation to establish an endowed scholarship fund for students. The couple established the Michelle and H. Paxson Keates Endowed Scholarship to create a permanent source of scholarships for students.
---
New Fund Supports Marine Science at Stockton
The Atlantic City Historical Waterfront Foundation (ACHWF) will transfer its assets to the Stockton University Foundation to create a special fund to support university maritime science programs. The transfer was announced at the Feb. 21 Stockton University Board of Trustees meeting.
STOCKTON UNIVERSITY ATLANTIC CITY
For upcoming events happening at Stockton University Atlantic City, visit the online calendar.
SPOTLIGHT ON
Kazi Sheds Light on Politics and Anti-Muslim Racism in New Book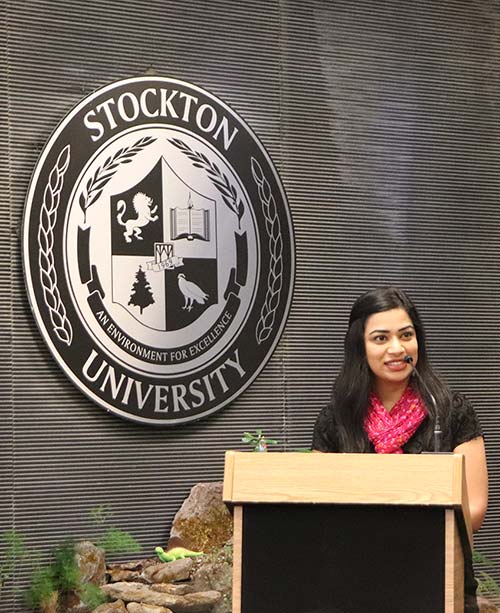 Nazia Kazi, assistant professor of Anthropology at Stockton University, wants to start an important and often misunderstood conversation with readers in her recently published book, "Islamophobia, Race, and Global Politics."
Kazi was a college student during the tumultuous time of 9/11, the start of the Afghanistan War and the 2003 invasion of Iraq. It resulted in her becoming immersed and a little obsessed with studying American involvement in the Middle East.
FRAME-WORTHY
Children's Drawings from Darfur Preserved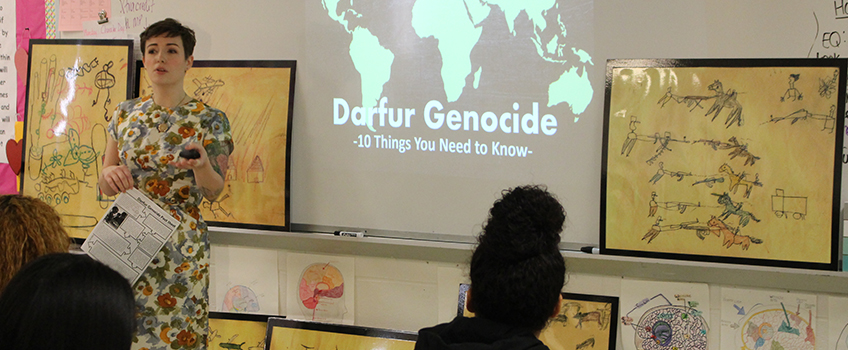 Drawings made by refugee children in the war-torn Darfur region of Sudan are now part of a collection preserved
by Stockton University for use by schools throughout South Jersey.

In 2004, Cherry Hill pediatrician Jerry Ehrlich traveled to the Darfur section of Sudan to treat refugee children in the war-torn country. He brought with him 400 pieces of paper and 20 boxes of crayons and asked children to draw stories of their lives. When he left, he smuggled out 157 drawings inside a copy of the Sunday New York Times.
WHAT'S TRENDING #STOCKTONU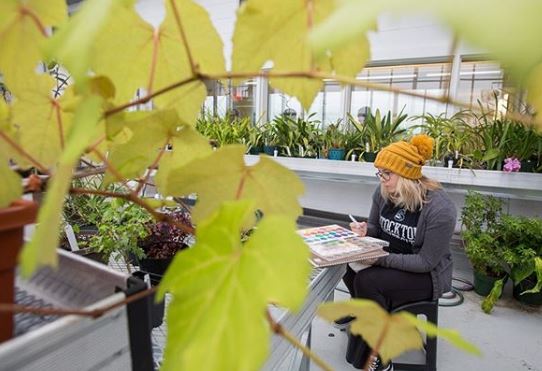 Instagram: Students escape to the tropics on this snow day for a project that blends art and science. Professor Mariana Smith brought her #drawing students to the @stockton_sciences greenhouse for a change of scenery as they learn the cross hatch technique.
Facebook: We are approaching the middle of the semester and we all know what that means...midterms and big exams! Well, there's no need to fear here because we have you covered. We asked current students to share their number one study tips.
THE SIDELINES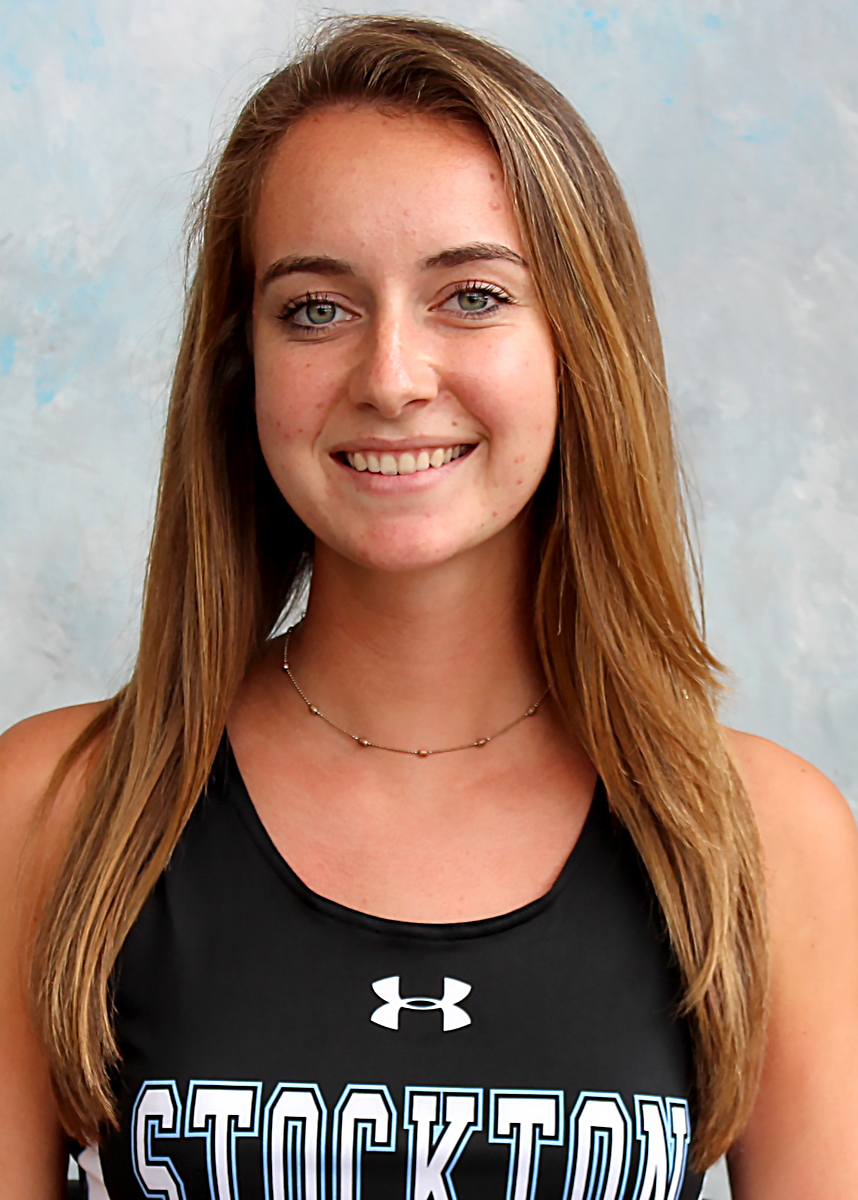 Stockton Cross Country Team Earn Academic Honors
The Stockton University men's and women's cross-country teams each qualified for All-Academic Team status from the United States Track & Field and Cross Country Coaches Association (USTFCCCA). Senior Regina Duncan earned USTFCCCA All-Academic status individually, as well.
---
Ferebee Selected NJAC Honorable Mention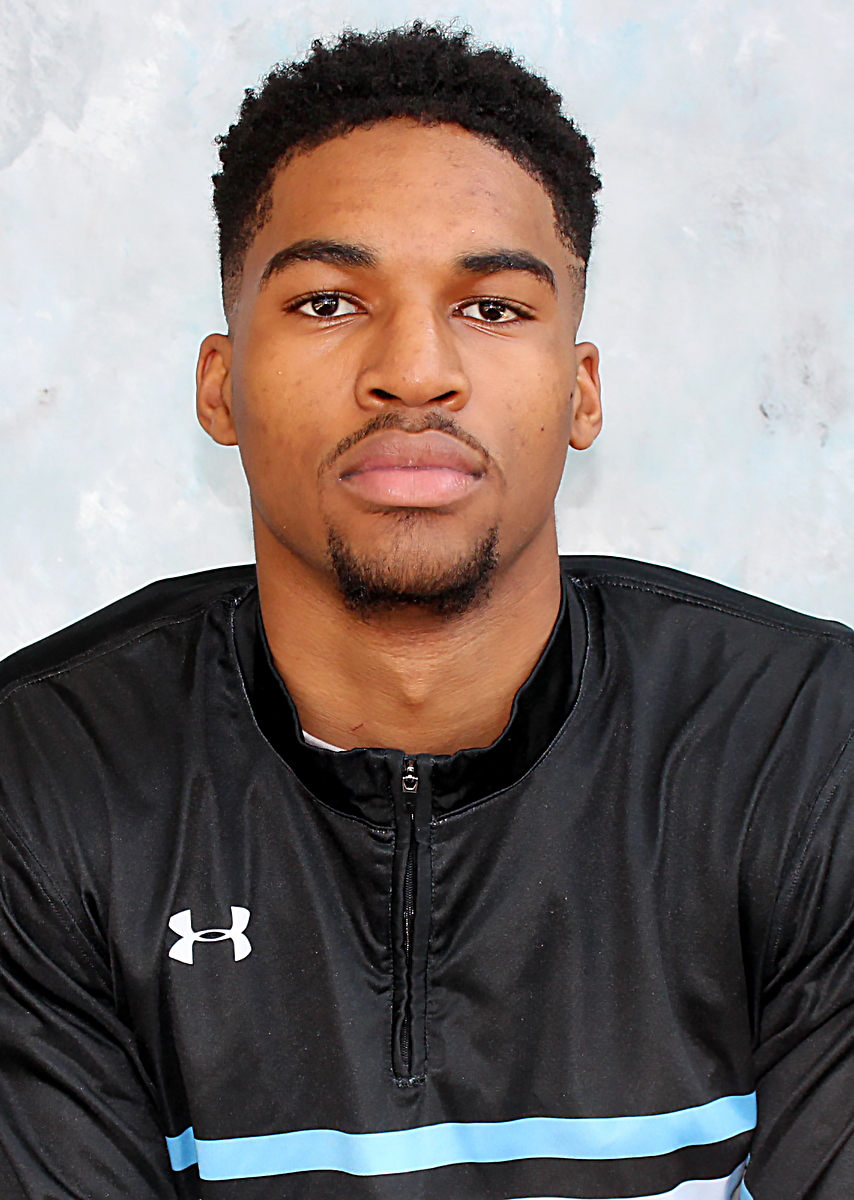 Stockton University junior forward Steve Ferebee was chosen for a NJAC Honorable Mention for the 2018-19 season, collecting all-conference honors for the first time. Ferebee led the team in three different categories while starting all 25 games for the Ospreys this season.
---
Stockton Men Second, Women Third in NJAC Championships
The Stockton University men's and women's indoor track & field squads produced strong team efforts at the NJAC Championships that resulted in second place for the men and third place for the women. The Osprey men finished second for the second straight year, equaling their best finish ever, and the women were third for the fourth straight time.
OSPREY NOTES
SCOSA Holds Strategic Planning Retreat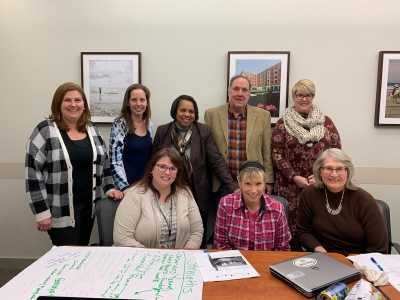 The Stockton Center on Successful Aging held a strategic planning retreat under the direction of SCOSA fellow Christine Ferri, associate professor of Psychology, on Jan. 10. Gina Maguire, professional services specialist for SCOSA, led the discussion about the center's goals and short-term strategic planning, including the upcoming Annual Successful Festival, scheduled for May 16. David Burdick, professor of Psychology, discussed his environmental scan and long-term strategic planning, including Stockton University's recent designation as an Age-Friendly University.

"The January SCOSA Retreat was the first step in our strategic planning. On March 7, we are hosting a follow-up meeting, so we can evaluate our individual projects and ensure alignment with the University's goals as well as SCOSA's," Maguire said.

Attendants included Ferri; Burdick; Maguire; Megan Foti, associate professor of Occupational Therapy; Patricia Collins, Community Engagement Liaison and adjunct instructor; Jennifer Dunkle, assistant professor of Social Work; Christine Gayda-Chelder, assistant professor of Psychology and Lisa Cox, professor of Social Work.
Spring Semester FAFSA Fridays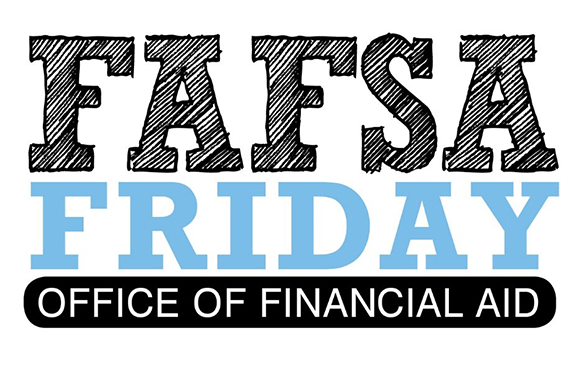 Do you have students who are looking for financial aid assistance? The Office of Financial Aid is hosting "FAFSA Fridays" from 11 a.m.-1 p.m. every Friday through April 19, in the F114 computer lab to assist students with the financial aid process. Encourage your students to file their FAFSA applications by Stockton's March 1 priority deadline and NJFAMS applications for State aid by April 15.
America Saves Week
Stockton University is participating in America Saves Week, a national campaign that encourages people to save money and build wealth, from Monday, Feb. 25 - Friday, March 1. Events planned for America Saves Week include: Stockton Center of Economic and Financial Literacy, Office of Financial Aid and Service Learning student volunteers will staff informational tables from 11 a.m.-2 p.m. Monday, Feb. 25 and Friday, March 1, near the library of the Galloway campus; and 10 a.m.-noon and 4:30 p.m. on Tuesday, Feb. 26, and Thursday, Feb. 28, at Stockton University Atlantic City. Tristan Stolzfus, Human Resources professional services specialist, will present on personal budgeting from noon-1 p.m. on Tuesday, Feb. 26, in Campus Center Meeting Room 2; and John Boyle, assistant professor of Business Studies, Accounting, will present on the income tax update from noon-1 p.m. on Wednesday, Feb. 27 in Campus Center Meeting Room 1.
'ROLE' CALL
Jennifer Kosakowski has been appointed as the interim director of Development effective Feb. 18. Kosakowski was previously the director of Seton Hall University's Office of Corporate and Foundation Relations where she worked directly with deans, faculty members and University leadership to secure gifts in support of funding priorities, and works to cultivate, solicit and steward a wide range of corporate and foundation donors. Prior to Seton Hall, she served as director of Development for the College of Physicians and Surgeons at Columbia University Medical Center. Over the course of her career, Kosakowski has successfully developed comprehensive, strategic fundraising plans for individuals, departments, schools and colleges within a University setting. This background will be extremely valuable in her position at Stockton as we work to develop a fundraising infrastructure to support the University's new strategic plan.
Marcos Aguina joined Plant Management as a senior building maintenance worker in January. Aguina holds a bachelor's degree in Health Science from Stockton. Previously, he did maintenance at Ancora Psychiatric Hospital while earning his degree and is now here trying to further his studies. Aguina works weekends/overnights and is happy to be back at Stockton.
UPCOMING EVENTS
Celebrate Black History Month at Stockton University! A number of events are taking place during the month of February.
Tuesday, Feb. 26 – Transfer Admissions Day at Kramer Hall in Hammonton
Thursday, Feb. 28: Spring 2019 Career & Internship Fair
Tuesday, March 5: International Women's Day Celebration
Friday, March 8 – Rowing and Growing with the Ospreys
Pinelands Weekend includes the Pinelands Short Course on Saturday, March 9 and the Lines on the Pines on Sunday, March 10
Thursday, March 28: 4:30 p.m., Annual Tuition Hearing, Galloway Campus Center BOT Room
Sunday, April 7: Open House
STRATEGIC PLAN UPDATE
The University community is invited to attend the following open sessions to discuss the Institutional Strategic Plan:
Friday, Feb. 22, 3-4 p.m., in the Board of Trustees Room
Monday, Feb. 25, 2:10-3:25 p.m., in Meeting Room 5 of the Campus Center
Thursday, Feb. 28, 4:30-5:30 p.m., in the TRLC
Friday, March 1, 12:45-1:45 p.m., in the Board of Trustees Room
(NEWLY ADDED) Monday, March 4, 3-4 p.m., ACA1-214 Stockton University Atlantic City
Tuesday, March 5, 3:30-4:30 p.m., in the Campus Center Event Room
If you have any questions, email StrategicPlan@stockton.edu