A lot has happened in NAMS since our inaugural issue. Get all the latest NAMS in the news on faculty and adjunct faculty community outreach and research activities, and faculty accomplishments.

Congratulations to our newly tenured and promoted faculty!
Ben Agyare, tenured instructor of Physics
Susanne Moskalski, tenured Associate Professor of Marine Science
Emma Witt, tenured Associate Professor of Environmental Sciences
---


Stockton Receives Grants for Barnegat Bay Projects
May 13, 2019
The project will utilize contracted services from Parsons Mariculture in Little Egg Harbor, New Jersey for aquaculture support to set oysters on recycled shells and plant them on the reef site. Research teams, including students, will monitor the oyster population, water quality, and habitat benefits of the reef.

Picture Stockton: Raising Platforms for Ospreys Along the Atlantic City Expressway
Stockton University Press Release
April 1, 2019
This year, SJTA built three permanent platforms and worked with WSP engineering consultants to secure permits from the New Jersey Department of Environmental Protection to provide ospreys with prime real estate set back from the roadway.

Improved Snag & Drop
Adapt for Success & Conservation
The Fisherman
NAMS Alumnus, Joseph K. Mitchell
March 2019
(Photos courtesy of The Fisherman Magazine)

Picture Stockton...Conducting Science in Space
Stockton University Press Release
January 17, 2019
Stockton University Chemistry researchers and Physics professor collaborate to overcome obstacle viewing materials that were invisible to the naked eye.

Stockton Environmental Student Laurel Klein Awarded LSRPA's Elmeryl Davies Memorial Scholarship
January 2019
Laurel Klein was awarded the LSRPA's Elmeryl Davies memorial Scholarship at a Site Remediation Conference held in New Brunswick, NJ in January.

Learn by the Numbers in Data Science Masters Program
Stockton University Press Release
December 17, 2018
The degree program consists of 30 credit hours (10 graduate courses) that can be completed full-time in one calendar year, or taken part-time

Hartman's Collaborative Research Published in FASED Journal
Nate Hartman, associate professor of Biology at Stockton, along with Eric Moss, associate professor at Rowan School of Osteopathic Medicine and his graduate student Jennifer Romer-Seibert, recently had their research published in the FASEB Journal.
Their work explored that the expression of RNA-binding protein, LIN28, causes neural stem cells to prematurely develop into neurons. When this happens, the pools of progenitor cells deplete quickly. As a result, fewer neurons are actually produced.

Picture Stockton...Research for the Stars
Stockton University Press Release
November 13, 2018
Briena Feltner, a sophomore Physics major, Patrick Cocola, a senior Applied Physics major, and Courtney Weber, a freshman Physics major, have been working this semester to continue the work of Mariam Saad, an alumna, who began to update the Observatory last year.
Discover Marine Life with Tara Luke During NOAA Deep Sea Exploration off Puerto Rico
Stockton University Press Release
October 31, 2018
The NOAA Ship Okeanos Explorer dropped the Deep Discoverer, a remotely-operated vehicle (ROV), into the Caribbean Sea Oct. 31. From her computer in New Jersey, Luke is participating in daily ROV dives where she is identifying species and collaborating with other scientists worldwide to collect baseline data on a North Atlantic habitat unseen by humans.

Stockton Research Could Shed Light on Predatory Dinosaurs
Stockton University Press Release
October 26, 2018
Using cutting-edge technology in Stockton's Unified Science Center, Bonnan of Hammonton, and Langel of Brick, were able to determine for the first time how the bones in the elbows of the American alligator and domestic turkey move in relation to the shoulder.

Stockton Welcomes Guests from Taiwan University
Stockton University Press Release
October 26, 2018
The one-day mathematics and education symposium at Stockton featured presentations by Stockton faculty and the guests from National Chiayi University.

Coast Day Offers A Look at Life Above and Below the Jersey Shore
Stockton University Press Release
October 22, 2018
About a dozen exhibitors lined the Fannie Lou Hamer Event Room, which also hosted educational talks about the status of New Jersey's beaches by Kim McKenna of the Coastal Research Center at Stockton, and maritime history by Stephen Nagiewicz. Dr. Levi Fox, performing as politician Nucky Johnson, provided an entertaining history of Atlantic City.

Stockton's New Mentoring Program - "New Angles On Success"
Stockton University Press Release
October 21, 2018
Funded by the Provost Diversity Award, New Angles to Success is a partnership between Stockton's STEM collaborative, Atlantic City School District, New Jersey Division of Fish and Wildlife, and the Atlantic County Sheriff's office. The New Jersey Division of Fish and Wildlife will train Stockton students on the Hooked on Fishing not on Drugs curriculum.
Covered by Press of Atlantic City, SNJ Today and CBS Philly.

Stockton Releases Rehabbed Terrapins Back into the Wild
Stockton University Press Release
September 18, 2018
Jesse Wise, a grounds worker in Plant Management, saw a Diamondback terrapin crossing Vera King Farris Drive in late June. Knowing she was out of place, he delivered her to John Rokita, principal lab technician in Stockton's Animal Lab.
The Northern Diamondback terrapin, listed as a species of special concern in New Jersey, is the only turtle species that lives exclusively in brackish water (a mix of salt and fresh water) throughout its entire life.

Stockton Graduates Present a Decade of Research to Honor Stacy Moore Hagan's Legacy
Stockton University Press Release
August 30, 2018
Roland Hagan was the first Stockton student to intern at the U.S. Coast Guard lifesaving station turned Rutgers University Marine Field Station (RUMFS) in Tuckerton his senior year. Stacy was the next.
Volunteer and intern experiences eventually led to technician positions at RUMFS for both Hagan and Moore, who married after they graduated from Stockton. Stacy's salmon research took them to Oregon, but a master's degree at Rutgers University brought them back to New Jersey.
Trending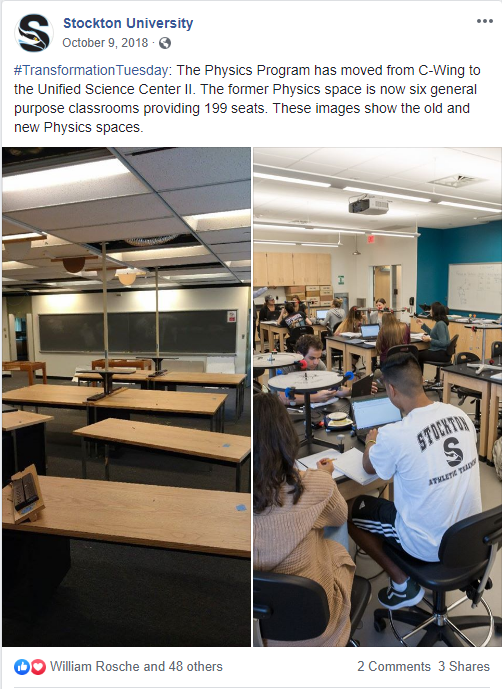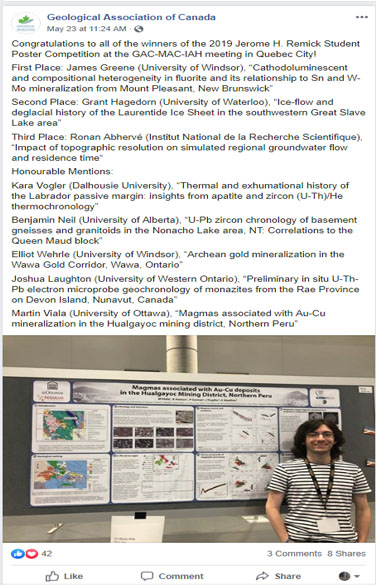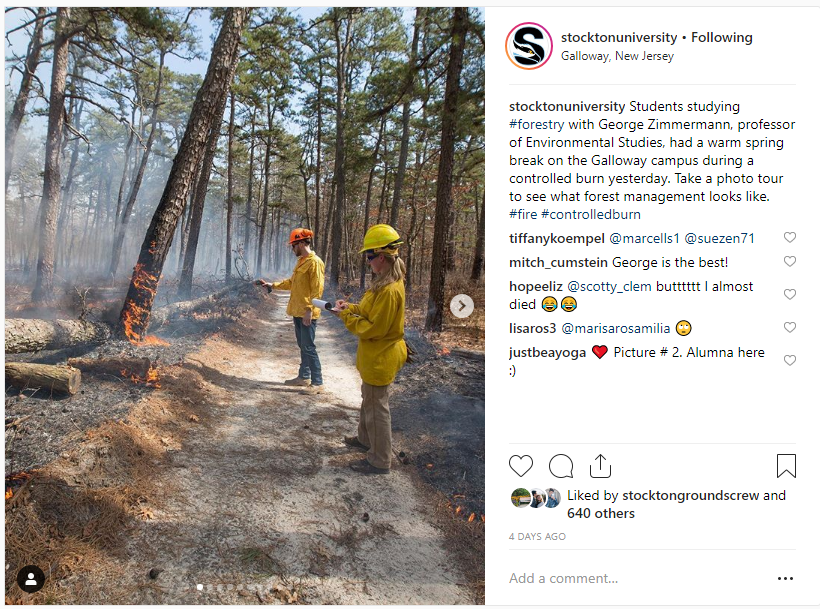 Events