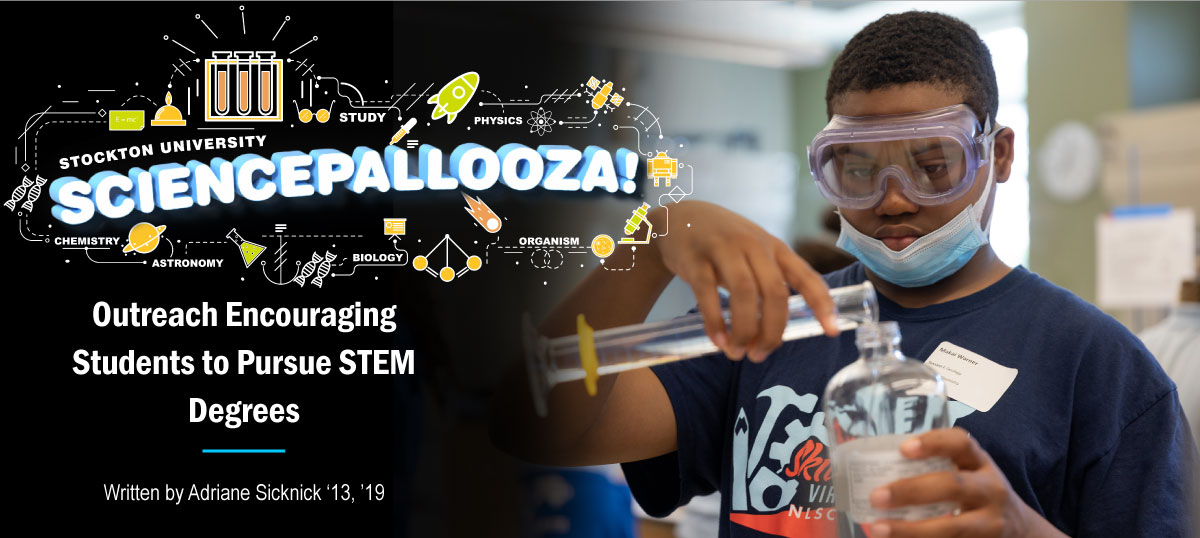 Photo credit: Susan Allen '09, '14
---
The School of Natural Sciences and Mathematics (NAMS) is continuing to break down barriers to make STEM (Science, Technology, Engineering, and Mathematics) accessible for disadvantaged populations with the creation of a new outreach initiative for students.
Sciencepallooza is a new, in-person enrichment program geared towards bringing high school students onto campus to explore experimentation outside their typical curriculum and stimulate student interest in the numerous career opportunities in the field of science.
"What I liked best about the event was how it was hands-on. It allowed me to get a better idea of what it would be like to attend a college class at Stockton. Also, it made it more interesting and engaging because we were able to learn a lot about each subject with both a lesson and a demonstration of what the class is actually like," explained Alyssa C., a sophomore at Camden County Technical School (CCTS).
This past year, we successfully hosted two high schools on the Galloway campus – in the fall of 2021, Malcolm X. Shabazz (MXS) from Newark, and in spring 2022, Camden County Technical School (CCTS) from both the Pennsauken and Gloucester locations– and will be continuing to expand our offer to other high schools across the state.
The eighty students who participated from each school chose two hands-on activities from several different disciplines in science. The activities offered at the past two events ranged from experiential chemistry to geological volcanic eruptions! During lunch, Heather Medina and Kyle Zack from Admissions provided students with a candid talk about college preparedness and financial assistance which is available through both The Stockton Promise and The Garden State Guarantee.
"It [Sciencepallooza] allowed students to step foot on a college campus and give them a feel for what college is like. Most of these students have never been on a campus or worked in a college setting. The material presented in chemistry, physics, and geology was extremely relevant to the content in the curriculum taught at the CCTS campus. The demonstrations to bring the material to the physical world were easy to comprehend and memorable for all involved. The passion that each presenter shared with each session was also fantastic. This allowed students to see that what they are learning in high school goes further than the classroom, that it extends post-graduation," explained a Camden County Tech faculty member.
"I just thought this event was a really innovative event to have for possibly incoming college students and gave deep understanding and knowledge onto what goes on at a college. I hope Stockton continues to do this event and make it more innovative and fun every year to come," said James S., a sophomore at CCTS.
We were thrilled to bring Malcolm X. Shabazz onto campus, as we worked with their school virtually throughout the pandemic. We look forward to continuing to build on our relationship with them, as well as other schools across the state.

Interested in participating?
If you are a high school educator working in a disadvantaged district or at a high school specializing in STEM education and would like to participate in a Sciencepallooza event, please contact Adriane Sicknick (609-652-4468) to work on potential dates.