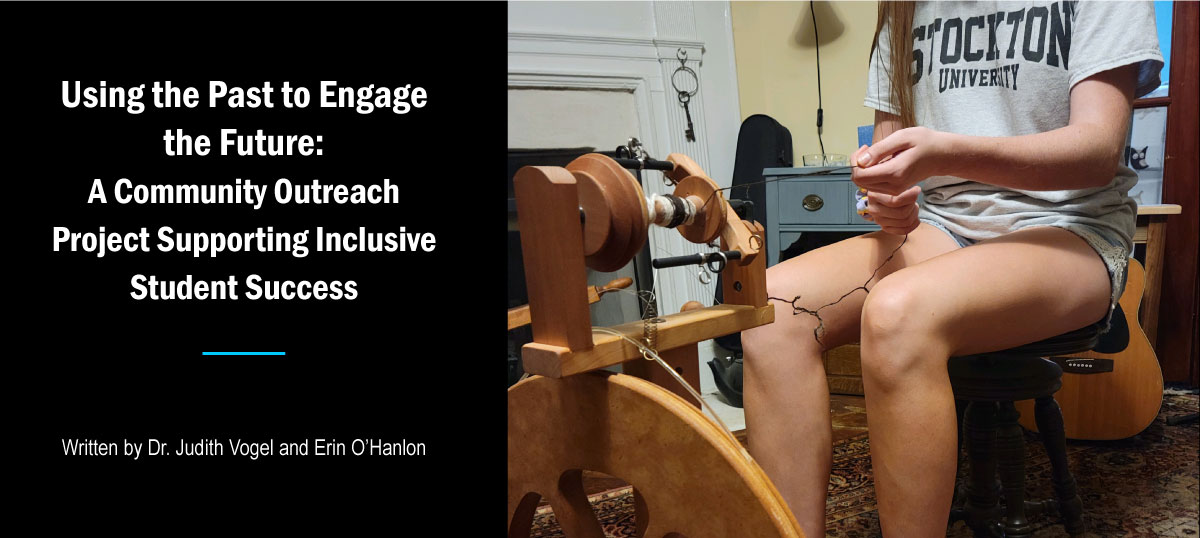 Photo credit: Dr. Judith Vogel
---
We all wear clothing, walk on rugs and bundle into scarves and gloves in the winter, but not many of us contemplate the process and life cycle of fabric. From shearing a sheep, to spinning the wool into yarn, to using a loom to weave yarn into cloth, topics in fiber arts provide a rich introduction to sustainable practices, global awareness, economic and social models, history, art, and multiple scientific disciplines.
Supported by an internal funding source, a small group of faculty and staff at Stockton University are leading a project to use fiber arts to engage students in a research-based, outreach opportunity centered on experiential and life-long learning.
The last decade has seen a resurgence in homesteading skills in the form of hobby crafts (Aytekin, 2019), and this interest has been further enhanced during the COVID-19 pandemic quarantine. Cooking from scratch, knitting and crocheting, gardening, and other self-sufficient home-based activities became
common place for a home-bound community. (Choi, 2020). While many of us live our lives without needing to know the process behind our products, there is a renewed curiosity and interest in this self-sufficient skillset by a generation that has always been immersed in technology.
Student engagement in the campus community is a key indicator of student success. (Ellis, 2012) Student-based research projects and student involvement in community outreach initiatives are two significant ways to support student engagement. (Low, 2018) Using a learning-by-doing approach has long been a pedagogical model in arts education; however, it has started to increase as a practice in other academic disciplines (Niiranen, 2021). When coupled with undergraduate research opportunities, it provides an effective high-impact practice (Kuh, 2008). This project addresses each of these indicators of student success by providing an entry-level research opportunity, hands-on learning experience, and opportunity for community outreach.
Research Opportunity
Students participating in this project conduct independent and guided research on the foundational, academic topics that support fiber crafts, and students use this research to better inform the processes in fiber arts production. Providing students with entry-level research experience is a primary goal of this project. Most research opportunities are only available to advanced students and are specific to a student's major. The literature shows the benefits of introducing research opportunities to students earlier in their academic careers. (Schneider, 2021) Fiber arts represent an interesting and accessible entry into research with a direct connection to experiential learning.
Experiential Learning
Students participating in this project learn all aspects of fiber production. Yes! They learn to shear a sheep, card the wool, (this means combing the poop out of it!) spin the wool into yarn, and weave the yarn into a functional piece of cloth. They work independently and as a group to hone their technical and artistic skills. The simple processes involved in fiber art production can act as a stress reducer and help engage the "whole person" in the learning process.
Community Outreach
The aim of the project is to build a community of artisan scholars who will showcase their skills at workshops on campus and in the surrounding community. Student participants will act as mentors for future students and will build a sustainable model of community engagement. Fiber arts have always been grounded in community, and this project seeks to support that tradition.
Want to get involved or learn more about this project?
Please take our short survey.