Offshore Wind Farms: Is there an Impact on the Ocean's Ecosystem?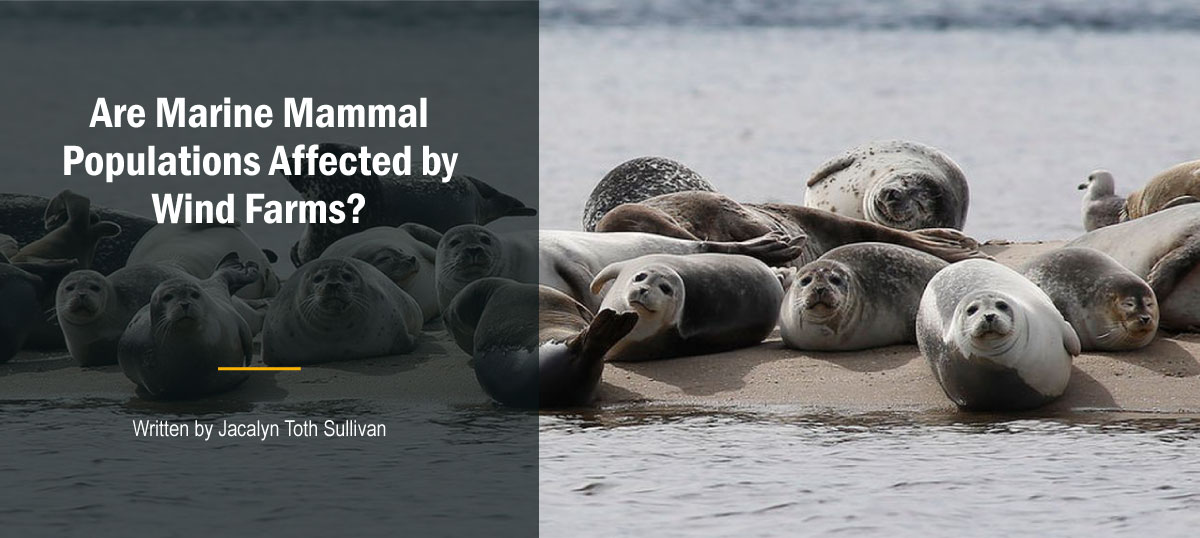 Photo credit: Ed Murray | NJ Advance Media for NJ.com
---
As the installation, operation, and maintenance of offshore wind farms becomes a consistent variable in the northeastern United States, questions remain regarding the level of impact these practices may have on nearby marine mammal populations.
In southern New Jersey (USA), plans for the installation of nearshore wind farms are underway through Orsted Ocean Wind, with a target operation date of 2025. This proposed wind farm lease area sits 15-miles offshore of Atlantic City, due southeast of the state's largest haul-out site for the common harbor seal (Phoca vitulina) in Great Bay, New Jersey.
Harbor seals annually migrate to New Jersey from New England and Canada, overwintering in three main New Jersey locations (October–April). Great Bay is both the largest and closest haul-out site to the planned wind farm lease areas off southern New Jersey. Understanding harbor seal population trends in Great Bay before, during, and after wind farm installation is essential for building a comprehensive understanding of the potential impact of anthropogenic activity offshore.
A multi-year study on Great Bay harbor seal population dynamics funded by Ørsted Ocean Wind began in October 2021, led by marine mammal biologist Jackie Toth Sullivan, Dr. Tara Luke, and Stockton University Marine Field Station staff. The goals of this study are to observe the occurrence, abundance, sighting patterns, haul-out behavior, and food habits of this seasonal harbor seal population over time through remote camera imaging and environmental DNA (eDNA) techniques. Researchers will establish current patterns of harbor seal habitat use in Great Bay while investigating key environmental variables, population dynamics, and prey species. This data will be used to monitor harbor seal population trends as nearby wind farms become operational.
During year 1 of the study, a maximum of 354 seals were counted within Great Bay in the month of March through remote imaging, while the variables wind speed and precipitation influenced harbor seal haul-out behavior. Preliminary findings on harbor seal prey species included fishes that are abundant both in Great Bay and nearshore coastal environments during the winter months (hakes, herrings, flounders, sandlance). When harbor seals return to Great Bay in fall 2022 (October-November), year 2 of the study will continue to build upon this valuable ecological time series.
As apex predators, harbor seals are an excellent indicator species for ecosystem health. This study is important in the understanding of status and health of New Jersey's coastal animals and ecosystems in an ever-changing environment.
Thanks to:
David Ambrose, Elizabeth Zimmermann, Steve Evert, Nate Robinson, Mark Sullivan, Stockton University undergraduate/graduate research students (Emily Zembricki, Lauren Baier, Jade Murphy, Megan Fielding, Carla Tolentino, Jada Campbell, Symone Jones, Maya Alicea), Stockton University Office of Research and Sponsored Programs, and Ørsted Ocean Wind for funding.
For questions please contact Jacalyn.Toth@stockton.edu.