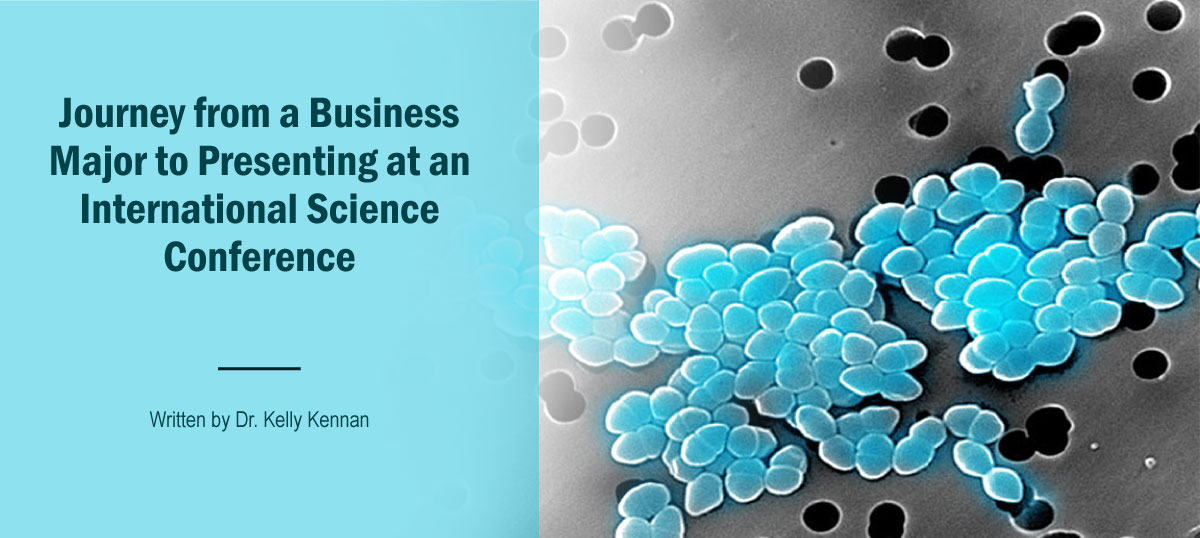 Vancomycin-resistant Enterococcus. Photo credit: Wikipedia
---
It is not uncommon college experience for a student to enter college with a declared major and later change course and majors. There can be many reasons, including realizing a passion for a new subject. This was the case for Photis Rotsides, who came to Stockton as a Business major.
Along the way, he discovered a love of sciences and changed his major to Biochemistry/Molecular Biology (BCMB). What prompted such a change?
Photis explained, "I've always had a curiosity for understanding the world around me, and my business studies weren't fulfilling that curiosity. Two of my older brothers were studying science at Stockton, and they seemed to enjoy their classes, so I decided to take some biology courses and instantly knew this was for me."
Although not his first choice, BCMB proved to be the right choice for Rotsides. Like all BCMB majors, he was required to do a laboratory research project and worked with Dr. Kelly Keenan on characterizing the release of protein from teeth treated with over-the-counter whitening strips. Based on his excellent work, he presented his results at Experimental Biology (EB) 2018, which was held in San Diego, California. Financial support for this trip was provided by Stockton as well as the American Society for Biochemistry and Molecular Biology. The international conference is attended yearly by over 10,000 scientists, including graduate students, faculty members and government scientists who present results from their research projects.
The experience proved to have a lasting impact. "My research experience with Dr. Keenan and the opportunity to present a poster on my work to other scientists gave me an appreciation for basic research and the breadth of amazing work that is being done all over the world. After graduating from Stockton, I wanted to continue contributing to the scientific community and decided to pursue a graduate degree," he said.
Having been accepted to several graduate programs, Photis decided to attend Drexel School of Medicine to pursue his Ph.D. degree. He began the program in the fall of 2018. Like all doctoral students, he must complete a significant laboratory research project that creates new knowledge in his field. His current project involves determining how bacteria are able to resist the antibiotic vancomycin. This project is an important one, as vancomycin is usually reserved for use if other antibiotics fail due to bacterial resistance.
Photis is in his fourth year at Drexel and was chosen to speak about his research at Experimental Biology (EB) 2022 which was held in Philadelphia.
I was incredibly honored to give a talk at EB2022 in front of peers who were interested in my research. I owe a lot of my scientific development to the Stockton BCMB program. All the faculty I learned from at Stockton always put student success first while still maintaining a rigorous program that challenged us as scientists," Photis happily recalled the experience.
It has been quite a journey for him and his experiences at EB showed him how far he has come and his passion for science will lead him to his next destination.