Terricita Sass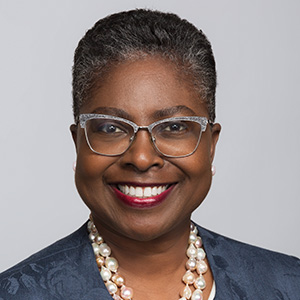 Executive Vice President and Chief of Staff

Dr. Terricita Sass is the Executive Vice President and Chief of Staff. She began her tenure at Stockton in July 2023 bringing more than 30 years of higher education experience from both four-year and two-year public institutions with more than two decades as a senior team or executive cabinet member. She has demonstrated her knowledge of and commitment to the Stockton "Student's First" ethos throughout her entire career with a specific focus on ensuring that all students have an opportunity to enroll in post-secondary education and that they have the support they need to find a sense of purpose and belonging which lead to positive post-graduation outcomes for students, their families and their communities.
Among her duties, she works closely with the President as an advisor, thought partner and serves as a representative in charge in his absence. As a collaborative and action focused leader, she serves as Assistant Secretary to the Board of Trustees; provides oversight of the President's office; works closely with the provost and academic units as well as other campus stakeholders of the university to establish and assess institutional needs and priorities while fostering an inclusive campus culture.
Dr. Sass's broad role includes providing leadership and direction to the Office of Strategic Planning, Effectiveness, and Institutional Research. In partnership, she leads the University's strategic planning efforts, working to ensure divisional, departmental, and unit planning efforts are aligned with the President's agenda and the institution's overall strategic priorities; works collaboratively with the provost to translate vision and goals into action plans; and facilitates Stockton's model for shared governance including broad campus-wide and unit engagement. Though her primary duties are within the university, she is also community-minded and seeks to enhance external relationships and partnerships that strengthen students and communities in alignment in support of Stockton's vision, mission, and goals.
During her 30+ year career, Sass has held several leadership positions including the inaugural roles of Associate and Assistant Vice President of Enrollment Management at Norfolk State University, Associate Vice President for Enrollment Management at Southern Connecticut State University and as Vice President for Enrollment Management & Student Success at J. Sargeant Reynolds Community College. In addition to carrying out her internal duties, she is the recipient of numerous higher education awards and recognitions, conference presenter, mentor and prolific student advocate.
She has provided professional and community service to external and community boards and organizations including serving as the 2022 state conference co-chair for the Virginia Network for Women which is a nationally affiliated network of the American Council on Education (ACE). Dr. Sass is an Aspen Presidential Fellow, an AASCU Millennial Leadership Institute Protégé, and has completed other leadership programs such as the Harvard Institute for Management and Leadership in Education (MLE). She holds an earned Ph.D. in Education from Capella University, a Master of Arts in Urban Affairs from Norfolk State University, and a Bachelor of Business Administration in Accounting from Francis Marion University. Dr. Sass is married to a retired Navy Commander and has two adult children. She enjoys audiobooks on a variety of subjects, organic gardening and traveling.