Past Presidents
Harvey Kesselman
President Emeritus
2015 - 2023
Dr. Harvey Kesselman was named acting president of Stockton University in April 2015, interim president in September 2015, and president in December 2015. A student in the very first class at Stockton in 1971, he has spent his career at the university with more than 40 years of experience in higher education.
His executive leadership roles at Stockton included: Provost and Executive Vice President, Dean of the School of Education, Interim Vice President for Administration and Finance, CEO of the Southern Regional Institute & Educational Technology Training Center, which he developed, and Vice President for Student Affairs.
During his tenure as president, the campus has added new health sciences and sciences buildings on the Galloway campus to create an Academic Quad. He led the process to create a new residential campus in Atlantic City, which opened in September 2018 and now expanded to include a second residential building scheduled to open in 2023. The university was named a state anchor institution in Atlantic City.
Under the guiding principle of "students first," Kesselman led efforts to recruit under-represented students, provide more financial aid for students, enhance diversity among the faculty, staff and students, and obtain more equitable state financial support. Since 2015, the university has received four Higher Education in Diversity Awards and three awards from the American Association of State Colleges and Universities.
President Kesselman served as chair of the New Jersey Presidents Council, served as the co-chair of the student success working group for the NJ State Plan for Higher Education and sits on Governor Murphy's Executive Council for Atlantic City Shared Prosperity. In 2021 he was appointed to the Dual Enrollment Study Commission to study expanding dual enrollment opportunities for high school students.
---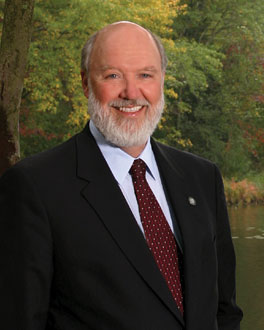 Herman J. Saatkamp, Jr.
2003 - 2015
Dr. Herman J. Saatkamp, Jr. became the fourth president of The Richard Stockton College of New Jersey in 2003. Under his leadership, the college more than doubled its funded assets and endowed funding and ascended in the ranks of the nation's top public colleges and universities, consistently ranked in the top tier of masters–level colleges and universities by U.S. News and World Report, moving from the fourth tier to the first within the first three years of his presidency.
During his tenure as president, the college facilities expanded including new residences for students, expansion of the Sara and Sam Schoffer Holocaust Resource Center, and the opening of the Campus Center, Unified Science Center, and instructional sites in Hammonton, Manahawkin, and Woodbine. Academic programs also expanded to include changing academic divisions to schools, the creation of the School of Business, School of Health Sciences, William J. Hughes Center for Public Policy, Small Business Development Center, and the Lloyd D. Levenson Institute of Gaming, Hospitality and Tourism. Additionally, under his leadership, Stockton received approval to change its name and official designation from that of a college to university in February 2015.
Dr. Saatkamp served as the chair on the New Jersey Association of State Colleges and Universities Presidents' Council, and was the first college president to serve as chair of the Board of Directors for the Chamber of Commerce of Southern New Jersey. He was also the recipient of numerous awards and citations, including "Educator of the Year" from the Research and Development Council of New Jersey in 2011.
Considered one of the foremost experts on the writings of philosopher George Santayana, Dr. Saatkamp is Senior and Founding Editor of The Works of George Santayana.
---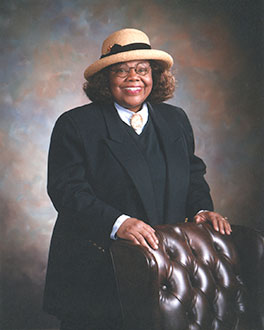 Vera King Farris
1983 - 2003
Dr. Vera King Farris served as the third president of The Richard Stockton College of New Jersey for twenty years. During her two-decade tenure, the college made impressive strides, including increasing enrollment by 40% (2,600 students to 6,400 students); and increasing the average SAT scores by 22% (from 890 to 1150 SAT points). At the same time, the admission of minority students increased from 5% to 17%. Under Dr. Farris' leadership the college added its first six master's degree programs including the first Master in Holocaust and Genocide Studies in the United States.
Prior to becoming president at Stockton, Dr. Farris served as Academic Vice President at Kean College. She obtained a Bachelor of Science degree in Biology from Tuskegee University and a Master's and Doctorate in Parasitology and Zoology from the University of Massachusetts. She also served as a faculty member and research scientist at the University of Michigan and The State University of New York at Stony Brook.
Born and raised in Atlantic City, Dr. Farris received numerous awards, citations and honorary doctorates. In addition, Dr. Farris was presented with the New York University Presidential Medal (1994) and the Chancellor's Medal for Exemplary and Extraordinary Service to the University of Massachusetts. In honor of her outstanding contributions to Stockton, the Board of Trustees renamed the main road of the college to Vera King Farris Drive. In addition to her work in higher education and in science, Dr. Farris was dedicated to the advancement of the equality of all people and cultures, to the study of the Holocaust and genocide, and to her work with her church. Dr. Farris passed away on November 28, 2009.
---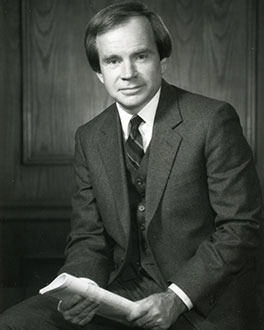 Peter M. Mitchell
1979 - 1983
Dr. Peter Mitchell assumed the duties as second president of Stockton State College on June 23, 1979. He came to Stockton from Seton Hall University, where he served as Provost and Vice President for Academic Affairs.
During his term as president, he successfully led efforts to improve and expand educational offerings for students, enhance student services, and retain staff, who were being offered higher-paying salaries to accept positions in the burgeoning casinos of Atlantic City. Dr. Mitchell was also a strong advocate for Stockton's general studies program, noting he found it to be the best of its kind among the New Jersey state colleges. He also believed Stockton had an obligation to be open to and engage the surrounding community in a meaningful way.
Dr. Mitchell, a native of Iowa and son of a newspaper editor, completed his Bachelor of Arts degree at Marquette University and received his Master of Arts and Ph.D. in history from Colorado University at Boulder. His academic specialty was American History, with a special emphasis on early American history. Among his publications, Dr. Mitchell co-authored a book on the Nat Turner rebellion. He was also named a Colonial Williamsburg Research Fellow in 1967, and received an American Council on Education Academic Administration Internship for 1972-73. Dr. Mitchell was a member of the Livingston Papers Editorial Advisory Board and a former member of the Board of Trustees of the Children's Institute.
---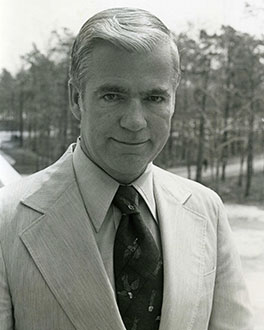 Richard E. Bjork
1969 - 1978
Dr. Richard Bjork began his career in higher education administration as Dean of Students at Austin College (Texas). From there, he became Dean of Liberal Arts at the New York State University at Plattsburgh, followed by Assistant to the President at Rochester Institute of Technology, where he was instrumental in starting RIT's school for the deaf. Dr. Bjork was appointed Vice Chancellor of the New Jersey Department of Higher Education from 1968 -1970 and concurrently served as Acting President of then Glassboro State College.
At the age of 38, he was chosen as president by the Board of Trustees of a yet-to-be-built Stockton State College on September 1, 1969. From Stockton's storefront offices in Williams Plaza on the Black Horse Pike to the 1,600-acre campus located in Galloway Township, Dr. Bjork recruited a young, energetic faculty and was instrumental in designing a curriculum with flexible academic requirements which offered a wide range of general studies complementing traditional fields of study. When he left Stockton on September 25, 1978 the college had grown to 4,000 students, the main "spine" of the campus facilities had been completed, and a strong foundation for academic excellence was planted. In 1978, Dr. Bjork accepted the position of Chancellor of the Vermont State College system for six years where he was widely credited with saving the system from financial ruin and threats to its quality.
Dr. Bjork received his bachelor's degree from Yale University and his master's degree in political science from Vanderbilt University. Upon discharge from the Coast Guard, he began a doctoral program at Michigan State University where he received his Ph.D. in International Relations.
Dr. Bjork, passed away at the age of 53 in 1984. In 2012 Stockton named its library in his memory.