Multicultural Center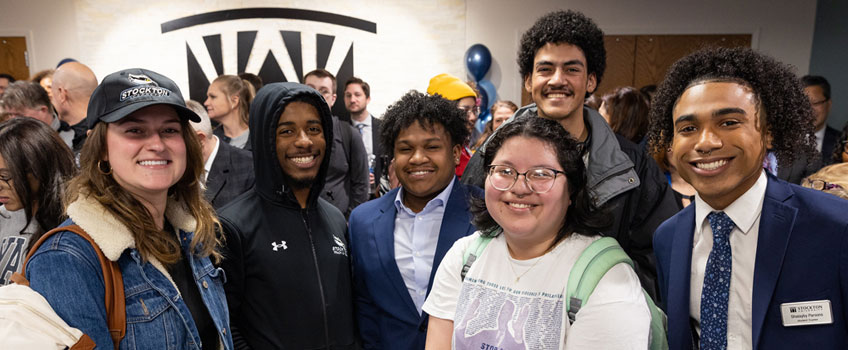 The Stockton University Multicultural Center is a vibrant hub that welcomes and serves all members of our community, including students, faculty, staff, alums, and other campus visitors. The center provides our visitors with a home away from home and a source of educational opportunities.
A Place of Belonging! A Place Where We Put Students First!
The Multicultural Center serves as a resource for the entire campus community while placing the experiences of diverse and historically marginalized groups at the center. Specifically, the center will strive to cultivate counter-spaces to support the engagement, belonging, and development of African-American, Latinx, Asian, and Native American (ALANA) students.
A dynamic learning environment for the campus community
This space also serves as a dynamic learning environment that Inspires scholarship and research-based best practices to support inclusive student success. Additionally, the center will enhance social justice education and leadership development opportunities for all students of the Stockton community regardless of gender, race/ethnicity, sexuality, and intersectional identities.
Support the Multicultural Center
Your gift to the Multicultural Center will support expanded opportunities for the programming and operations. This donation is a restricted gift and will only be used as outlined.
---
The Multicultural Center has at its core the following missions:
Cultivates a vibrant environment that promotes community, collaboration, critical thinking, and continued learning.

Provides a platform for continued partnership with all areas on campus.

Opportunities for faculty and staff to interact with students outside of the classroom/office.

Establishes a brave space where students can be their authentic selves and thrive.

Promotes respect for, and understanding of cultural diversity.

Create a sense of belonging for students to increase their institutional connectedness and college persistence.

Provides a multitude of resources that supports first-generation students, students of color, and students with various gender identities and sexual orientations to reach their highest potential.

Opportunities for students to participate in volunteerism and become more civically engaged.

Is a "destination" for students and the campus community to go to for informal support, an ally, a home away from home.
---
2022-23 Academic Year Plans
The center will primarily serve as a lounge space, but events and workshops will take place periodically. Here are some examples:
Fred Flicks Series -

Monthly series that will feature a short film/show that examines media representation, socialization, and stereotypes of marginalized identities

Real Talk Tuesday

- A co-curricular series intended to create space to engage in difficult dialogue that will enhance critical study, thought, and reflection around issues of race, ethnicity, systems of power, privilege, and oppression, impacts of intersectionality, and unpacking unconscious bias and microaggressions.

Soul Food Sundays

- A monthly gathering to engage in community and conversation while enjoying soul food!

Cultural Kickbacks

- A monthly gathering celebrating culture through music, food, games, and activities.

Cultural Heritage Month Programming

- In celebration of the histories and contributions of historically marginalized identities, Stockton commemorates heritage months and identity acknowledgments throughout the year. These recognitions are an opportunity for all members of the community to learn more about the traditions, people, scholarship, history, and current experiences of those who've overcome oppression to create opportunities for all.
Chris Catching - Vice President for Student Affairs
Don Hudson - Vice President, Facilities & Operations
Ashlee Roberts - Executive Director of Student Affairs Planning and Operations
Donnetrice Allison - Professor and Coordinator of Africana Studies, Communication Studies, and Director of Strategic Initiatives
Rhianon Lepree - Director of Real Estate
Nordia Johnson - Director of Academic Achievement Programs
Marques Johnson - Director for Residential Life Education and Student Services
Valerie Hayes - Chief Office for Diversity and Inclusion
Arnaldo Cordero-Roman - Professor of Spanish; President, Unidos
Merydawilda Colon - Executive Director of the Stockton Center for Community Engagement and Service-Learning; Professor of Social Work
Luz Allen - Assistant Director of Counseling Services
Shedia Laguer - Assistant Director, Student Development
Ana Edmondson - Director, Student Transition Programs
Haley Baum, Dean of Students
Walter Tarver, Assistant Vice President for Student Transitions, Access & Retention
Beverly Vaughn - Professor of Music
Josh Hunte - Student Senator, Diversity & Inclusion Chairperson
Dianne Stalling - Assistant Director, Student Development
Kiara Velez-Padilla - President, Los Latinos Unidos (2019-2020)
Jessica Grullon - Associate Director of Admissions Services; Vice President of Unidos
Danielle Combs - President, NAACP (2019-2020)
Brian Jackson - Chief Operating Office, Atlantic City Campus
Mark Ciccotelli - Project Manager, Facilities Planning & Construction
Charles "Skip" West - Executive Director, Facilities Planning & Construction
Marcie Pallante - Assistant to the Executive Director, Facilities Planning & Construction
JY Zhou - Director & Senior International Office, Office of Global Engagement
Cynthia "Cindy" Gove - Project Manager, Interior & Facilities Management