International Travel Team
A Special Partnership with the Sara & Sam Schoffer Holocaust Resource Center in Fall 2023!
In November 2023, thanks to the generous support from The Sara & Sam Schoffer Holocaust Resource Center, approximately double the number of students will be accepted to represent Stockton University on an extended study tour in Frankfurt, Germany for 4 days/3 nights, followed by the National Model UN (NMUN) conference in Erfurt, Germany for 6 days/6 nights. This combined experience led by The Sara & Sam Schoffer Holocaust Resource Center and Stockton Model UN will include several days touring sights and monuments in Frankfurt, a day at the Buchenwald Concentration Camp, and several days of collaborating with students from around the world on UN committees to mark the 50th Anniversary of Germany joining the UN. Travel dates are November 15-25, 2023; students can attend classes on November 15th as we will depart in the evening. We can't wait for you to join us!
STAY TUNED FOR INFORMATION & APPLICATION DEADLINES FOR FALL 2024!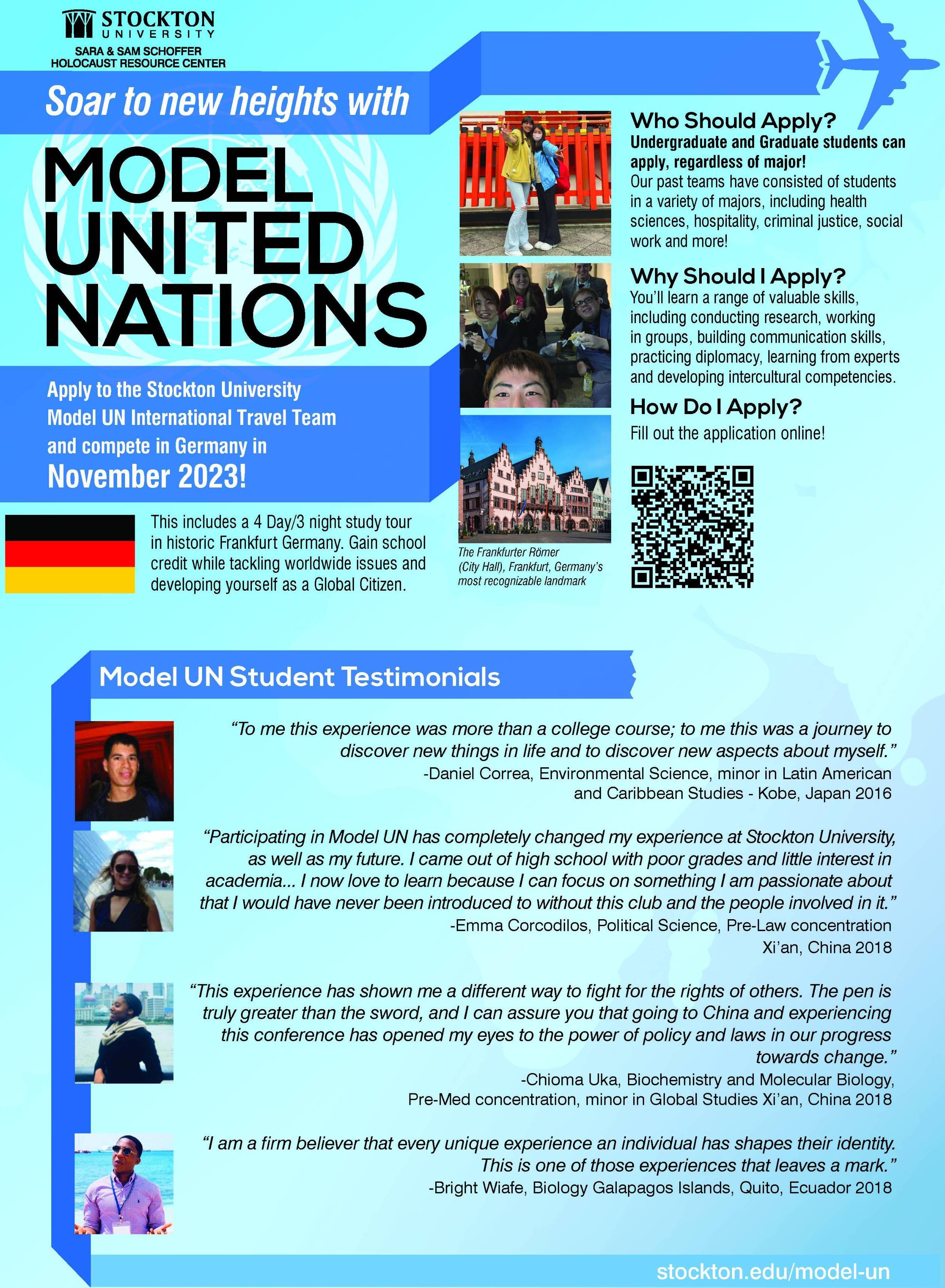 Check out the latest from International Travel Team!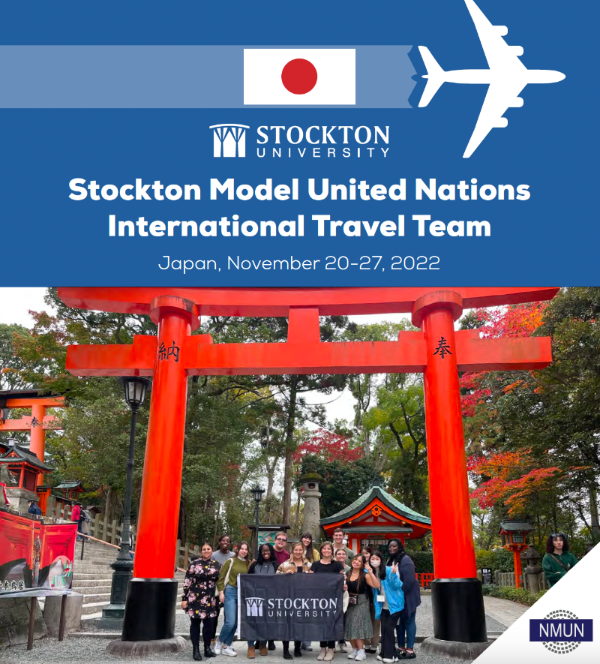 View Flipbooks for Past Conferences By Clicking Below
Criteria for Selection for Fall 2023:
Be fully vaccinated for COVID-19 and up to date on all country-mandated vaccinations: students who are exempt from the vaccine requirement are not eligible to travel abroad with this program.
A 3.0 minimum GPA or an explanation of academic achievement.

Demonstration of skills in research, written communication, and ability to synthesize large amounts of information into a coherent, evidence-based argument.

Ability to succeed in an international academic competition based on a description of relevant experiences that might prepare you to successfully represent a non-U.S. country, research global policies, effectively communicate (written and verbal), work with people from a variety of backgrounds, and overall function as a professional in a global setting.

Personal interest and commitment to solving complex global challenges from an interdisciplinary approach is strongly weighted.

The degree to which you will benefit from this unique learning experience, as described in the application and in recommendation forms.
Holistic evaluation from letters of recommendation.
Accepted students in Fall 2023 will:
Enroll in GSS 4601 INTL MODEL UN STUDY TOUR - registration permits will be issued upon acceptance to the team. The course will be offered on Tues/Thurs 2:30pm-4:20pm and taught by Dr. Tina Zappile and Dr. Michael Hayse. Students will be granted permission to register for either section, and we will meet together as one class throughout the duration of the semester and travel experience.
Pay the student fee that will be added to their account by the Bursar on or before September 15, 2023. The total student cost is $450, which will be reduced to $200 if you choose to apply for a scholarship through the Office of Global Engagement in September after classes start. All other costs are paid by the university and generous donors who will be named on this webpage.
Attend ALL class sessions (attendance is mandatory)
Participate in all conference-related events while traveling (a no tolerance policy)
Contribute to the team's e-publication
Mission of the International Travel Team
The foundation of the International Travel Team is the premise that complex global challenges need interdisciplinary approaches and we work towards that goal by providing the following skills to students:
Training in negotiations
Conducting research on existing global policies
Learning to behave like a professional in a global setting
Practicing diplomacy by engaging in negotiations within the UN framework
Learning from experts, civil society, and other stakeholders about a variety of perspectives and approaches to solving complex global challenges
Working effectively in groups
Building skills in communication (written and oral)
Developing intercultural competencies in attitudes and skills

[

source

]

Developing oneself as a Global Citizen
Therefore, we seek students from a variety of majors to work on global challenges in their area(s) of interest. In the past, Nursing students have served on the World Health Organizations (WHO) committee, Sustainability students have served in the UN Environment Programme (UNEP), Environmental Studies students have served on ECOSOC and UN-Habitat, Health Sciences students have served on UN High Commissioner for Refugees (UNHCR) and the Committee on the Status of Women (CSW) discussing refugee camps and women's rights, CRIM students have worked on transnational crime and arms control treaties in the General Assembly (GA), Physics students have focused on using expertise from the scientific community to inform work in the GA, POLS Pre-law students have served on Non-Proliferation Treaty committees dealing with international law, and several pre-med (BIOL) students have served on the Security Council, Committee on the Status of Women, and United Nations Environment Assembly (UNEA).
The International Travel Team was generously funded by President Dr. Harvey Kesselman after receiving pilot support from the 2020-Learning Initiative Team, and continues to be supported by President Dr. Joe Bertolino.