Ms. Nelida Valentin, Chair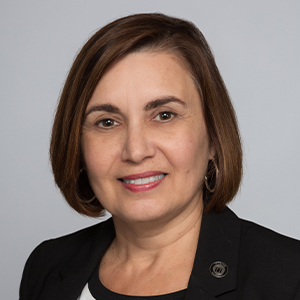 Ms. Valentin has been a member of the Stockton Board of Trustees since 2016. She is Vice President of Grants and Programs for the Princeton Area Community Foundation in Lawrenceville, NJ. She served as Director of Cluster and Business Development at NJIT's Innovation Institute, and as Executive Director of the Newark Workforce Investment Board. Nelida brings public sector experience, having served over 23 years in diverse roles within the NJ State Departments of Community Affairs, Human Services, Education and Transportation. Nelida brings a unique voice to the board with experience in leadership development, grant-making, community service, Hispanic affairs, social and economic development initiatives, and workforce development.
Ms. Valentin is a 1986 alumna of Stockton State College (now Stockton University), where she received her Bachelor of Arts in Business Studies. She also holds a Master of Arts in Political Science/Public Policy from Rutgers University. She has taught master's level courses on Leadership and Diversity as an adjunct faculty member at Rutgers-Newark and is a certified LIFO facilitator. Her interest in leadership development led to the Kennedy School of Government where she earned a certificate on the Practice of Leadership Development. Also, a Trustee on the board of the Center for Non-Profits of NJ, Nelida has served on numerous boards throughout her career, including the Trenton Parking Authority, Isles, Inc. and City Smiles.
She's extremely honored to serve a Trustee for her alma mater; and believes deeply in access to higher education and diversity. Stockton provided an environment which allowed her to grow and experience education with as wide a lens as possible. Her experience and degree from Stockton led to additional higher education opportunities and a career trajectory full of challenging and positive career growth experiences.
Ms. Valentin is resident of Trenton, New Jersey.