Stockton University Atlantic City
Stockton University Atlantic City offers opportunities to live, learn, and grow in a beachfront environment, just a quick shuttle ride away from the university's main campus in Galloway.
Choose to become engaged through real-life internships and partnerships, and join the thousands of students who take classes on the coast, and have made Atlantic City their home.
Before visiting Stockton University's Atlantic City Campus, PLEASE CLICK HERE to fill out our Stockton University COVID-19 Visitor Health Pledge and Parking Registration.
---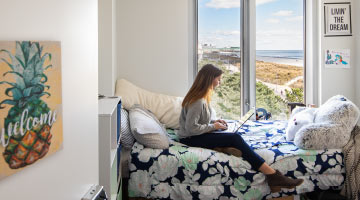 Beachfront Living and Learning
Join the first wave of students to have an extraordinary living and learning experience at a state-of-the-art residential campus with ocean views, enhanced amenities, the latest technology and shuttle service.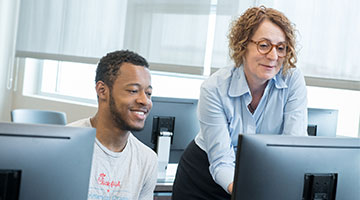 Exceptional Academic Programs
Be challenged by outstanding Stockton faculty, with the same academic rigor found on the Galloway campus. We offer courses in business, hospitality, social work and leadership.
---
Stockton University Atlantic City Addresses and Hours
John F. Scarpa Academic Center
3711 Atlantic Ave.
Atlantic City, NJ 08401
Main Phone: 609-761-1200
Mon. - Fri.: 7AM - 10PM
Sat. - Sun.: 11AM - 7PM
Residential Complex
3701 Boardwalk
Atlantic City, NJ 08401
Information Desk: 609-761-1285
Mon. - Fri.: 9AM - 5PM