Priya Parikh - Choose Stockton
Priya Parikh
Class of 2023
Why did you choose Stockton?
I chose Stockton because of the opportunity to become a better student and leader all while helping develop the community I grew up in.
How did you choose your major?
Coming into Stockton, my high school business teacher made an impact on me and paved the path towards Finance. Stockton's five-year Dual Degree BS/MBA program has made it easier to complete my degree while furthering my passion and giving me hands on experience to the world of Business.
What have you gotten out of your academic program so far?
Through the Dual Degree BS/MBA program, I have been able to become a member of Beta Gamma Sigma (business honor society) and have worked within the Office of Financial Aid as their Intern in Spring 2023. Alongside these opportunities, I have used my network within the Business school to create an organization on campus called Future Business Leaders of America Collegiate as the chapter's founder and president.
What other opportunities have you had at Stockton?
Stockton makes being a part of its community very simple with how easy it is to get involved and become a student leader within such a diverse environment. Throughout my time at Stockton, I have been able to make difference in students' lives as a Head Orientation Leader (T.A.L.O.N.S), President of Indian Student Association, Vice President of First Ospreys, and Founder/President of FBLA Collegiate. These leadership opportunities have developed me personally and professionally into becoming a stronger leader and individual alongside my studies.
How is Stockton preparing you for the next stage of your life?
Stockton allows for students to excel beyond the classroom. Working under mentorship within the Office of Student Transition Programs as a Head T.A.L.O.N.S and Assistant Coordinator, I have been able to develop my customer service and problem-solving skills alongside my critical thinking to become the best version of me. Such skills coincide with my pursued passion of business and is truly vital to my time at Stockton and going into my career within Finance.
What are your career goals?
I want to pursue a career in Finance in a capacity where I am able to combine my passions of working with people and business. This can easily be bridged into a consulting or Financial Analyst position.
What advice do you have for students thinking about attending Stockton?
Stockton truly believes in the statement, "Students First." Whether that be through academic support to providing opportunities for you to feel included, Stockton wants students like us to take advantage of the opportunities and resources presented. Don't be afraid to ask questions as you are the only person that can make a difference in your overall education here!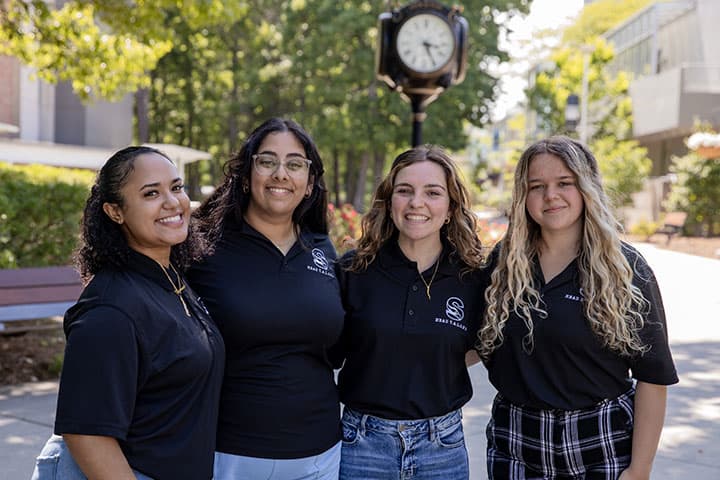 ---