Provost Appearance Form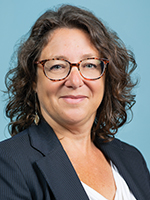 Dr. Leamor Kahanov
Provost and Vice President
for Academic Affairs
Thank you for your interest in having the Provost attend or speak at your event. To assist in processing your invitation, an Appearance Request Form has been provided for your convenience.

In order to be as responsive as possible, we ask that you complete the following Appearance Request Form at least four weeks in advance of the event.

The Provost strives to accommodate most requests that support the mission of the university. We appreciate your invitation and consideration of the Provost's calendar. Invitations will be considered and responded to in a timely manner.

If you should have any questions or suggestions regarding the process, please contact: Joseph Sramaty, joseph.sramaty@stockton.edu or 609.652.4515.


Provost Appearance Request Form