Faculty Leadership Task Force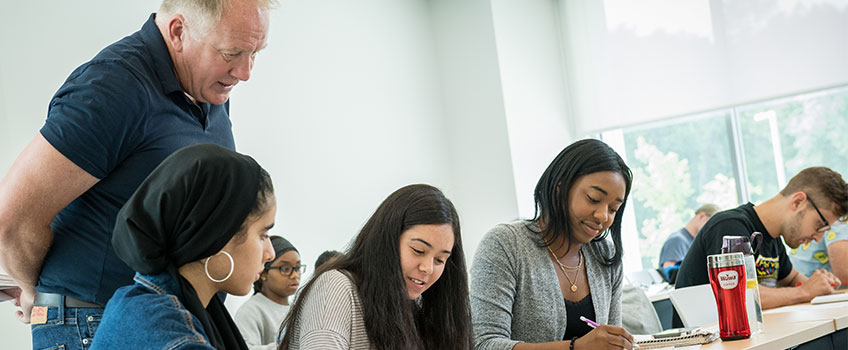 *We are pleased to announce that the Faculty Leadership Task Force has completed their work and the newly negotiated MOA's on faculty leadership can be found here. Please feel free to reach out to any member of the SFT leadership if you have any additional questions regarding the new agreements.
In September 2018, Stockton University's Faculty Senate and the Stockton Federation of Teachers (SFT) formed a joint task force to examine faculty leadership roles at the institution. That group convened the following month and held their inaugural meeting in December. Three factors motivated this undertaking: 1) recognition that the University has grown in both size and complexity; 2) changes in the scope of faculty leadership roles at Stockton and in higher education more generally; and 3) an understanding that Stockton's current system, codified in the 2018 Memorandum of Agreement: Coordinators and other Designated Faculty in Leadership Roles, does not reflect faculty members' lived experiences.
The initial task force was charged to:
Critically examine the history, scope, and nature of the positions covered in the Coordinators Agreement of 2018.
Ascertain the opinions of the individuals who hold or have held these positions as to how they might be improved, if at all, to address the three concerns listed above.
Research how similar such positions are conducted at other institutions to compare and contrast them with our current system.
Make recommendations as to what might be done to address the concerns listed above.
While significant progress was made on the first three objectives, task force members recognized that the fourth goal, recommendations for a new model, remained to be done. An expanded task force, including administrators, formed in January 2020 to complete this work, and has developed a draft REPORT of their collaborative work from the past several months. Within these pages you will find several recommendations for the University to consider as we move forward with the development of a more sustainable agreement.
Task Force Membership
Co-Chairs
Michelle McDonald, Chief Academic Officer, Atlantic City Campus & Associate Vice President for Academic Affairs
Heather McGovern, Professor of Writing and First-Year Studies
Members
Peter Baratta, Chief Planning Officer and Deputy Chief of Staff
Christine Ferri, Associate Professor of Psychology
Donna Hauer, Accreditation and Academic Programs Specialist, School of Business
Rodger Jackson, Professor of Philosophy and President, Stockton Federation of Teachers
Jessica Kay, Director of Institutional Research
Kim Lebak, Professor of Education
Marissa Levy, Dean, School of Social and Behavioral Sciences and Professor of Criminal Justice
Patricia McGinnis, Professor of Physical Therapy
Kelly Oquist, Officer for Budget and Accounting, Office of the Provost
Rosa Perez - Maldonado, Assistant Dean, School of Arts and Humanities
Jennifer Potter, Vice President for Administration and Finance and Chief Financial Officer
Marc Richard, Associate Professor of Chemistry
Joseph Sramaty, Associate Director for Academic Administration, Office of the Provost
Pete Straub, Dean, School of Natural Sciences and Mathematics and Professor of Biology and Chief Negotiator, Stockton Administration
Joseph Trout, Associate Professor of Physics
Tina Zappile, Associate Professor of Political Science and Chief Negotiator, Stockton Federation of Teachers
Heather Watkins, Executive Assistant to the Provost, Office of the Provost
Former Task Force Members
Wei-Xuan Li, Associate Professor of Business Studies, Finance
Christina Morus, Associate Professor of Communications