Traditions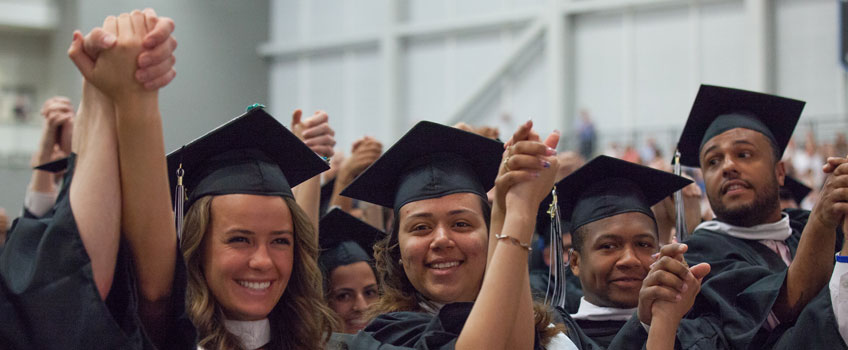 About the Stockton Seal
The seal is "rooted" in the history and location of the university. The original logo includes stylized tree branches in recognition of Stockton's location in the Pinelands and its early commitment to the environment. Over the years it has grown as a symbol of unity, inclusivity and celebration – core values of Stockton from its very beginning. The branches are touching to represent the grasping of outstretched hands reaching out to each other and reaching in aspiration to the sky. This long-standing tradition of inclusivity is displayed in our celebration of commencement, where students, faculty and staff, with raised arms and joined hands, unite in the singing of the university's Alma Mater: Ospreys on Parade. Our seal truly represents the spirit of the Stockton experience, which has always been and will remain "an environment for excellence" where you can "plant yourself and grow."
The original logo was later incorporated into The Stockton University Seal that was supplemented with other images representing key elements of the university, as described below: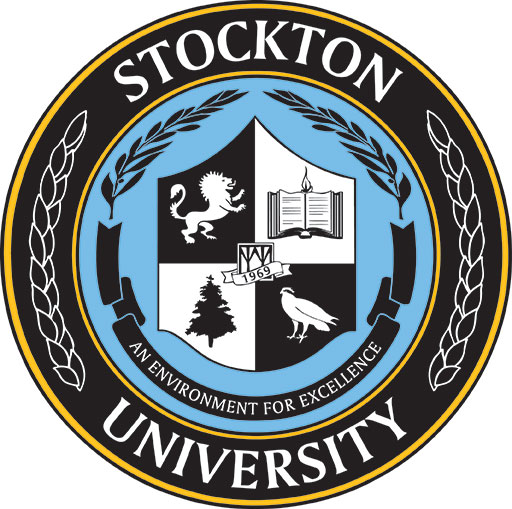 Original Logo
The original official logo of Stockton State College as approved by the first Board of Trustees. The ribbon highlights the year in which the college was established.

Rampant Lion
This represents courage and strength.

Book & Candle
This is a symbol of the enlightenment to be gained through lifelong learning.

Tree
This image represents the pitch pine, Pinus rigida, the most common tree on Stockton's campus and emblematic of the New Jersey Pinelands, our university's original locale.

Osprey
The osprey, Stockton's mascot, has a spectacular six-foot wing span, occurs world-wide, and can be seen hunting fish over the campus lakes spring through fall. We are proud to call our athletic teams the Ospreys.