Strategic Plan - Teaching & Learning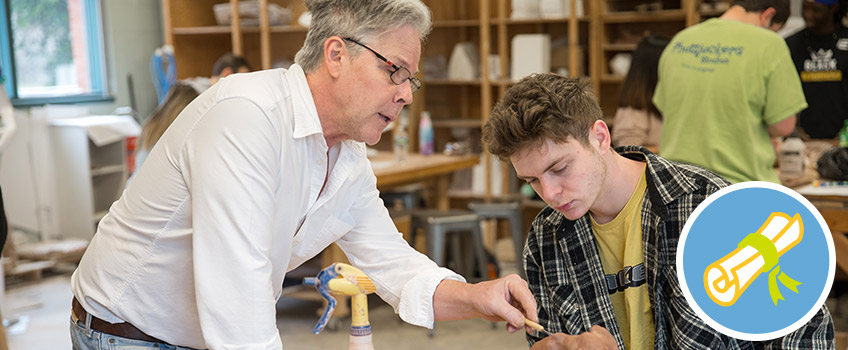 Implementation Goals & Accomplishments
Stockton has achieved remarkable success in terms of student retention and graduation rates because of its personalized approach to teaching and learning.
Such efforts should continuously be assessed and refined, and incorporate Stockton's Essential Learning Outcomes (ELOs). Moreover, we will encourage and support faculty research and pedagogical innovations to ensure that we effectively reach a diverse group of learners and that our degrees remain current and competitive.
Academic rigor is at the heart of a Stockton education. Our faculty members bring both recognition in their respective fields and a strong commitment to teaching, informed by their research, scholarship, and creative endeavors. Faculty and staff also bring innovation to bear as they create and sustain a broad range of high-impact learning experiences.
The culmination of this innovation is Stockton's ability to promote learning that is intellectually challenging and builds critical thinking and workforce skills to last a lifetime. Students develop intellectual curiosity and ethical reasoning competencies in ways that allow them to transition from education to real-world practice.
As Stockton recruits and retains a more diverse student body, it is essential the University offer a meaningful and creative learning environment that embraces diverse teaching and learning styles. As a result, students will develop the tools to become lifelong learners and fully engaged citizens.
We will do this by developing strategies and tactics that:
Enhance information about study skills, time management, and adaption to campus life through a variety of venues, such as Welcome Week, FRST courses, freshman/transfer seminars, and other initiatives, to start students on the right academic footing.
Embrace new academic programs and approaches that enhance teaching and learning, respond to changing social and economic conditions, and prepare students for emerging fields.
Reinforce our Essential Learning Outcomes (ELOs) with students and encourage faculty to align curricular and co-curricular activities to create a well-rounded education, relevant to a changing world.
Support faculty research about, and participation in, professional development opportunities that strengthen the classroom experience, including effective pedagogical approaches for a particular program and its core courses.