Stockton News - Friday, Jan. 26, 2018

Friday, Jan. 26, 2018
WHAT WE'RE TALKING ABOUT
Stockton Welcomes U.S. Supreme Court Associate Justice Neil M. Gorsuch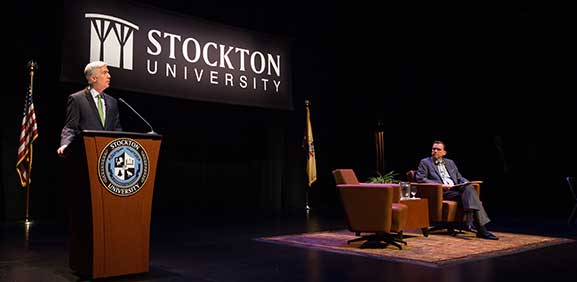 U.S. Supreme Court Associate Justice Neil M. Gorsuch reflected on his career as a judge, discussed the importance of civics and civility, and shared his advice for students during his recent visit to Stockton. The special event was arranged through the William J. Hughes Center for Public Policy at the University.
Model UN Receives Distinguished Delegation Award
Stockton's M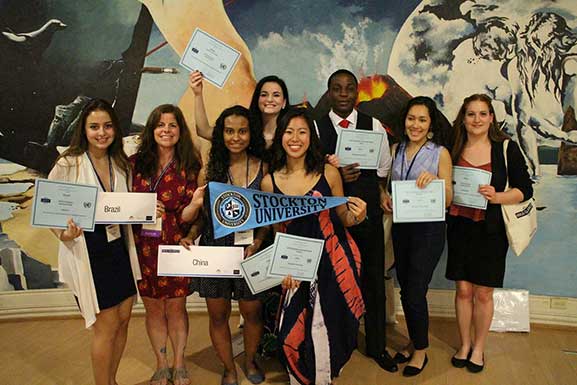 odel United Nations International Travel Team represented the politically powerful China at the January conference in Galapagos, bringing home a Distinguished Delegation Award for their efforts. Several other students earned commendations.
Stockton at Manahawkin Expands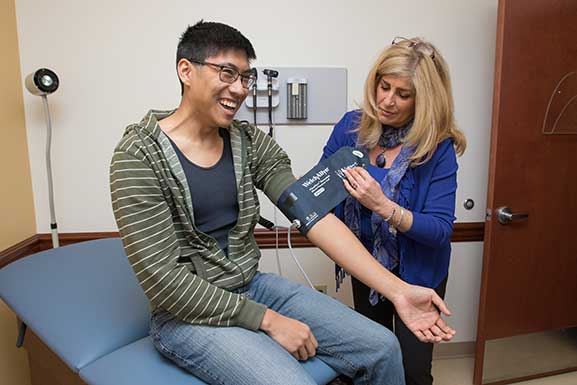 Students arriving for the spring semester at Stockton's Manahawkin Instructional site discovered it had grown to more than three times its size. The expansion gives nursing students more room for hands-on learning in a new lab and examining rooms that look like a professional medical office.
SPOTLIGHT ON
Susan Allen Recognized by National Geographic
Susan Allen, professional services specialist in University Relations & Marketing, had one of her photos selected out of 12,428 worldwide submissions by National Geographic for an assignment called We are all Explorers. The photo, titled After Dark, received a special editor's note from Nat Geo's Becca Skinner. "As a kid, I ran around the yard at dusk with a jar chasing fireflies to admire their lime green flickers. I have to laugh when I admit that not much has changed. The difference now is that I explore with a camera to capture and share these moments. My hope is that my images help to get people outside to explore, appreciate and protect our wild places," Allen said.
Oliver Cooke Selected as 2018 Regional Visiting Scholar
Associate Professor of Economics Oliver Cooke was selected as one of two visiting scholars for the Federal Reserve Bank of Philadelphia Community Development Studies & Education Department's inaugural Regional Visiting Scholars Program for 2018. The program is designed to support original community and economic development research conducted by faculty and doctoral students in Pennsylvania, New Jersey and Delaware. Cooke will conduct research on metropolitan area labor force participation rates. The review committee, consisting of community development researchers from across the Federal Reserve System, selected Cooke's proposal from a very competitive pool of submissions.
Senior Omar Dogbey Attends NCAA Convention
Omar Dogbey of the men's track & field team was selected to attend the 2018 NCAA Convention last week as part of the Division III Student Immersion Program. The initiative, which began in 2015, brings 40 ethnic minority students to the NCAA Convention, where they are exposed to Division III, its members and its governance process.
FRAME-WORTHY
More Coverage from Stockton's MLK Week of Service

Last week, we featured coverage of Stockton's 14th Annual MLK Day of Service. This year, the Office of Service-Learning coordinated a weeklong celebration, which also included activities where Stockton collaborated with area schools.
Ne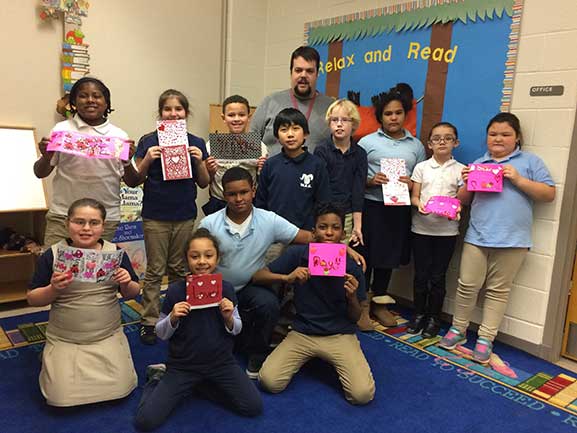 arly 100 participants from several area high schools attended Stockton's Third Annual MLK Day of Service Panel Discussion on Jan. 18 in the Campus Center Event Room (pictured above). This year's topic was "Free Speech vs. Hate Speech, What's the Difference from a Students Perspective."
Stockton's Sam Azeez Museum of Woodbine Heritage collaborated with Woodbine Elementary School for a day of service. The third, fourth and fifth grade students (pictured right) and staff created Valentine's Day cards which will be distributed to the patients at the Woodbine Developmental Center and local nursing homes.
WHAT'S TRENDING #STOCKTONU
Snapchat Stories: University Relations & Marketing social media intern Jen Pecoraro checked out Stockton's Get Involved Fair and the Greek Out Basketball Game this week.
ROLE CALL
John Bulevich, associate professor of Psychology, will serve as the new director of Academic Assessment from September 2018 until August 2021.
UPCOMING EVENTS
Tuesday, Feb. 6: Unite Against Hate Day
---
Take a Jitney Shuttle Tour to Stockton's Atlantic City Campus
Learn more about living and learning at Stockton in Atlantic City. Mobile tours will all leave from the Stockton Campus Center. The short version tours will be about one hour. Longer tours, which include a walking tour, will take about two hours.

Tour Dates:
| | |
| --- | --- |
| Feb. 1 – short – 3 p.m. | March 21 – long – 10 a.m. |
| Feb. 14 – short – 11 a.m. | April 3 – long – 10 a.m. |
| Feb. 27 – short – 3 p.m. | April 17 – long – 2 p.m. |
| | April 26 – long – 10 a.m. |
For more information, contact Haley Baum or Brian Jackson.
---
Correction: Last week, Stockton welcomed more than 20 teachers from Panama who will spend eight weeks at Stockton University studying English, teaching methods, and technology in the classroom. The program was established through a partnership between Stockton and the Panamanian government's Panama Bilingue Initiative.
Stockton News | View More News