Stockton News - Friday, Jan 19, 2018

Friday, Jan. 19, 2018
WHAT WE'RE TALKING ABOUT
Stockton Celebrates King's Legacy Through Service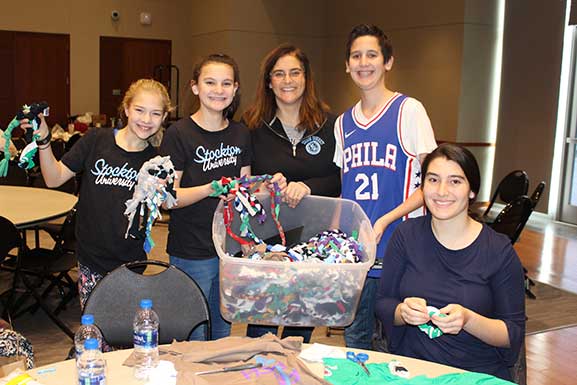 "At Stockton, this is a day on, not a day off," said Dean of Students Pedro Santana at Stockton's 14th Annual MLK Day of Service on Jan. 15. Director of Graduate Studies AmyBeth Glass (pictured center) was among the more than 800 volunteers who participated at more than 40 public service projects at multiple sites including Tuckerton Seaport, Hammonton and the Atlantic City beach. This year, the Office of Service-Learning coordinated a weeklong celebration that included film showings, an art exhibit and a panel discussion on hate speech for local high school students.
¡Bienvenidos! Stockton Welcomes Panamanian Teachers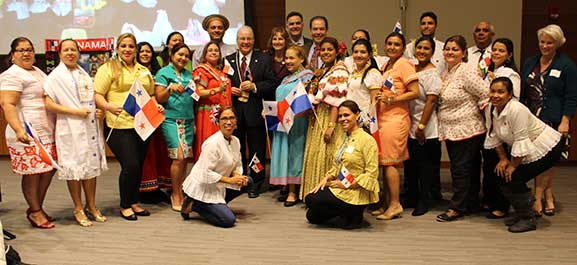 This week, Stockton welcomed more than 20 teachers from Panama who will study the English language, as well ESL teaching methodology and the use of technology in the classroom through a partnership the government's Panama Bilingue Initiative. The initiative is supported by Stockton's School of Education, ELS Language Center and SRI&ETTC. View photos and watch a video of a traditional Panamanian dance from today's luncheon.
SPOTLIGHT ON
Stockton Proud - Community Engagement Awards
Recipients of the 2018 Community Engagement Award were recognized during Stockton's MLK Day of Service on Jan. 15. Congratulations to this year's honorees: students Olivia DeCicco and Jodie Davis; Assistant Professor of Sociology Jessie K. Finch; Associate Director of Residential Life Haley Baum; alumna Samantha Jerry '17; and student organization Active Minds. View photos of the award recipients in the MLK Day of Service photo gallery.
WHAT'S TRENDING #STOCKTONU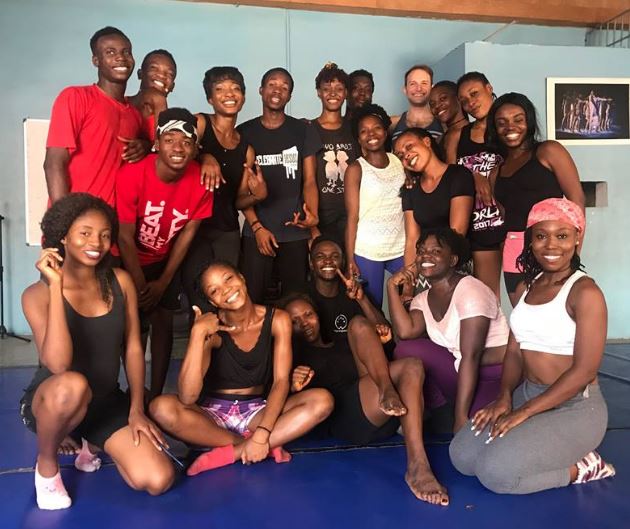 Facebook: Nathaniel "Beau" Hancock is helping students dance beyond their boundaries. The assistant professor of Dance is extending his expertise in dance with students and teachers of the SPAN Dance Academy in Lagos, Nigeria. His week-long workshop focuses on the art of choreography.
FRAME-WORTHY
Nice Shot, All-Americans!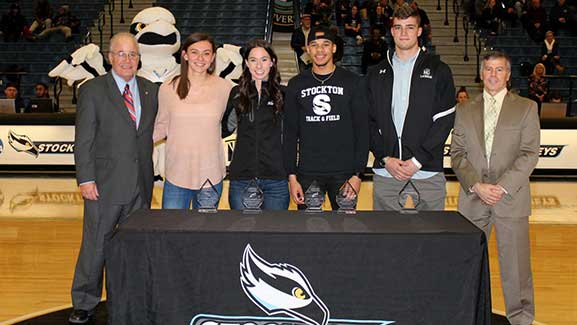 Stockton Ospreys Athletics recognized five student-athletes who earned All-American honors over the past year during the basketball half-time ceremony on Jan. 17. President Harvey Kesselman and athletic director Kevin McHugh presented awards to four of the five honorees: Cassandra Hrusko (women's track & field), Stephanie Kovacs (volleyball), Jared Lewis ( men's track & field) and Colin Wharton ( men's lacrosse). Alicia Belko (track and cross country) also was recognized, but was unable to attend the ceremony.
UPCOMING EVENTS
Tuesday, Jan. 23, Wednesday, Jan. 24 & Thursday, Jan. 25: Get Involved Fair Spring 2018 – Register for a table!
---
Stockton News | View More News