Stockton News - Friday, Jan 12, 2018

Friday, Jan. 12, 2018
WHAT WE'RE TALKING ABOUT
New Year, New Look
University Relations & Marketing is excited to launch the first issue of Stockton News, a weekly roundup of what's happening in the Stockton community and what's buzzing on our social media channels. Like its predecessor (The Stockton Times), Stockton News will feature faculty and staff achievements but will also highlight student success stories. Let us know what you think! Email feedback and story ideas to UniversityRelations@stockton.edu.
18 Reasons to Celebrate Stockton in 2018
We're celebrating the New Year by sharing 18 exciting things happening at Stockton in 2018. Check out the list.
NJECC - The Results Are In!
Stockton once again completed a successful New Jersey Employees' Charitable Campaign (NJECC) raising a record total $60,267 from nearly 200 faculty and staff. With just hours remaining in the campaign, and a couple thousand dollars short of the goal, Professor of Economics Elizabeth Elmore made the final generous pledge to get Stockton across the finish line. President Harvey Kesselman, who served as the state-wide co-chair of the campaign for the second consecutive year, said in an email to the Stockton community, "I want to personally thank you for your extraordinary generosity in 'giving with your heart' to our annual New Jersey Employees Charitable Campaign. Year after year, your demonstration of kindness and show of financial goodwill never ceases to amaze me." Although the state-wide campaign has ended, the Stockton NJECC committee would like to thank all of the donors and encourage all faculty and staff to continue supporting Stockton and other organizations of personal significance throughout the year.
SPOTLIGHT ON
Congratulations, Coach Fussner!
Women's Basketball Head Coach Joe Fussner earned his 400th win at Stockton on Jan. 10. Read more.
Let's Make Some Noyes
Michael Cagno, executive director of the Noyes Museum of Art of Stockton University, and the Noyes Arts Garage were recently named Partner of the Year by the Oceanside Family Success Centers in Atlantic City. Read more.
WHAT'S TRENDING #STOCKTONU
Instagram Story: Anthony Dissen, instructor of Health Science and a plant-based registered dietician, took over our Instagram story to share stress management techniques. He walks us through mindfulness and meditation exercises. Check out Dissen's website for more.
FRAME-WORTHY
Congratulations, Future Nurses!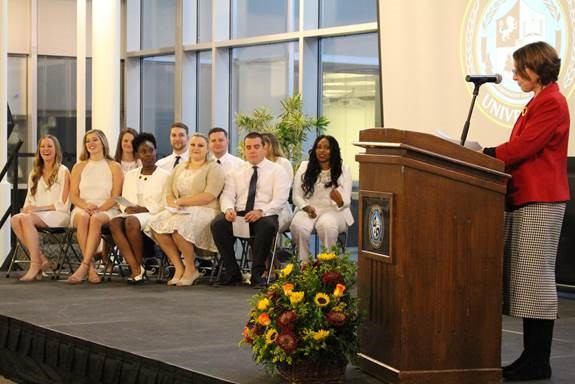 Ten nurses in Stockton's Accelerated BSN Nursing Program were pinned Dec. 15. Read the story and view more photos.
Alumni in Student Affairs Gathering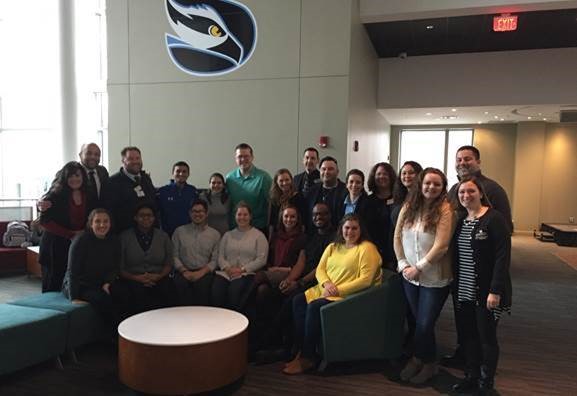 Jen Radwanski, director of New Student and Family Programs, Kortney Patzelt, engagement coordinator for Alumni Relations, and Student Affairs staff hosted an Alumni in Student Affairs gathering on Dec. 15 in the Campus Center. Alumni working in New Jersey, New York, Maryland, Pennsylvania and Virginia discussed current trends and topics in higher education and student affairs. Steve Radwanski, director for Residential Life, and Craig Stambaugh, associate dean of Students, also gave a presentation about the campus construction taking place in Galloway and Atlantic City.
UPCOMING EVENTS
Monday, Jan. 15: 14th Annual MLK Day of Service - Register today!
Tuesday, Jan. 16: Classes begin
---
Stockton News | View More News