Stockton News - Friday, Feb. 9, 2018

Friday, Feb. 9, 2018
WHAT WE'RE TALKING ABOUT
Unite Against Hate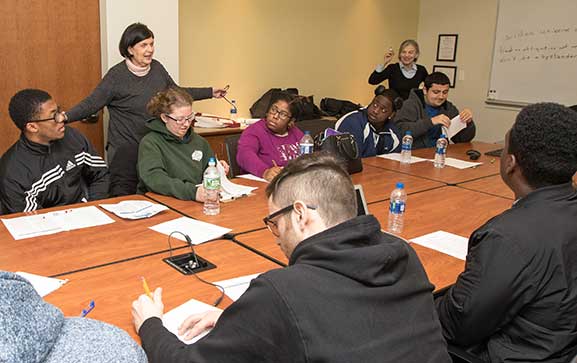 Stockton held its first Unite Against Hate Day on Feb. 6 where faculty, staff and students had the chance to examine and discuss how they view others, how others view them and how their lives are affected by the behavior and beliefs of others. The theme for the day was "Studying and Deconstructing Hate and Terror" and the 21 workshops featured presentations by faculty, students and guest speakers who offered a variety of views on human interaction in the world today. Pictured above: Gail Rosenthal, director of the Sara & Sam Schoffer Holocaust Resource Center, and Mary Johnson, adjunct faculty in Holocaust & Genocide Studies, led one of the presentations, "Fostering Empathy and Action: It's Time to Take a Stand against Bullying." For more coverage from the day, see our Snapchat story and Instagram story.
The Write Stuff
Stockton's Murphy Writing recently celebrated its 25th Annual Winter Getaway Writers Conference in January. It all started back when Peter Murphy was teaching English at Atlantic City High School. When he needed time away to write, he would occasionally rent a hotel room and go away for a weekend. "People would ask how I found time to write, and I would tell them, and they would say they wished they could come with me," he said. So he figured out a way to take them.
Purple Heart Parking
Stockton now has two new parking spaces for Purple Heart recipients located in front of the Campus Center. The Purple Heart is awarded to members of the U.S. Armed Forces who are wounded by an instrument of war in the hands of the enemy and posthumously to the next of kin in the name of those who are killed in action or die of wounds received in action. "Along with our recent Purple Heart recognition, these two parking spaces will be visible to all visitors and students and demonstrate our commitment to our men and women in uniform," wrote Jason Babin, director of the Office of Military & Veteran Affairs, in an email to faculty and staff.
SPOTLIGHT ON
Audrey Wolfson Latourette, Distinguished Professor of Business Law, authored an article, "Sex Discrimination in the Legal Profession: Historical and Contemporary Perspectives," which has been cited about 40 times by a broad variety of law reviews and historical reviews. Most recently, the article was cited in Resolution 302 by the American Bar Association Commission on Women in the Profession. The Resolution, which was approved, urges all employers specifically in the legal profession, to prohibit, prevent and promptly redress sexual harassment and retaliation, and includes adopting measures of alternative methods for reporting violations. Latourette co-authored another article, "Abortion and American Federalism," with Keith Diener, assistant professor of Business Law, which was published online by the Center for the Study of Federalism last month.
FRAME-WORTHY
Proud Supporters of Our Student Veterans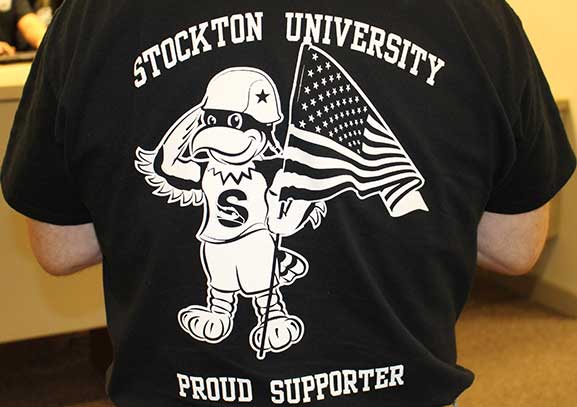 The Bursar's Office recently showed its support for the Student Veteran Organization, wearing SVO T-shirts. T-shirts, which were designed by the SVO E-Board with the help of Jason Babin, director of the Office of Military & Veteran Affairs, are still available in F109.
WHAT'S TRENDING #STOCKTONU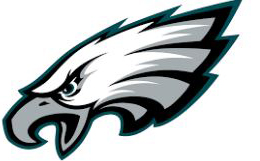 Facebook: As Eagles fans celebrated their Super Bowl win at the parade in Philadelphia, we checked in with Russell Manson, professor of Physics and director of the Data Science & Strategic Analytics program, to explore the science of a win.
ROLE CALL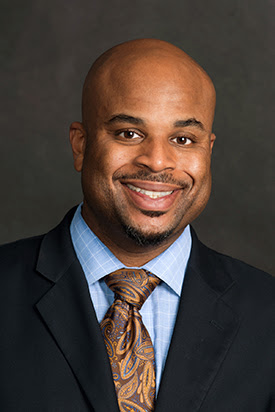 Welcome to Stockton, Christopher C. Catching! Catching, who began his first week as Stockton's new Vice President for Student Affairs, served as assistant vice president for Student Affairs at Southern Connecticut State University. Don't miss the upcoming issue of Stockton Now e-zine – hitting inboxes this month – featuring an exclusive interview with Catching!

In response to the University's Climate Survey, Stockton is enhancing the services provided by Office of Human Resources to include an Ombuds Officer.

Upon approval by the Board of Trustees at the Feb. 21 meeting, Tom Chester will be named assistant vice president for Human Resource Operations and Payroll. In this role, Chester will continue to implement HR strategies and best practices that cultivate and support Stockton's vision and mission as well as advise the University leadership on institutional strategies to advance Stockton's employee relations, Human Resource Information Systems (HRIS), payroll and benefits functions.

On Wednesday, Feb. 28, upon the recommendation of the President's Cabinet, Rahmaan Simpkins will serve as interim assistant vice president for Organizational Effectiveness and Ombuds Officer. His focus will be on assessing and advocating Stockton's organizational climate, recruitment practices and professional development programing as well as providing consultative support to individuals who wish to discuss their concerns with an independent person. Simpkins most recently served as director of Organizational Effectiveness at The College of New Jersey (TCNJ). Prior to his tenure at TCNJ, Simpkins served in numerous HR director roles at the Pennsylvania State System of Higher Education, the New Jersey Higher Education Student Assistance Authority, Merck & Co. and Prudential Financial. Simpkins earned a B.A. in Economics & Sociology from Rutgers University. He is also a Certified DDI Trainer and Special Civil Mediator in the State of New Jersey.
IN MEMORIAM
Patricia Parrott, senior building maintenance worker in the Custodial Department of Facilities Management & Plant Operations, passed away on Jan. 31, 2018, after a courageous fight with an unexpected illness. Patricia worked at the University for the past eight years and was the aunt of Gordon Elam of Central Stores. Services will be held at 11 a.m. Saturday, Feb. 10 at the Second Baptist Church, 110 Rev. Dr. I. S. Cole Plaza, Atlantic City, where friends may call from 9 a.m. Interment in Atlantic City Cemetery. View Patricia's obituary.
UPCOMING EVENTS
Tuesday, Feb. 13: Atlantic City-Gateway Career Fair

Sunday, Feb. 18-Monday, Feb. 19: Ospreys Give
---
Take a Jitney Shuttle Tour to Stockton's Atlantic City Campus
Learn more about living and learning at Stockton in Atlantic City. Mobile tours will all leave from the Stockton Campus Center. The short version tours will be about one hour. Longer tours, which include a walking tour, will take about two hours.

Tour Dates:
Feb. 14 – short – 11 a.m. March 21 – long – 10 a.m.
Feb. 27 – short – 3 p.m. April 3 – long – 10 a.m.
April 17 – long – 2 p.m.
April 26 – long – 10 a.m.
For more information, contact Haley Baum or Brian Jackson.
Stockton News | View More News