Stockton News - Feb. 23, 2018

Friday, Feb. 23, 2018
WHAT WE'RE TALKING ABOUT
You Gave Back, They Get Back, We Made an Impact!
What a great week to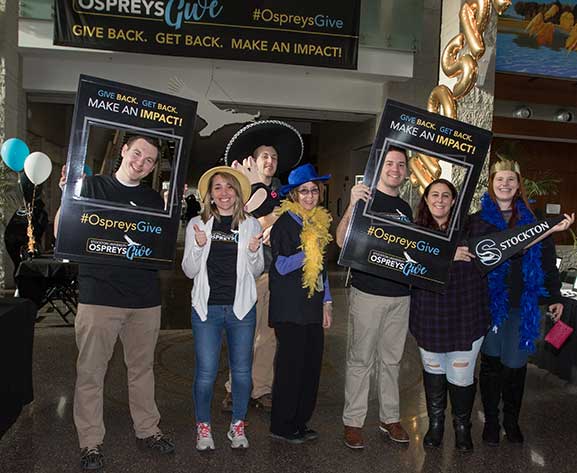 be an Osprey! Stockton's inaugural day of giving, Ospreys Give, raised $101,949 in 1,969 minutes! From 3 p.m. Feb. 18 through 11:49 p.m. Feb. 19, students, faculty, staff, parents, alumni and friends came together and made a huge impact! The 643 gifts made during Ospreys Give will support student scholarships, fund programs, support athletics and more. Faculty and staff made more than 280 gifts toward this effort. Way to go, Stockton! Check out the press coverage, Instagram story and Snapchat stories featuring Sunday's Wing Night and Monday's activities.

N.J. Gov. Phil Murphy to Speak at Commencement
N.J. Gov. Phil Murphy will serve as the commencement speaker at Stockton's Spring 2018 Commencement Ceremony on May 11 at Boardwalk Hall in Atlantic City.
Trustees Honor Foundation Member Jo Frances Stow
The Office of Development and Alumni Affairs has a new name. This week, the Board of Trustees approved the naming of the office as the Dr. Jo Frances Stow Office of Development and Alumni Affairs in honor of the longtime faculty and Foundation Board member, Jo Frances Stow of Atlantic City.

Student Climate Survey
The Student Climate Survey is now available on the portal. Please encourage your students to take the survey and make their voices heard. It should only take 5-10 minutes to complete.
SPOTLIGHT ON
Go, Ospreys!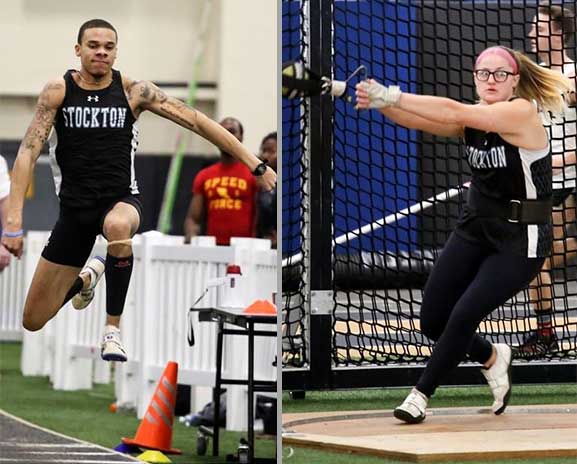 Stockton's men's track & field team produced its best finish ever at the NJAC Indoor Championships this week with second place (118 points) while the women's track & field team also competed well and placed third (131 points). Jared Lewis and Emily Higbee were victorious in individual events.
FRAME-WORTHY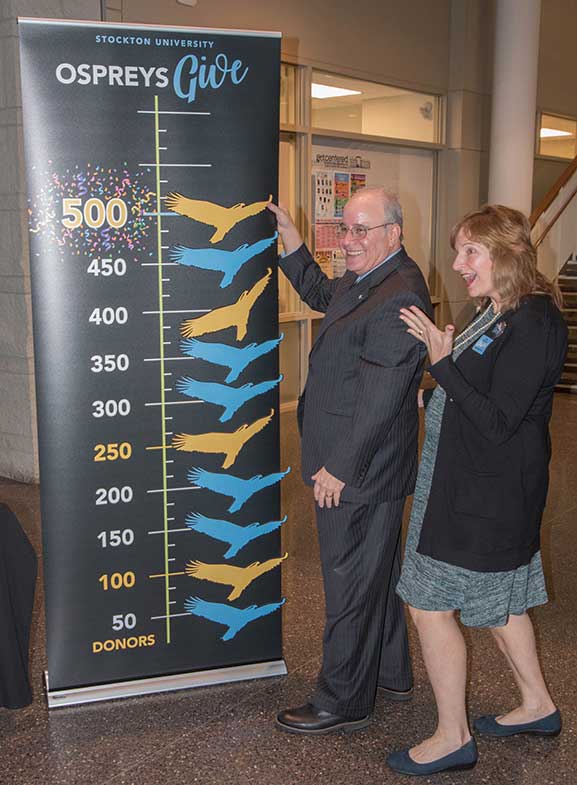 President Harvey Kesselman and First Lady Lynne Kesselman (right) took part in the Ospreys Give festivities. Below, left: Kortney Patzelt '16, engagement coordinator; Emily Zeck, student; Carl Archut '16, Jen Pecoraro, URM student social media intern; and Danielle Channell '10, professional services specialist, encouraged students to participate in a Talon Taxi Trivia. View more photos.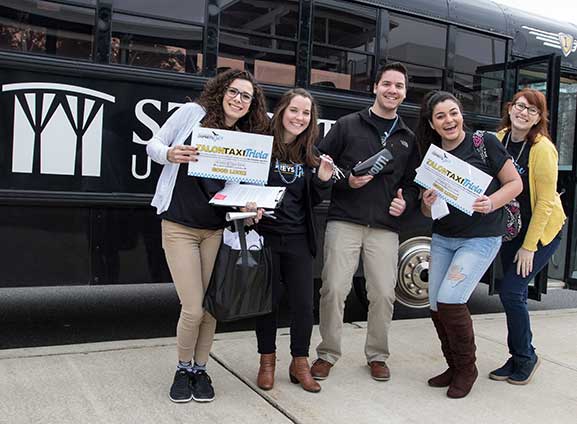 WHAT'S TRENDING #STOCKTONU
Snapchat Story: Information Security hosted a CyberSecurity Awareness tabling event on Feb. 20 and Feb. 21 as a part of its initiative to better educate Stockton's population on CyberSecurity.

Instagram: Spring is in the air. Well, at least it was for two days this week. And everyone at Stockton was taking full advantage of the weather like these students.
ROLE CALL
Daniel Nugent began his first week as Stockton's new interim chief development officer and executive director of the Stockton University Foundation.

Karen Lutgen joined the Office of the Provost this week as a professional services specialist– budget administrative assistant, replacing Kelly Oquist, who was recently appointed officer for Budget and Accounting. Lutgen first joined Stockton in 2010 in Disbursement Services.
FROM THE SIDELINES
Stockton Athletics hosted Community Day at its basketball doubleheader on Feb. 3. The Boys & Girls Club of Atlantic & Cape County, Hamilton Township Police Athletic League and Franklin Township Youth Basketball, attended the games and supported the Osprey men's and women's teams as they both defeated Montclair State.
IN MEMORIAM
Jeannine Arrigo, assistant to the executive vice president, chief of staff & board liaison, passed away today after a valiant fight against cancer. Jeannine started working at Stockton on Sept. 1, 2009 and worked for four different provosts. She spent her last days surrounded by her two families: her relatives and her Stockton family. She will be greatly missed.
UPCOMING EVENTS
March is Women's History Month – Let us know if you are organizing an event at the University. Email UniversityRelations@stockton.edu.

Wednesday, March 7 - Spring 2018 Career and Internship Fair

Thursday, March 8, 11:30 a.m.-12:30 p.m. – Opening Ceremony for newly expanded Manahawkin site. R.S.V.P. to 609-626-3883.
Spring 2018 - Take a Jitney Shuttle Tour to Stockton's Atlantic City Campus
Learn more about living and learning at Stockton in Atlantic City. Mobile tours will all leave from the Stockton Campus Center. The short version tours will be about one hour. Longer tours, which include a walking tour, will take about two hours.

Tour Dates:
Feb. 27 – short – 3 p.m.
March 21 – long – 10 a.m.
April 3 – long – 10 a.m.
April 17 – long – 2 p.m.
April 26 – long – 10 a.m.
For more information, contact Haley Baum or Brian Jackson.
Stockton News | View More News