Stockton News - April 27, 2018

WHAT WE'RE TALKING ABOUT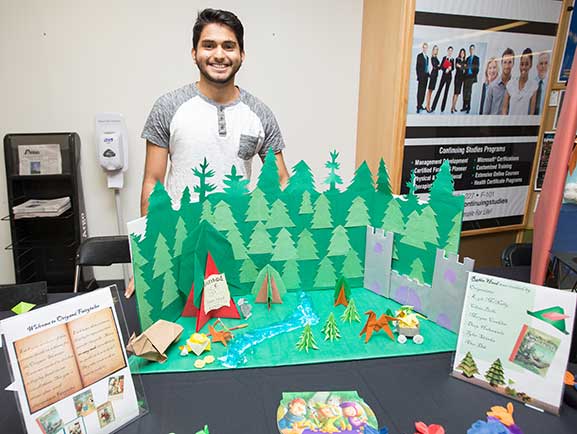 Great Work, Ospreys!
Students had a chance to share their research and work with the University community at several events, including the Spring 2018 Graduate Research Symposium, the Social Work Honors Program poster sessions, the School of Health Sciences Student Research Showcase and the Celebration of Service and Civic Engagement Mini-Grant Showcase. Students in Associate Professor & Program Coordinator of Education Norma Boakes' The Art & Math of Origami (GNM 2257) course shared their artwork (pictured left) at this year's Origami Showcase.
Bring
Your Child to Work Day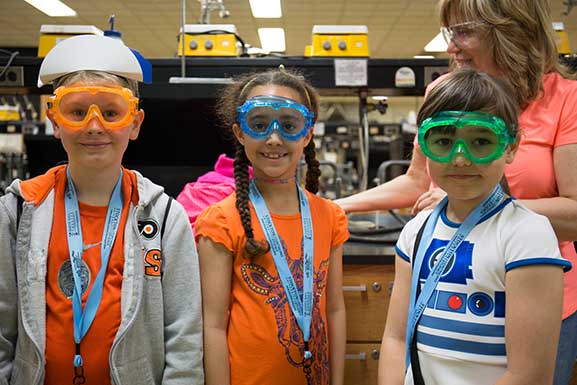 Human Resources organized the University's annual Bring Your Child to Work Day on April 26. Children and grandchildren of faculty and staff had a chance to learn about Stockton as an educational community and gain insight into what life as a student of higher education is like. This year's theme, "Mission: Find Your Super Power," allowed the young participants, ages 6-14 explore a variety of super powers, as Stockton faculty and staff members present the super powers they use in their careers. Activities ranged from art therapy and cupcake decorating to coding and chemistry magic.
Check Flickr next week for more photos from the day.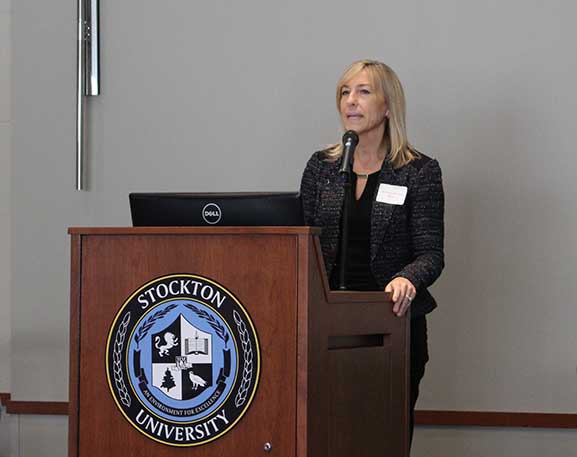 BCWEP Recognition Ceremony
Stockton's Child Welfare Education Institute held the 13th annual recognition ceremony of the Baccalaureate Child Welfare Education Program trainees and field instructors on April 20. The program recognized 40 graduates from seven different schools throughout the state, including eight Stockton students. Stockton student Stephanie Laties delivered the graduate address. Christine Norbut Beyer(right), a 1991 Social Work alumna and newly cabinet appointed Department of Children and Families Commissioner Designate, delivered the keynote address. View more photos.
AC UPDATE
Learn why RA
Laura Eguia
is excited to live at Stockton University in Atlantic City. Encourage your students to choose to live and learn in Atlantic City this fall!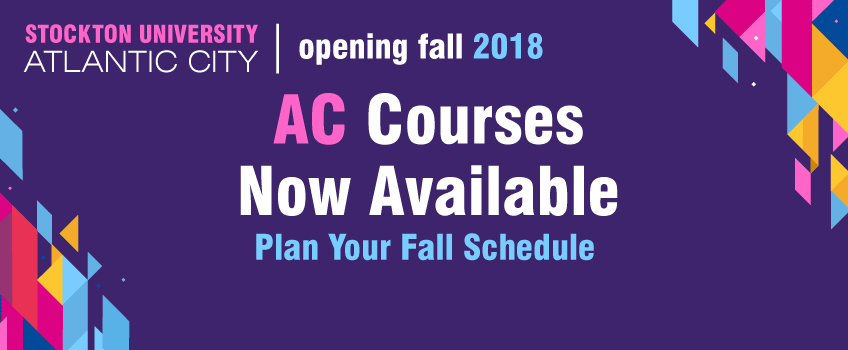 SPOTLIGHT ON
Student Bryan Gonzalez-Mejia Named Newman Civic Fellow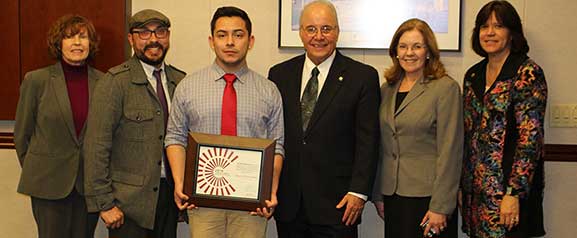 Bryan Gonzalez-Mejia
, a junior political science major, has been named a
Newman Civic Fellow
by Campus Compact in recognition of his work on campus promoting civic engagement and community involvement.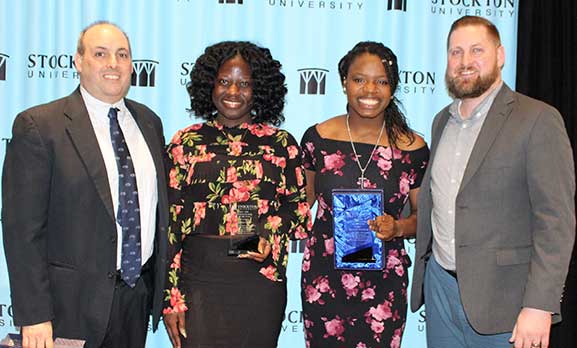 Student Involvement Awards
With nearly 2,000 student-led events happening on campus this academic year, the Student Involvement Awards celebrated these initiatives—and the people behind the programming—at the annual ceremony April 19. Pictured right, left to right, Jeff Wakemen, director of Student Development, students Adjoa Cofie and Rukayat Olunlade, and Joe Thompson, assistant director of Student Development. Cofie and Olunlade received the Student Leader of the Year Awards for their service and dedication to the Stockton community.

Excellence in Diversity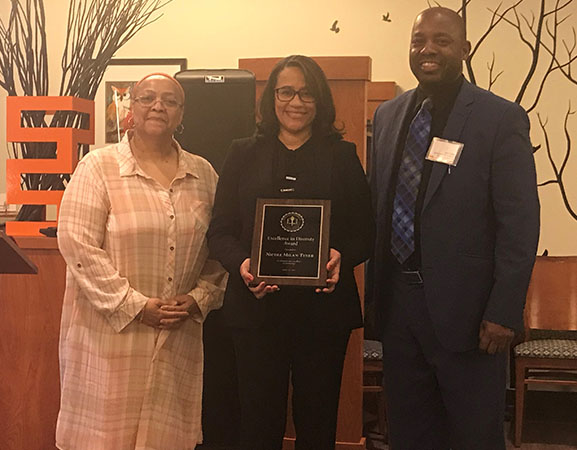 Nicole Milan-Tyner
, associate director of the Career Center was recently awarded with the 2018 Excellence in Diversity Award for Scholarship by the Rowan University Senate Diversity Committee during a ceremony on April 20. Honorees are selected based on outstanding contributions as well as commitment and service exhibited in the areas of diversity, social justice/activism, consciousness-raising and inclusion.
Milan-Tyner was honored for her doctoral dissertation, which focused on the career development of African American undergraduate women, and the impact that race, gender, and class have on their career goals and aspirations.
FRAME-WORTHY
Sankofa Retention Initiative Recognition Event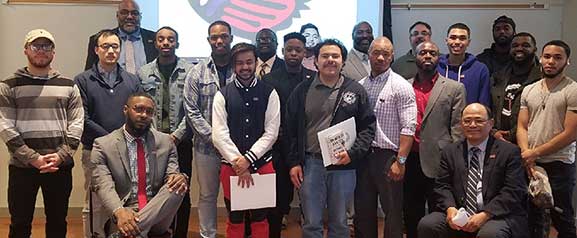 Stockton's Sankofa Retention Initiative (SRI) held its 2018
Semester Recognition Event
on April 18. Three graduating Sankofa students were recognized during the event and 10 students were formally inducted as Sankofa student members.


Ospreython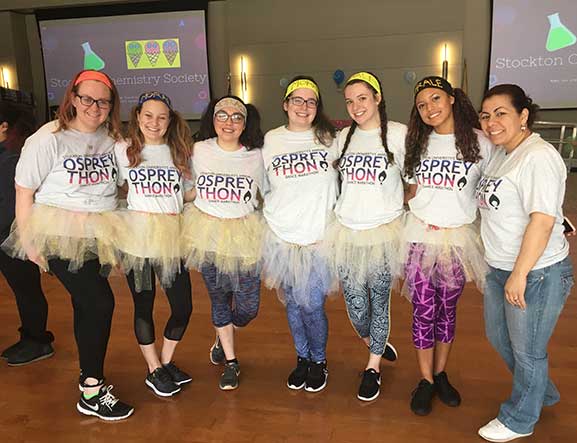 The Social Work Club hosted Ospreython, a 12-hour dance marathon, to raise money for the Children's Hospital of Philadelphia on April 14.
WHAT'S TRENDING #STOCKTONU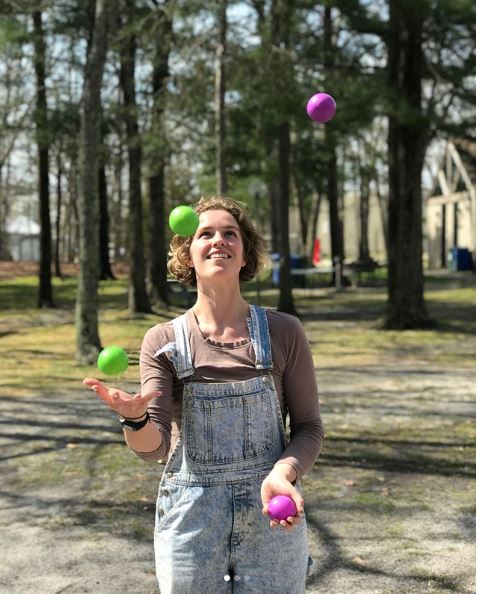 Instagram:Did you know #StocktonU has a Juggling and Circus Arts Club? These talented Ospreys showed off their skills outside Lakeside Lodge (left).
Facebook
:
#WildlifeWednesday: The Pinelands region is one of the last strongholds for a vibrantly colored tree frog uniquely adapted to its environment. If passed, a new bill will designate the Pine Barrens tree frog as New Jersey's state amphibian. We checked in with
Aaron Stoler
, assistant professor of Environmental Sciences, to learn more about the species and his research on their wetland habitat.
ROLE CALL
Did You Know?
Stockton now offers University employees and all members of their households access to the Deer Oaks
Employee Assistance Program
(EAP), a free and confidential program that offers a wide variety of counseling, referral and consultation services. Did you know Stockton's EAP provides services and resources on daily living?
Learn more
.
PUBLIC SAFETY CORNER

A new
website
for Stockton University's Office of Emergency Management launched this week. University community members are encouraged to visit the site, which outlines the four phases of Emergency Management: Mitigation, Preparedness, Recovery and Response.
Learn more
.
UPCOMING EVENTS
Thursday, May 17 – Stockton Center on Successful Aging's (SCOSA) Annual Festival

Spring 2018 - Take a Jitney Shuttle Tour to Stockton's Atlantic City Campus
Learn more about living and learning at Stockton in Atlantic City. Mobile tours will all leave from the Stockton Campus Center. The short version tours will be about one hour. Longer tours, which include a walking tour, will take about two hours.

Tour Dates:
May 24 – 10 a.m. July 10 – 10 a.m.
June 5 – 11 a.m. July 17 – 3 p.m.
June 18 – 2 p.m. July 31 – 11 a.m.
For more information, contact Haley Baum or Brian Jackson.
Stockton News | View More News