Stockton News - Friday, Oct. 26, 2018

WHAT WE'RE TALKING ABOUT
Coast Day Offers A Look at Life Above, Below the Jersey Shore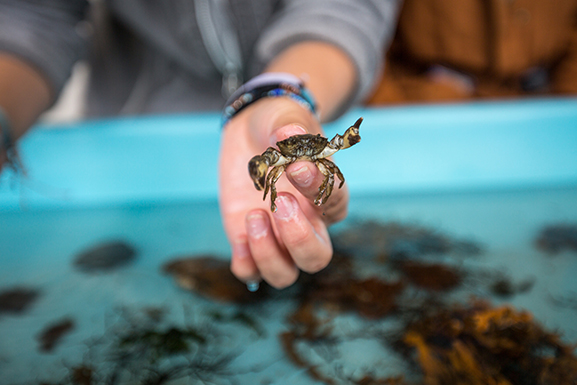 From a virtual trip to an offshore wind turbine, to an example of how oysters grow, visitors to Stockton University's first Coast Day on Oct. 20 at the Stockton University Atlantic City Academic Center got both a bird's eye and a fish eye view of science along the Jersey Shore.
View photos from Coast Day on Flickr and watch the Instagram story.
The Press of Atlantic City also posted a feature story on the event.
Stockton Signs Transfer Pathways Agreement with Brookdale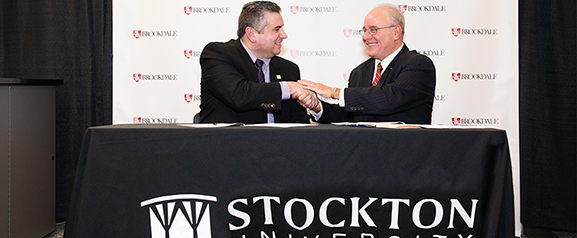 The presidents of Stockton University and Brookdale Community College announced a new partnership on Oct. 24 that will help students make a smooth transition from the two-year college to Stockton's four-year bachelor's degree program.
The Transfer Pathways program strengthens the relationship between Stockton and Brookdale by offering multiple opportunities for students to seamlessly pursue associate and bachelor's degrees at the two institutions of higher education.
Hughes Center Hosts Esports Summit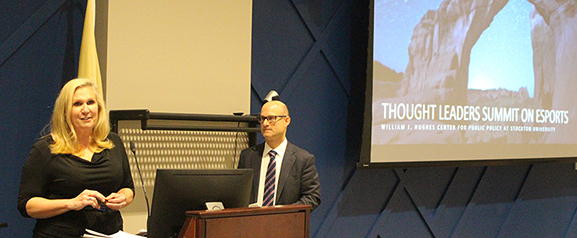 The potential for Atlantic City to become a mecca for esports was discussed at a Thought Leaders Summit on Esports hosted by the William J. Hughes Center for Public Policy at Stockton University at Stockton Atlantic City on Oct. 18.
More than 70 representatives from esports, government and businesses attended the summit to discuss how esports could benefit the city and the potential challenges.
STOCKTON UNIVERSITY ATLANTIC CITY
Mayflower Reunion Celebrates Stockton's Return to Atlantic City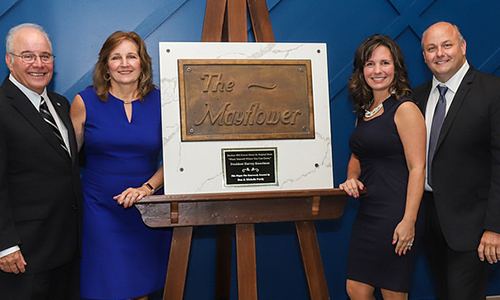 Alumni, faculty and staff members who spent time at the Mayflower Hotel during Stockton's very first semester in the fall of 1971 gathered in the new Stockton University Atlantic City Academic Center for a reunion on Oct. 7. The event, part of University Weekend, was a celebration of Stockton returning to its roots in Atlantic City, and, for many, a family reunion.
Carluccio's Officially Reopened
Carluccio's Coal-Fired Pizza has officially reopened at Stockton University Atlantic City. View hours and more dining options at Stockton.
Visit the Stockton Atlantic City Store
The Stockton Atlantic City Store is open from 9 a.m.-6 p.m. Monday through Friday, 10 a.m.-6 p.m. on Saturday, and 10 a.m. to 3 p.m. on Sunday.
Take a Shuttle
Shuttle service is now offered seven days a week to and from Stockton University Atlantic City. Both the Galloway campus and Stockton Atlantic City provide free transportation for faculty, students and staff with their Stockton ID.
SPOTLIGHT ON
Alligators, Turkeys and Dinosaurs- Oh My!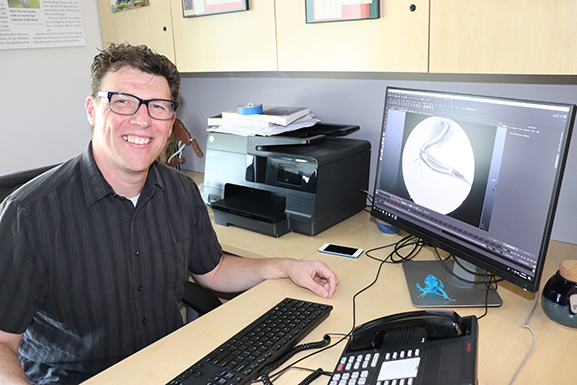 What do turkeys, alligators and prehistoric beasts have in common? More than you may think according to two years' worth of ongoing research conducted by Matthew Bonnan, professor of Biology and resident paleontologist, at and Christopher Langel '18.
Using cutting-edge technology in Stockton's Unified Science Center, Bonnan and Langel were able to determine for the first time how the bones in the elbows of the American alligator and domestic turkey move in relation to the shoulder. Their discovery might be able to provide better understanding of how predatory dinosaurs, such as T. rex and Allosaurus, used their forelimbs. Caitlyn Braunschweig '17, Joe Citro '17, Andrew Smythe '18, and current students Elizabeth Douglas and Dianna Marinelli also contributed to these findings.
NJECC Sweepstakes Winner: Allison Gunn
Congratulations to Allison Gunn, office supervisor in Health Services, for winning last week's Stockton New Jersey Employees Charitable Campaign (NJECC) sweepstakes. Gunn "made a wave" and is being rewarded with two tickets to the Council of Black Faculty and Staff Awards Dinner and Dance on Nov. 9 ($170 value).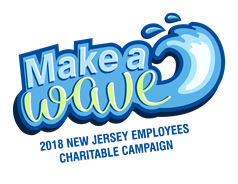 The statewide campaign runs through Dec. 31. Every week, all Stockton employees who have donated through the campaign will be put into a drawing for a sweepstakes prize.

If you plan to make a gift through payroll deduction, you can register and donate through the NJECC online giving portal or fill out a paper pledge form. If you plan to make a one-time donation, please fill out a paper pledge form. Email stocktonnjecc@stockton.edu or stop by Human Resources (J115) to request a paper pledge form.
FRAME-WORTHY
'Beautiful Soul' Lives on in Stockton Award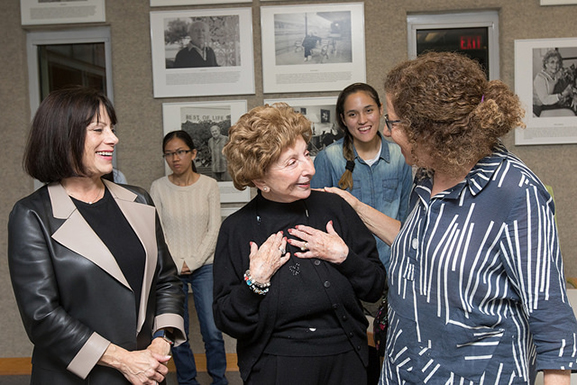 A Holocaust survivor's story continues to inspire Stockton students through an annual award started by her family.
Barbara Roth's mother met Bella Kurant when they were children in Poland. They were both prisoners in the Radom Ghetto. After World War II they reunited and became like sisters because both of their families had been murdered. Kurant survived the Radom Ghetto, Auschwitz-Birkenau and Bergen-Belsen. She was one of only seven survivors of the village of Skrzynno, Poland.
---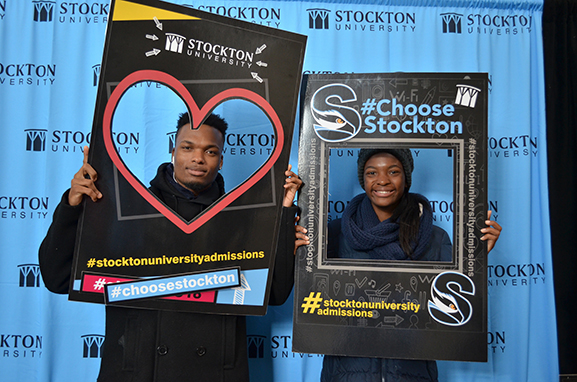 Moments captured
at the Oct. 14 open house at the Galloway campus included tours of the beautiful grounds and state-of-the-art facilities, as well as a selfie station. Prospective students and their families also met with deans, faculty and representatives from Admissions and Financial Aid to learn more about opportunities at Stockton.
WHAT'S TRENDING #STOCKTONU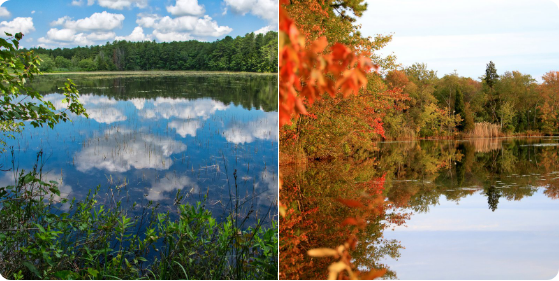 Twitter: #TransformationTuesday: Fred is finally starting to show off some autumn colors. Are you team summer or team fall?
---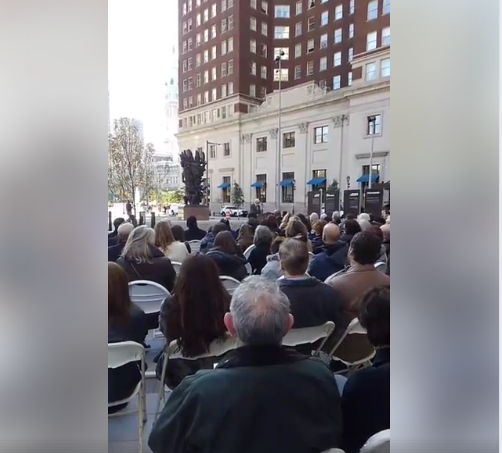 Facebook: The Polish railroad tracks at the entrance of The Sara & Sam Schoffer Holocaust Resource Center tell a story about the Holocaust and are a visual reminder of how six million Jews and four million other victims were transported to death and work camps. Tracks from the same Polish railway are now part of the Holocaust Memorial Plaza in Philadelphia where they are helping the story travel into the future so it can never be forgotten. The Holocaust Resource Center donated the tracks and representatives were present at the opening ceremony on Oct. 22.
OSPREY NOTES
Do you have students who are looking for financial aid assistance? The Office of Financial Aid is hosting "FAFSA Fridays" every Friday now through Dec. 7 from 10 a.m. to 12:45 p.m. in front of the E Wing library to assist students with the financial aid process. Follow the Office of Financial Aid at Stockton University on Facebook and @stocktonfinaid on Twitter and Instagram for the latest financial aid updates, tips and tricks, and more!
FROM THE SIDELINES
Stockton Clinches First Place in NJAC with 3-2 Win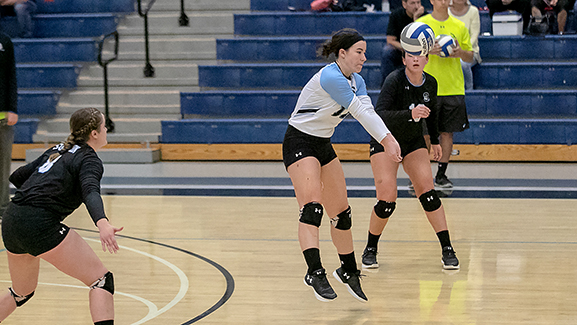 Stockton University (25-6, 8-0 NJAC) captured the top seed for the NJAC Tournament with a tough 3-2 (25-12, 22-25, 25-17, 22-25, 15-10) victory over Kean University (16-13, 6-2 NJAC) on Oct. 23.The Ospreys will have home-court advantage throughout the NJAC playoffs.
---
Stockton Teams Volunteer at AC Marathon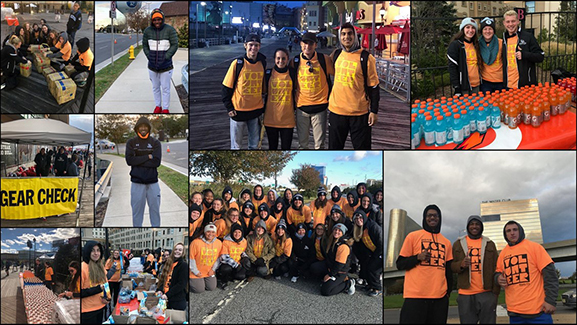 Stockton Athletics recruited over 80 volunteers for the G. Larry James Legacy Run and Atlantic City Marathon & Half Marathon last weekend. Student-athletes from the Osprey men's track & field, women's track & field, men's basketball and women's lacrosse teams volunteered at the events.
UPCOMING EVENTS
Oct. 2-Nov. 29 – Unidos 2018 Fall Lecture Series
Thursdays this fall (through Nov. 1) - Farmer's Market, 10 a.m.-2 p.m., D/F Wing Plaza/Circle
Sunday, Nov. 4 – Open House
Friday, Nov. 9 – Council of Black Faculty and Staff Awards Dinner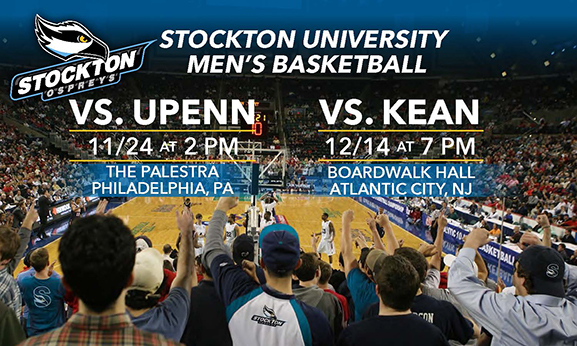 Mark your calendars: Don't miss an opportunity to come out and cheer on your Ospreys at 2 p.m. on Nov. 24 at The Palestra in Philadelphia, and at 7:30 p.m. on Dec. 14 at Boardwalk Hall in Atlantic City!