Stockton News- Oct. 19, 2018

WHAT WE'RE TALKING ABOUT
U.S. Rep. Frank LoBiondo Signs Partnership with Stockton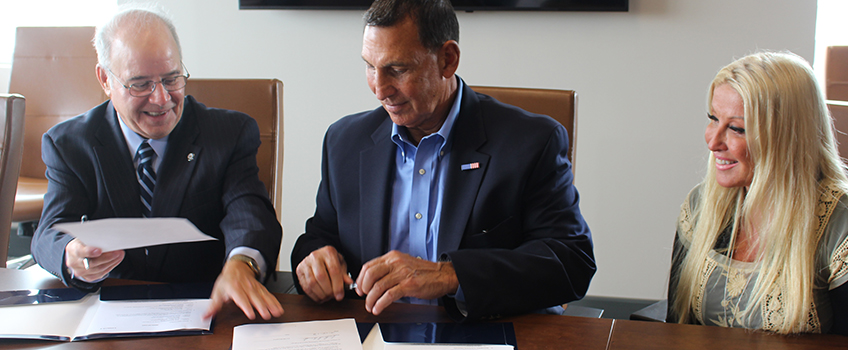 After more than 23 years in Congress, U.S. Rep. Frank LoBiondo is retiring in January and cleaning out his office. His career has filled some 350 boxes with papers, mementos and plaques.

On Oct. 15, LoBiondo signed an agreement with Stockton that will make items from his 35 years in public service available to Stockton students and researchers through the Special Collections department in the Richard E. Bjork Library.

Broadway Arts Lab Brings Professionals to Stockton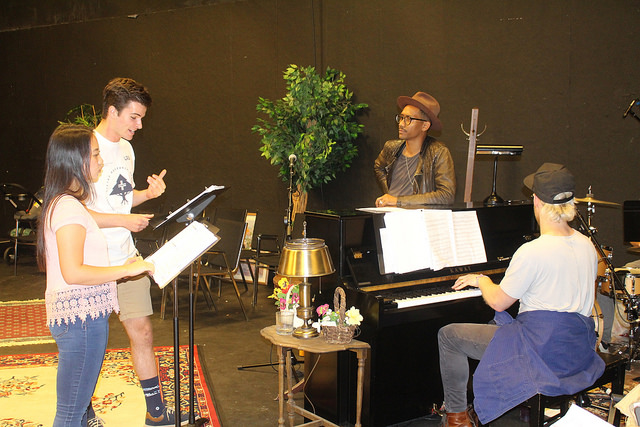 The heel of Matt Gould's tan boot hits the floor in time with the music as Gould, seated at the piano, explains to students Jenna Purviance and Liam McGettigan that they are not just singing a song, they are telling a story.
"How do I communicate this story?" he asks the students who are playing brother and sister. She is a Marine in Iraq, he is back home, and they are writing letters to each other in song.

"You have to re-live it," Gould says. "You are not just reading letters."
Gould and his partner, Griffin Matthews, spent two intense weeks at Stockton's first Broadway Arts Lab, which brings professionals to work with students on an original play.

View photos from the Broadway Arts Lab
MSW Meet and Greet Draws Record Number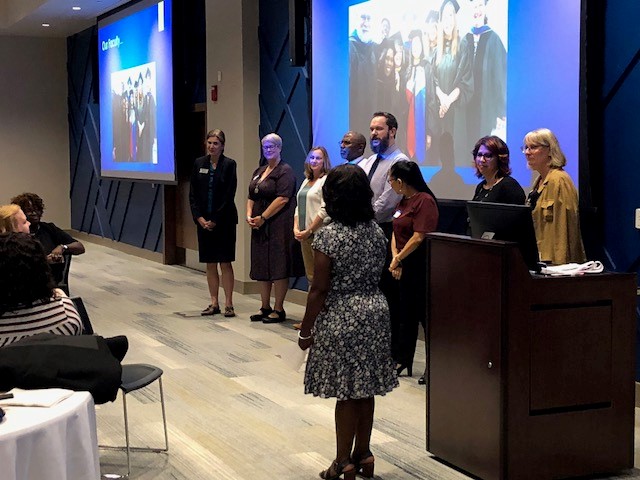 Fifty prospective students attended a Master of Social Work Program Meet and Greet on Oct. 4 in the Fannie Lou Hamer Event Room of Stockton University Atlantic City, a record turnout for an MSW recruitment event. Bachelor of Social Work (BSW) students also attended with their professors.

The meet and greet, catered by Chartwells, was a collaboration between Graduate Studies and the MSW program at Stockton. Highlights included Maya Lewis, associate professor of Social Work, giving a presentation to attendants about the program, including post-graduate careers and admissions criteria; and all of the MSW faculty being present to actively answer questions aboutthe program.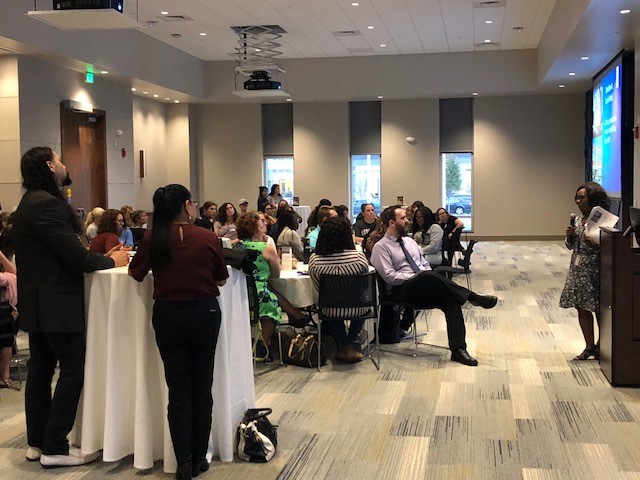 "This event was a group effort between the MSW program, BSW faculty and Graduate Studies. Prospective MSW students were impressed by the Atlantic City campus and excited to apply for the program so they can learn in this beautiful facility," Tara Williams, associate director of Graduate Studies, said.

"A wide variety of career settings are available to social work graduates now including mental health, military, prison, educational, international and policy advocacy to name a few," Robert Barney, associate professor of Social Work and coordinator for the MSW program, said.

The MSW program is in its 10th year of operations and will host a celebration at 6:30 p.m. on Nov. 5 in the Fannie Lou Hamer Event Room of Stockton Atlantic City.
STOCKTON UNIVERSITY ATLANTIC CITY
New Mentoring Program at Stockton Atlantic City Spotlighted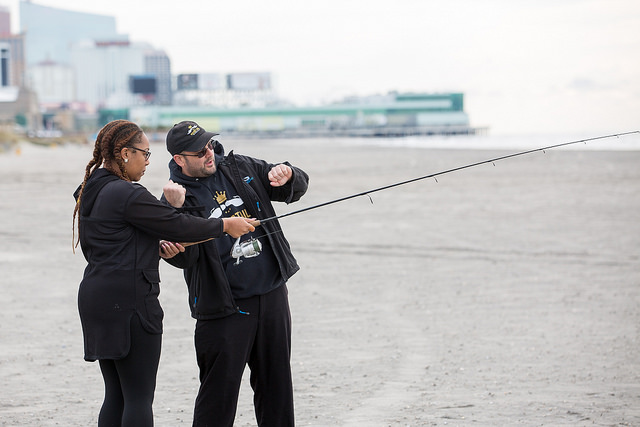 The Press of Atlantic City ran a feature story this week on the many ways Stockton Atlantic City is a learning environment for students, faculty members and the community. On Oct. 16, Ecology and Saltwater Fishing students got a hands-on learning experience when the beach became their classroom, and Richmond Avenue School students in the New Angles for Success mentoring program watched fishing demonstrations led by Stockton students.

The mentoring program was also covered by SNJ Today and CBS Philly.

Tuesday's Instagram story featured highlights from the New Angles for Success program, which introduces Atlantic City youth to fishing and conservation while creating mentoring opportunities with Stockton students.
Take a Shuttle
Shuttle service is now offered seven days a week to and from Stockton University Atlantic City. Both the Galloway campus and Stockton Atlantic City provide free transportation for faculty, students and staff with their Stockton ID.
SPOTLIGHT ON
Abbott Receives Volunteer Award from NJCPA
Associate Professor of Business Studies, Accounting Jean Abbott recently received the Volunteer Award from the New Jersey Society of Certified Public Accountants (NJCPA). Abbott was one of 39 recipients selected to receive the newly created award.

"The Volunteer Award is a great way to say 'thank you' to many of our members who truly give back to their communities, their local schools and the next generation of CPAs," said Ralph Albert Thomas, CEO and executive director, NJCPA.
Leitner Speaks at Governor's Conference on Oct. 2
Professor of Management Lewis A. Leitner was invited to speak at the 2018 Governor's Conference on Housing and Economic Development on Oct. 2 at Harrah's Resort in Atlantic City. The conference featured more than 1,000 attendees and keynote Gov. Phil Murphy.

Leitner's topic was "Strategic Planning for Successful Non-Profit Boards."

"It was an honor to be chosen as a speaker at the Governor's Conference on Housing and Economic Development," he said. "Each of the two major topics are critical for the state as it deals with upgrading the housing stock in many communities and bringing new economic development throughout the state. Economic development equals jobs and better living standards."

The event was hosted by the New Jersey Department of Community Affairs, the New Jersey Housing and Mortgage Finance Agency and the New Jersey Economic Development Authority.

NJECC Sweepstakes Winner: Diane Falk
Congratulations to Diane Falk, special assistant to the dean and co-principle investigator of the Child Welfare Education Institute, for winning last week's Stockton New Jersey Employees Charitable Campaign (NJECC) sweepstakes. Falk "made a wave" and is being rewarded with a free faculty/staff parking pass for the remainder of the fiscal year.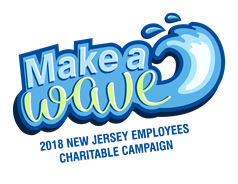 The statewide campaign runs through Dec. 31. Every week, all Stockton employees who have donated through the campaign will be put into a drawing for a sweepstakes prize.

If you plan to make a gift through payroll deduction, you can register and donate through the NJECC online giving portal or fill out a paper pledge form. If you plan to make a one-time donation, please fill out a paper pledge form. Email stocktonnjecc@stockton.edu or stop by Human Resources (J115) to request a paper pledge form.
FRAME-WORTHY
Lanterns Shine Bright on Lake Fred in Memory of Loved Ones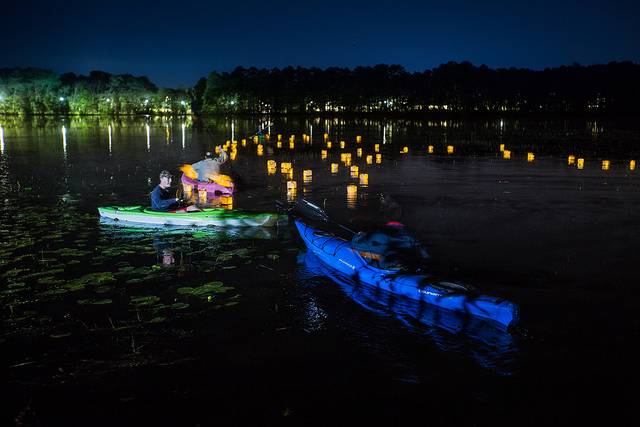 Paper lanterns with messages to loved ones lost to cancer floated on Lake Fred under the moonlight during Kappa Sigma's
Light Up Lake Fred
benefit for the Ulman Cancer Fund for Young Adults Oct. 12.
WHAT'S TRENDING #STOCKTONU
Twitter: Take a minute to enjoy this impromptu performance by Stockton a Capella members. All three groups (Stockapella, Stocktones and Stockata) will perform at #StocktonU on Nov. 26.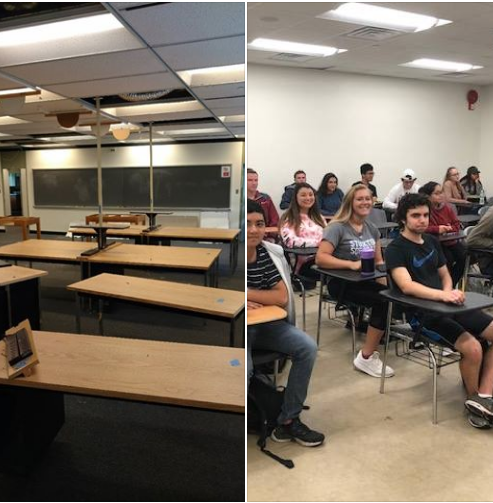 Facebook: The C-Wing classrooms (pictured right) were renovated after the Physics and Sustainability programs moved to the new Academic Quad spaces. The C-Wing classrooms now have new furniture, ceiling tiles, lights, window treatments, IT upgrades and fresh paint.
OSPREY NOTES
On Oct. 18, Bob Heinrich, chief enrollment management officer, welcomed 100 registered guidance counselors across New Jersey to the HESAA (Higher Education Student Assistance Authority) Fall 2018 Secondary School Counselor Financial Aid Training Institute hosted by Stockton University.
---
Do you have students who are looking for financial aid assistance? The Office of Financial Aid is hosting "FAFSA Fridays" every Friday starting October 12 from 10 a.m. to 2 p.m. in front of the E Wing library to assist students with the financial aid process. Follow the Office of Financial Aid at Stockton University on Facebook and @stocktonfinaid on Twitter and Instagram for the latest financial aid updates, tips and tricks, and more!
'ROLE' CALL
Amanda McCullough joined University Relations & Marketing as a professional services specialist. In her new role, McCullough will assist in the development, production and distribution of University publications and special projects, including Stockton News and Stockton Now. She previously managed public relations and social media at Atlantic Cape Community College for four and half years. Prior to that, she worked at The Current Newspapers for 10 years. She received her bachelor's degree in Communication from Stockton in 2004.

UPCOMING EVENTS
Oct. 2-Nov. 29 – Unidos 2018 Fall Lecture Series
Thursdays this fall (through Nov. 1) - Farmer's Market, 10 a.m.-2 p.m., D/F Wing Plaza/Circle
Saturday, Oct. 20 – Stockton Coast Day
Sunday, Nov. 4 – Open House
Friday, Nov. 9 – Council of Black Faculty and Staff Awards Dinner