Stockton News - Friday, Nov. 2, 2018

WHAT WE'RE TALKING ABOUT
Stockton Names A.C. Event Room in Honor of Fannie Lou Hamer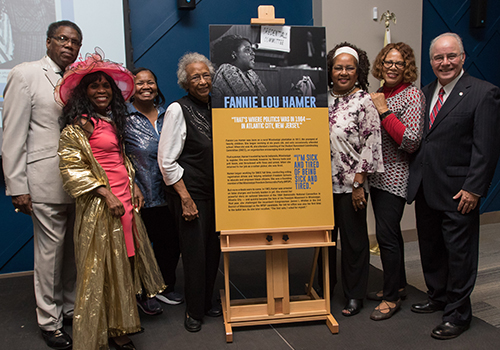 Fannie Lou Hamer's work as a voting and civil rights activist brought her from her home state of Mississippi to Atlantic City in 1964 where she galvanized the nation with her speech at the Democratic National Convention, talking about the beatings she had endured in her fight for the right to vote, and famously noting she was "sick and tired of being sick and tired."
Her dynamic speech, and her story, will now be permanently a part of Atlantic City and Stockton University. On Nov. 1, Stockton University named the Event Room in the new Stockton University Atlantic City Academic Center, in honor of Hamer.
---
Stockton Ranked in Top 25 'Best for Vets' Colleges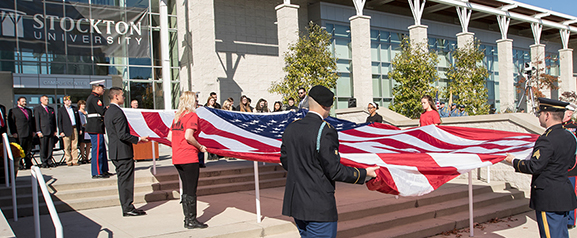 Stockton University is ranked among the top 25 four-year colleges in the nation in providing services to veterans according to the Military Times "Best for Vets" 2019 ranking released Oct. 23.
---
Stockton Welcomes Guests from Taiwan University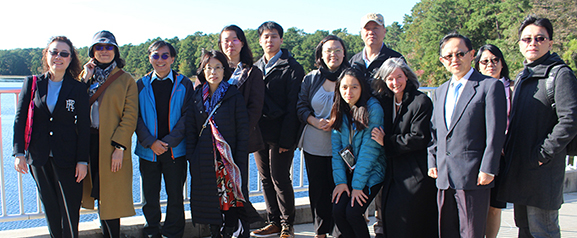 The language may be different, but based on the themes of the 2018 International Mathematics and Education Symposium held at Stockton on Oct. 22, educators in Taiwan face many of the same issues as their counterparts in America.
Cannabis Minor Featured in Press of Atlantic City, WPG Talk Radio
Stockton's Cannabis Studies minor was recently featured by the Press of Atlantic City. The article explored how the minor can benefit many career paths for students including technology, hospitality and agriculture. WPG Talk Radio also posted a piece about the minor being offered.
STOCKTON UNIVERSITY ATLANTIC CITY
Picture Stockton … Students Get Hooked on Ecology One Cast at a Time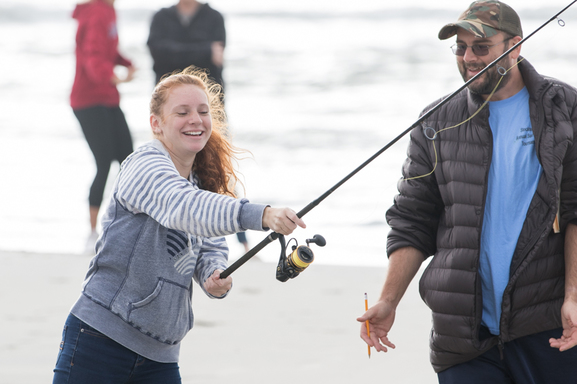 With fishing rods in hand, students cross Atlantic Avenue on their way to the beach in front of Stockton's new residential building on the Atlantic City Boardwalk. They are on their way to class.
Adam Aguiar, assistant professor of Biology, takes full advantage of the beachfront campus where he teaches his general studies course that explores the ecology behind saltwater fishing.
---
Take a Shuttle
Shuttle service is now offered seven days a week to and from Stockton University Atlantic City. Both the Galloway campus and Stockton Atlantic City provide free transportation for faculty, students and staff with their Stockton ID.
SPOTLIGHT ON
Stockton Faculty, Students Experience Dodge Foundation Poetry Festival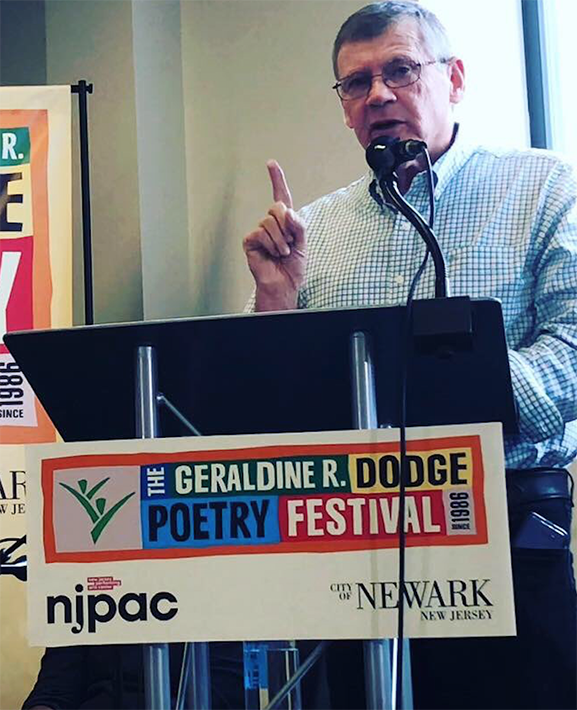 Peter Murphy, founder of Murphy Writing (right); Nancy Reddy, assistant professor of Writing and First-Year Studies; and Christine Salvatore-Smith, adjunct professor of Literature, participated in the 17th biennial Dodge Foundation Poetry Festival that was held Oct. 18-21 at the New Jersey Performing Arts Center (NJPAC) and other venues in Newark's Downtown Arts District. The event featured bestselling authors, literary legends, Pulitzer Prize winners, slam champions and Academy of American Poets Chancellors. It is noted as the first large-scale event to put poetry itself at its focus and to invite poets and audiences from a wide base of the culture.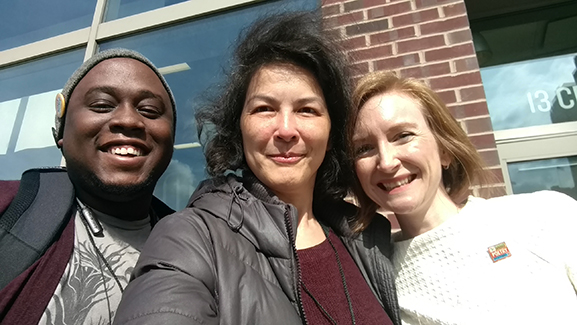 Pictured from left, Jordan Johnson, Stockton Literature Program alumnus; Cynthia Arrieu-King, associate professor of Creative Writing; and Reddy.
Arrieu-King also attended with students from the Literature Club and students from Advanced Spoken Word. The Advanced Spoken Word students went to readings on 20 and met with some of their favorite poets including Danez Smith and Hieu Mihn Nguyen.
"It is an ecstatic experience to read my poems at the Dodge Poetry Festival. It's a close as I'll ever get to heaven without dying," Murphy said.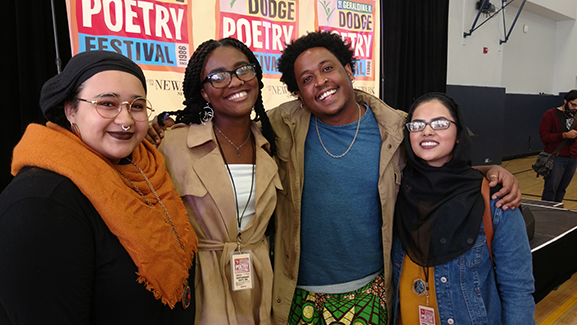 ---
Allison, Sinanan, Grullon Present at Black Doctoral Network Conference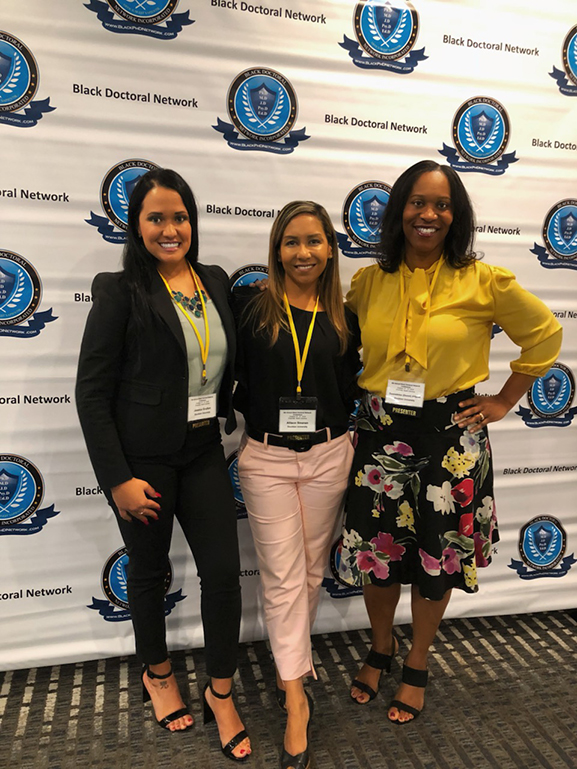 Donnetrice Allison (right), president of Faculty Senate; Allison Sinanan (middle), associate professor of Social Work; and Jessica Grullon (left), assistant director of Graduate Studies, attended the Black Doctoral Network Conference last weekend in Charlotte, N.C. They presented "The Search Advocate Program: Tips and Strategies for Diversifying Faculty and Staff at PWI Institutions" and recruited for faculty positions for Fall 2019.
Their presentation focused on their experiences being part of the first cohort of trained search advocates at Stockton, the importance of the program, and how it has already helped to diversify some academic programs at Stockton.
"This is the fourth year that the provost's office has supported a cohort of Stockton faculty and staff attending this conference to recruit new and diverse talent to the institution. It is a demonstration of the institution's commitment to making positive change," Allison said.
---
Perez, Graduate Student Present Paper in Spain
Heather Perez, special collections librarian and university archivist, and Courtney Stewart, American Studies graduate student, had the opportunity to attend the International Council on Archives' Section on University and Research Institution Archives annual meeting on Oct. 3 at the University of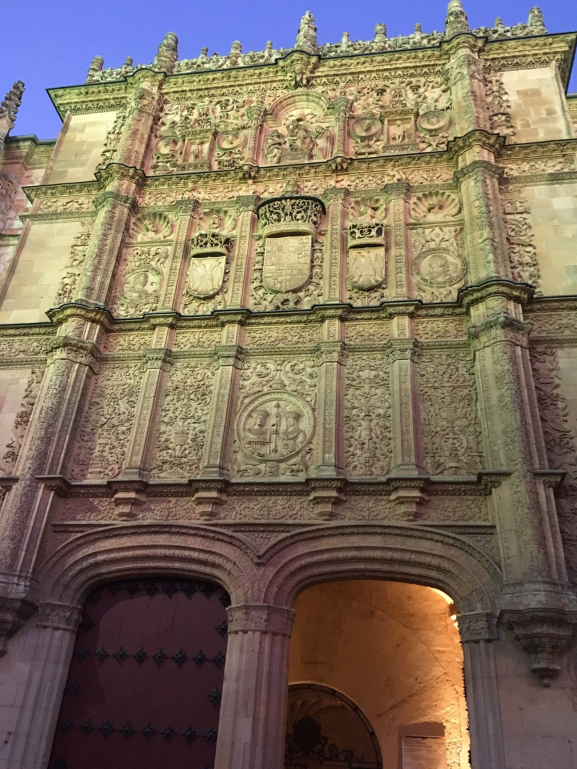 Salamanca in Spain.
They presented their paper, "Using Old Archives to Reexamine a New University's Identity: The Question of Richard Stockton and Stockton University," which was one of 45 papers featured at the three-day conference. Perez and Stewart spoke about the research they undertook as part of the Richard Stockton Exhibition Project over the past year.
"Courtney and I enjoyed meeting the university archivists from all over the world and discussing our research and Stockton University's archives with them. Courtney had the honor of being the only graduate student to present at the conference, and our paper and research about Richard Stockton was a topic of conversation throughout the conference," said Perez.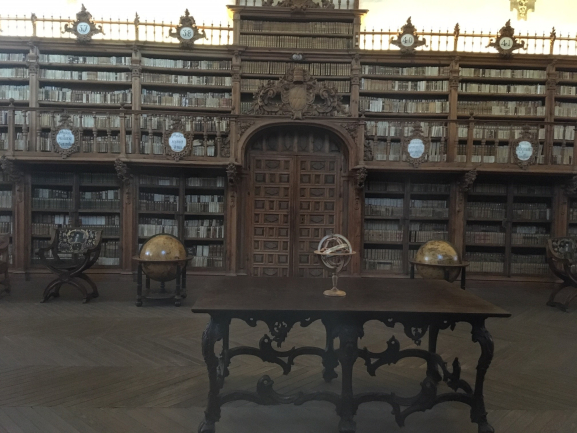 Pictured upper right: entrance gate to University of Salamanca. At left: the Historical Library of the University of Salamanca, founded in 1254 and is the oldest university library in Europe
---
NJECC Sweepstakes Winner: Kim Furphy
Congratulations to Kim Furphy, associate professor of Occupational Therapy, for winning last week's Stockton New Jersey Employees Charitable Campaign (NJECC) sweepstakes. Furphy "made a wave" and is being rewarded with a $100 gift card to Wawa.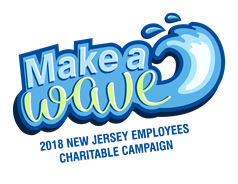 The statewide campaign runs through Dec. 31. Every week, all Stockton employees who have donated through the campaign will be put into a drawing for a sweepstakes prize.

If you plan to make a gift through payroll deduction, you can register and donate through the NJECC online giving portal or fill out a paper pledge form. If you plan to make a one-time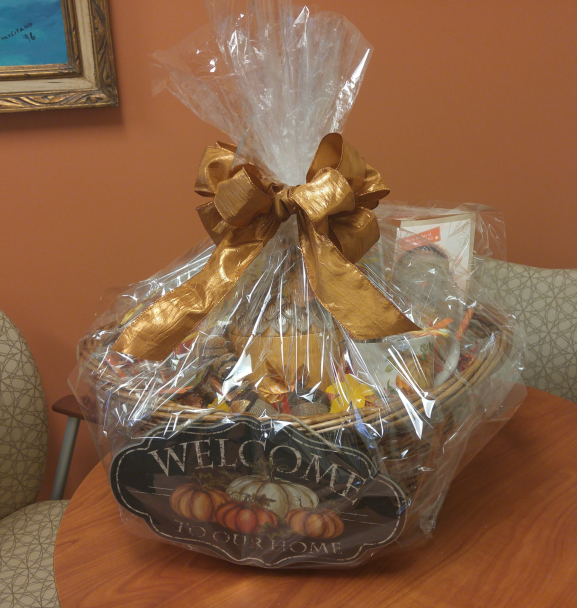 donation, please fill out a paper pledge form. Email stocktonnjecc@stockton.edu or stop by Human Resources (J115) to request a paper pledge form.
Next week's drawing features a Hallmark fall gift basket that includes candles, candy, mugs, a serving tray and a bowl pictured at right.
FRAME-WORTHY
Kowalski Sees Eagles Soar Across the Pond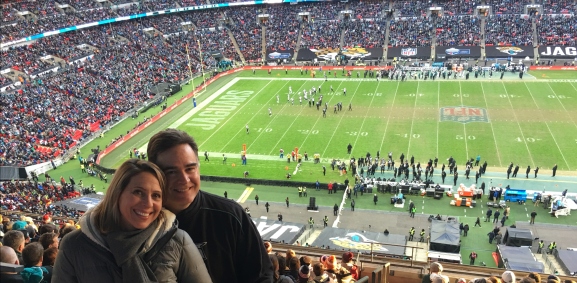 Brian Kowalski, general counsel, was London-bound this past weekend to see the Philadelphia Eagles play the Jacksonville Jaguars on Oct. 28, at Wembley Stadium. The Eagles beat the Jaguars 24-18. Kowalski is pictured with partner Margo Ahart.
---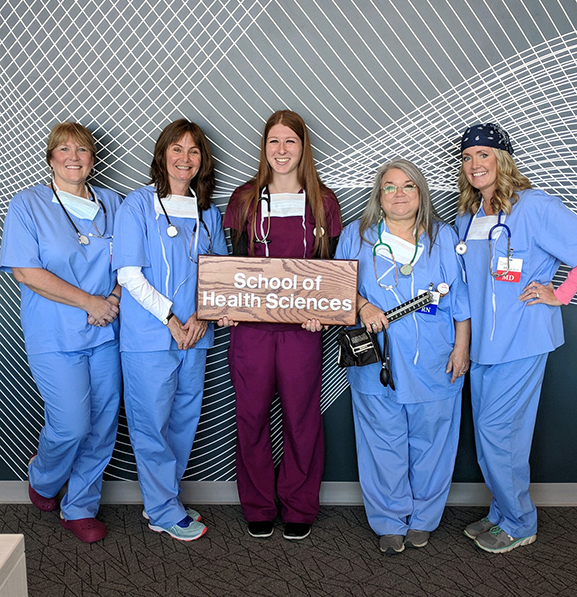 The School of Health Sciences celebrated Halloween!
From left, Brenda Sterling, professional services specialist; Nora Kennedy, senior clerk typist; Renee Cavezza, senior clerk typist; Sharon Fornuto, technical assistant; and Danielle Martin, program assistant.
---
Physical Therapy Program Students Get Hands-On Experience at AC Marathon
There was no better way for Stockton Physical Therapy program students to celebrate October being National Physical Therapy month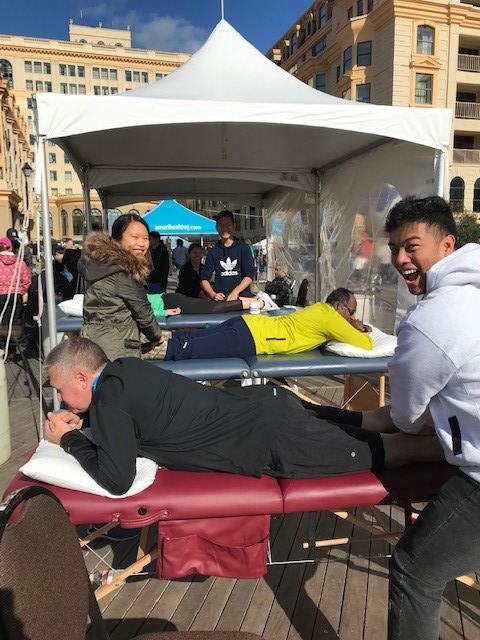 than by volunteering their time and skills at the AmeriHealth NJ Atlantic City Marathon and Half Marathon on Oct. 21.
Rob Marsico, assistant professor of Physical Therapy, coordinated the sign-ups and the equipment, and triaged more serious situations at the race tent.
"It was wonderful to watch our students in action! They were professional with interactions and used clinical decision-making skills to tailor stretching and massage to each runner. The feedback from community members was very positive and folks who had run the AC marathon before were delighted that we were included this year," said Patricia Quinn McGinnis, director and professor of Physical Therapy. "The students really enjoyed the opportunity to apply their skills and feel the knots and spasms of muscles that benefited from massage. They commented how different it was from practicing on their peers. It even turned out to be an interprofessional experience with students from podiatry also working the medical tent."
WHAT'S TRENDING #STOCKTONU
Former Osprey Solari Named Real Madrid Head Coach
Former Stockton University men's soccer player Santiago Solari was tabbed Oct. 29 as the new head coach of Real Madid, one of the most famous sports teams in the world. Solari played for Stockton for one season in 1994 before returning to Argentina where he later turned professional.
The exciting news garnered an array of local and national media attention. Some highlights include The Press of Atlantic City, CNN International and KYW News Radio.
Solari's update also trended high on Stockton's social media:
Facebook:#TransformationTuesday: Santiago Solari played for Stockton in 1994 scoring eight goals and making 15 assists for the Ospreys and was named New Jersey Athletic Association Rookie of the Year. Today is his first day as head coach for Real Madrid C.F. The lesson here is to shoot for your goals.
---
Halloween Social Trends at Stockton: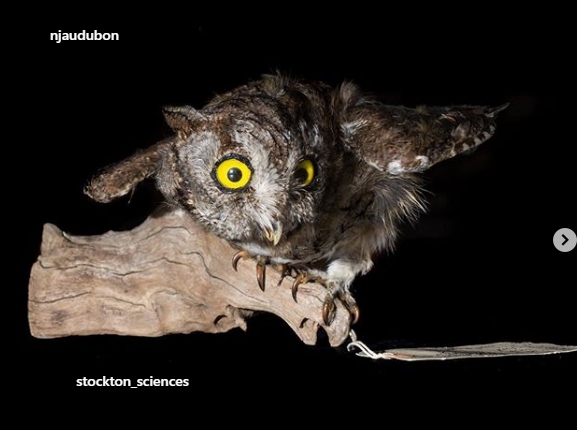 Instagram: Surprise! We're celebrating Owl-oween. This screech owl and great horned owl are part of the @stockton_sciences taxidermy collection, managed by John Rokita. The art of taxidermy allows the specimens to live on in the spirit of education allowing students to see and study the fine details that cannot be observed in the same way out in the field.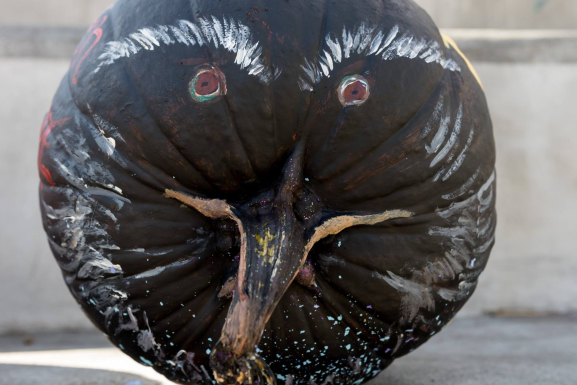 Facebook: Edgar Allan Poe's raven was spotted in pumpkin form. Check out a few Halloween scenes on campus.
OSPREY NOTES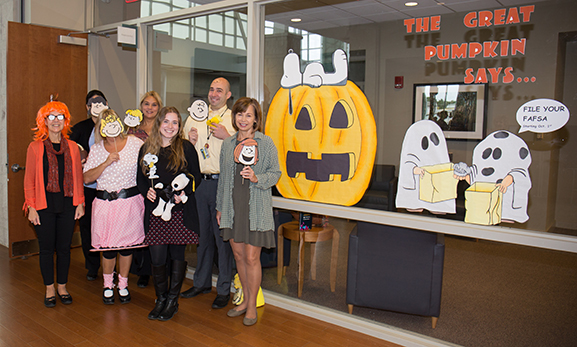 The Office of Financial Aid participated in NASFAA's (the National Association of Student Financial Aid Administrators) photo competition. Staff members dressed up as their favorite Charlie Brown characters to celebrate NASFAA's member appreciation, reminding students to file their FAFSA.
Do you have students who are looking for financial aid assistance? The Office of Financial Aid is hosting "FAFSA Fridays" every Friday now through Dec. 7 from 10 a.m. to 12:45 p.m. in front of the E Wing library to assist students with the financial aid process. Financial Aid is also hosting a financial literacy seminar, "Real Money: Banking and Budgeting," at 11:30 a.m. on Nov. 7 in Meeting Room 1 of the Campus Center.
---
Wishing Brian Jackson, chief operating officer at Stockton Atlantic City, and our friends (Michael Azeez, technology and real estate investor; Lloyd Levenson, chief executive officer, Cooper Levenson Attorneys at Law; Cookie Till '83, owner of Steve & Cookie's; and Jessica Kowal, chief development officer at Inspira Health Network) good luck this weekend at the Dancing Under the Stars fundraiser at the Hard Rock Hotel & Casino!
---
It's almost time to "fall back!" Daylight Saving Time ends at 2 a.m. Sunday, Nov. 4, which means you will need to turn your clocks back an hour before you go to bed Saturday night Nov. 3.
FROM THE SIDELINES
Five Ospreys Earn NJAC All-Conference Honors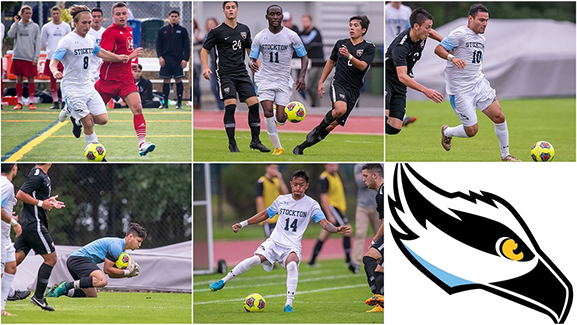 Five Stockton University men's soccer players were voted NJAC all-conference for the 2018 season, with four of them being first-time honorees.
UPCOMING EVENTS
Oct. 2-Nov. 29 – Unidos 2018 Fall Lecture Series
Sunday, Nov. 4 – Open House
Friday, Nov. 9 – Council of Black Faculty and Staff Awards Dinner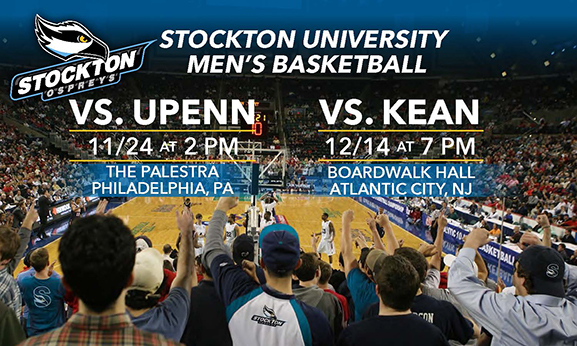 Mark your calendars: Don't miss an opportunity to come out and cheer on your Ospreys at 2 p.m. on Nov. 24 at The Palestra in Philadelphia, and at 7:30 p.m. on Dec. 14 at Boardwalk Hall in Atlantic City