Stockton News - Friday, Nov. 16, 2018

WHAT WE'RE TALKING ABOUT
Stockton and Cumberland County College Sign Transfer Agreement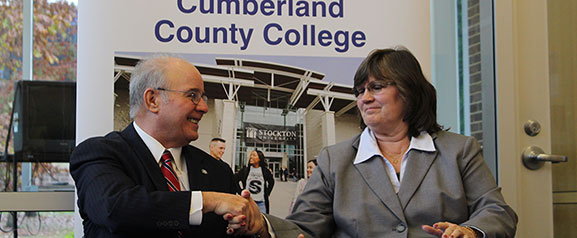 The presidents of Stockton University in Galloway Township and Cumberland County College in Vineland announced a new dual admission and transfer partnership on Nov. 13 that will help students make a smooth transition from the two-year college to Stockton's bachelor's degree program.
---
Council of Black Faculty and Staff Honors Eight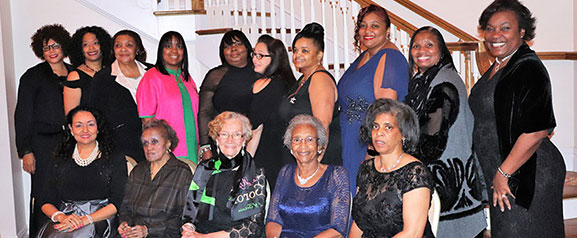 The Council of Black Faculty and Staff honored seven Stockton University faculty, staff and alumni, and a Stockton club at the 37th annual Council Awards Dinner & Dance Nov. 9 at The Carriage House.
---
Scholarship Recognition Chance to Say Thank you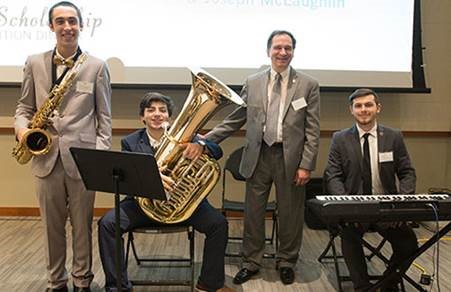 Guests at the annual Scholarship Recognition Dinner on Nov. 7 were greeted with music performed by Stockton University students Robert Fell, Sebastian Bonilla and Joseph McLaughlin.
---
Stockton Celebrates Week of Veterans Programs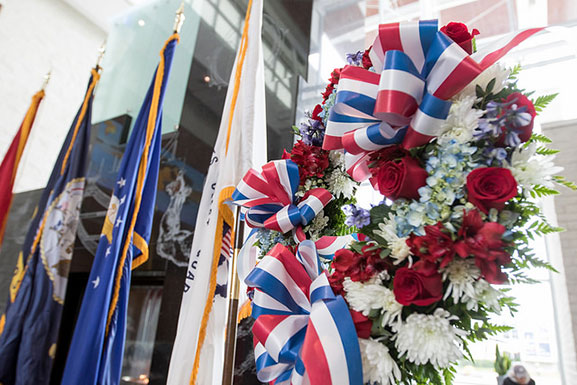 Stockton University honored its student veterans and all who have served at a ceremony in the Campus Center on Nov. 9. The event was part of a week of veteran-related activities.
STOCKTON UNIVERSITY ATLANTIC CITY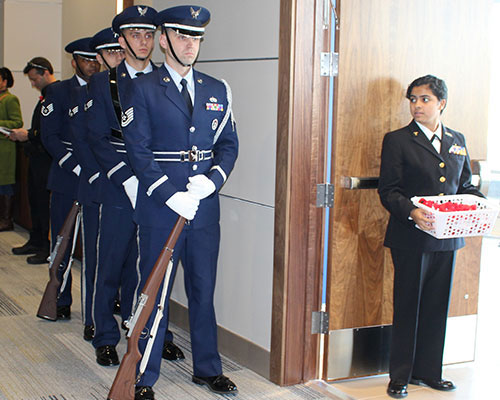 The 100th Anniversary of Armistice Day was celebrated with a ceremony at the Fannie Lou Hamer Event Room at Stockton University Atlantic City on Nov. 10.
Stockton University and Big Brothers and Big Sisters of Atlantic and Cape May Counties hosted a College and Career Day for participating families at Stockton Atlantic City on Nov.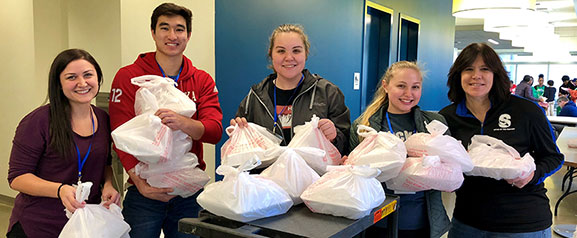 10.
Also on Nov.10, Stockton Atlantic City helped give back to the community (pictured below) by hosting Princess Inc.'s second annual "Thanksgiving to Go," an effort that helped feed 900 Atlantic City and Pleasantville residents. The Press of Atlantic City also featured the initiative.
SPOTLIGHT ON
Exchange Students, Professor share Global Perspectives during IEW Week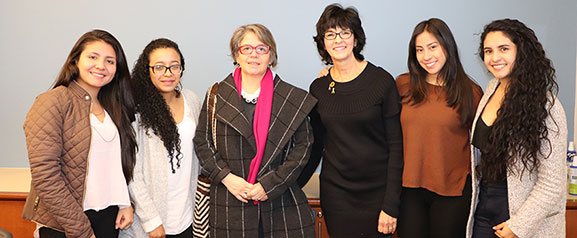 Four exchange students from the Universidad del Rosario in Colombia, and Victoria Schindler, professor of Occupational Therapy, had the opportunity to share their experiences here and abroad with fellow students and staff on Nov. 12 during Stockton's International Education Week.
Stockton's collaborative exchange relationship in Colombia began four years ago with Universidad del Rosario and also the Escuela Colombiana de Rehabilitacion, a second smaller university. Since Fall 2015, Stockton has hosted a group of four exchange students annually.
---
Wendt Named President of IVLA; Lee Receives Award at Conference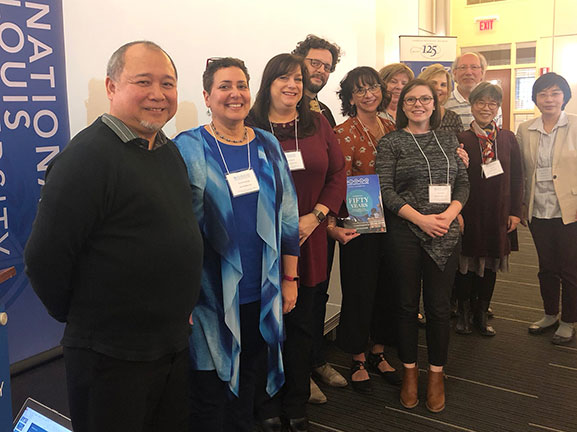 Michelle Wendt, technology integration faculty and adjunct faculty member, was named president of the International Visual Literacy Association (IVLA), at the 50th annual conference held Nov. 1-4 in Chicago. This year's theme was "Viewing the Past, Picturing the Present, Designing the Future" which brought together international scholars and researchers, teachers and students, artists, scientists and other professionals to National Louis University in Chicago to participate in an exciting exchange of ideas about visual literacy and how it has developed over the years and speculate on its future.
Wendt, entering her second year on the Board of the IVLA, will serve as president for the next two years. She is a former contributor to the IVLA Book of Selected Readings, alongside Amy Ackerman, associate professor of Instructional Technology, and Anne Pushkal. Frank Ceretto, professor of Mathematics, and Jung Lee, professor of Instructional Technology, have also served on the IVLA board for many years in a variety of distinctive positions, the latest including membership chair, Ceretto; and treasurer, Lee.
Participants explored this theme through keynote speakers and presentations including PechaKucha, workshops and other experiences. Ceretto, Lee and Priti Haria, associate professor of Education-Special Education, offered well-attended sessions. Lee was presented with the John L. Debes Award at this year's conference.
"I am grateful for the confidence the membership of IVLA has invested in me by inviting me to serve as their next President. I rely upon the strong guidance and ongoing support of my mentors from Stockton University and my esteemed predecessors in IVLA who continue to serve our association to meet the inspiring challenges of the next 50 years," Wendt said.
---
Chang's Kite XI Exhibit Displayed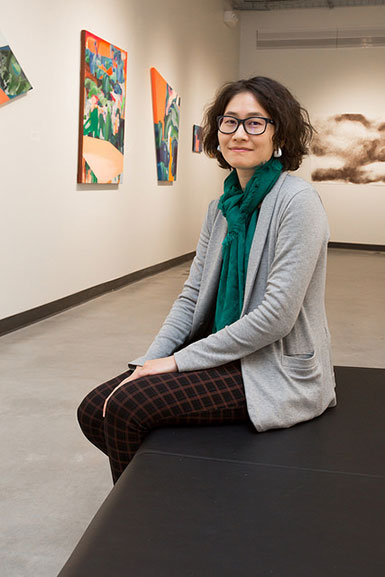 Kite XI featured 53 works ranging from paintings, works on paper, wall drawing installations and video, and marked the debut of Assistant Professor of Art Chun-Fan Chang's first solo exhibition at the Stockton University, and the 11th Kite Series solo exhibition since 2010. The exhibition, which ran Sept. 5-Nov. 14, highlighted 102 9x9-inch individual wall drawings created with the use of black, green, red and blue ball-point pens by the general public, Stockton community and Visual Arts majors/minors. The collaborative wall drawing piece demonstrated an experimental perspective of artistic process while allowing viewers to "read" each drawing abstractly and reflect to the core of the self and personal experience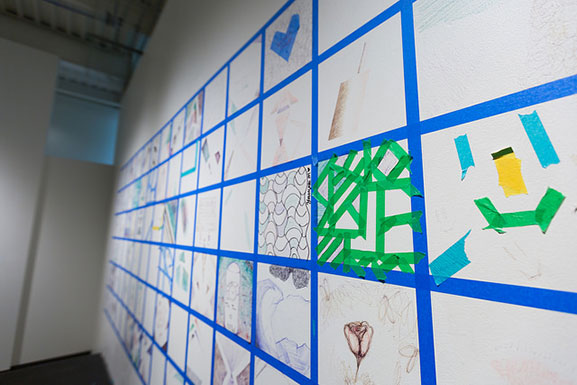 "Drawing is essential to a meditative state of mind and promotes self-awareness to pause and to think. I hope the exhibition challenges and inspires students and viewers to reimagine and make connections," Chang said.
Student Cynthia Manning said, "I never would've thought about it, but the sound of the pen gliding across the wall was very satisfying and even therapeutic to listen to. I feel like this also plays into the meaning behind my piece, as the sound of the pen on the wall was calming. When an individual feels as though the elements in his or her life are organized and have a sense of togetherness, it can give him or her a sense of calm."
---
Froonjian Listed as One of New Jersey's Top Pollsters
InsiderNJ, a nonpartisan political news website, has included John Froonjian, senior research associate of the William J. Hughes Center for Public Policy, on its list of New Jersey's top pollsters and academic pundits. Froonjian manages the Stockton Polling Institute for the Hughes Center. The list was part of InsiderNJ's "Insider 100: Power Publication" article.
"The Polling Institute has developed a track record of accuracy in New Jersey election polls, and our polls on policy issues help to inform the public on important issues like health care. Elected officials trust the results of the Polling Institute, making Stockton an important and prominent voice in public debates," said Michael W. Klein, interim executive director of the Hughes Center.
---
NJECC Sweepstakes Winner: Mary Hughes
Congratulations to Mary Hughes, director of Disbursement Services, for winning last week's Stockton New Jersey Employees Charitable Campaign (NJECC) sweepstakes. Hughes "made a wave" and is being rewarded a beautiful fall gift basket.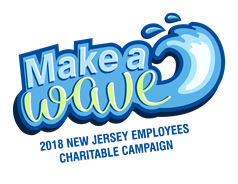 The statewide campaign runs through Dec. 31. Every week, all Stockton employees who have donated through the campaign will be put into a drawing for a sweepstakes prize.

If you plan to make a gift through payroll deduction, you can register and donate through the NJECC online giving portal or fill out a paper pledge form. If you plan to make a one-time donation, please fill out a paper pledge form. Email stocktonnjecc@stockton.edu or stop by Human Resources (J115) to request a paper pledge form.
FRAME-WORTHY
Meet the Juggling and Circus Arts Club at Stockton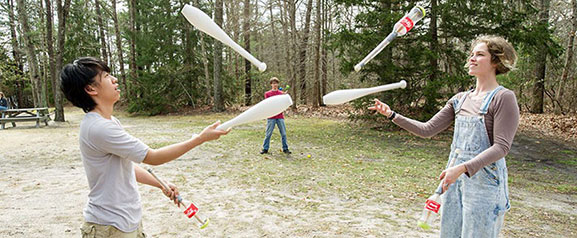 Come one, come all. Ospreys, the circus is in town! Stockton's Juggling and Circus Arts Club is a fun way to bring out all the unique talents students can share with one another.
WHAT'S TRENDING #STOCKTONU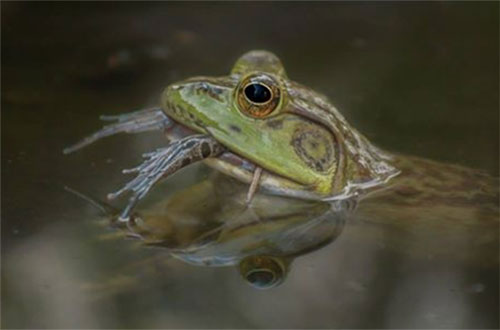 Facebook: #WildlifeWednesday: Gregory Fischer, who is studying Environmental Science and Geology, captured this encounter between a bullfrog and a leopard frog. The image was awarded honorable mention by Pinelands photographer Albert Horner and is on display through Dec. 7 in a restored 1932 barn as part of the Pinelands Preservation Alliance's Second Annual Pinelands Juried Photographic Exhibition.
OSPREY NOTES
FAFSA Fridays
Do you have students who are looking for financial aid assistance? The Office of Financial Aid is hosting "FAFSA Fridays" every Friday now through Dec. 7 from 10 a.m. to 12:45 p.m. in front of the E Wing library to assist students with the financial aid process.
---
A Note from Human Resources
Procedure 6154: Paid Time Off for Temporary and Student Employees was approved on Nov. 14. Two information sessions for managers, time keepers, superusers and supervisors will be held 10-11 a.m. on Monday, Nov. 26 in Meeting Room 5 of the Campus Center; and from 2-3 p.m. on Wednesday, Nov. 28 in West Quad 103. Register for a session. Two information sessions for TES and student employees will be held 3-4 p.m. on Monday, Nov. 26 in the Campus Center Theatre; and 9:30-10:30 a.m. on Thursday, Nov. 29 in the Campus Center Theatre. Register for a session. Learn more about the policy and what it means.
FROM THE SIDELINES
Stockton Wins ECAC Championship 2-1 in Overtime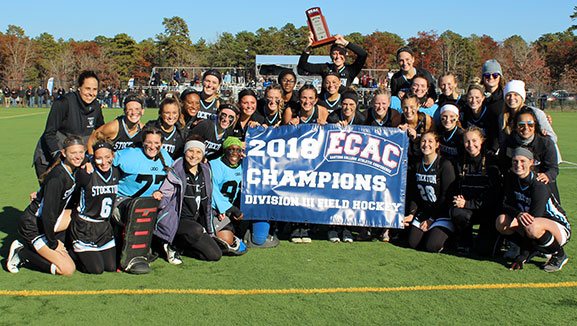 Stockton University (15-6) won their first postseason title in school history with a 2-1 overtime victory over Arcadia University (16-7) in the ECAC championship game on Nov. 11. Britney Stein scored the tournament-winning goal just 2:23 into the extra frame, giving the Ospreys their first ECAC title to cap a season in which they set a school record with 15 wins.
UPCOMING EVENTS
Tuesday, Nov. 27 & Wednesday, Nov. 28 – Annual Faculty/Staff Appreciation Day Sale is scheduled for Nov. 27 and 28 when faculty and staff enjoy 30 percent off regularly priced merchandise (excluding technology, clearance and frames) at Galloway and Atlantic City campus bookstores.
---
Now through- Thursday, Nov. 29 – Unidos 2018 Fall Lecture Series
---
Mark your calendars: Don't miss an opportunity to come out and cheer on your Ospreys at 2 p.m. on Nov. 24 at The Palestra in Philadelphia, and at 7:30 p.m. on Dec. 14 at Boardwalk Hall in Atlantic City!
---
The Office of the Secretary of Higher Education is hosting a Forum on College Access and Affordability on Monday, Nov. 19 and a Forum on Promoting Student Success in Higher Education on Tuesday, Nov. 20. Learn more.
---
Friday, Nov. 30 – Transfer Open House
---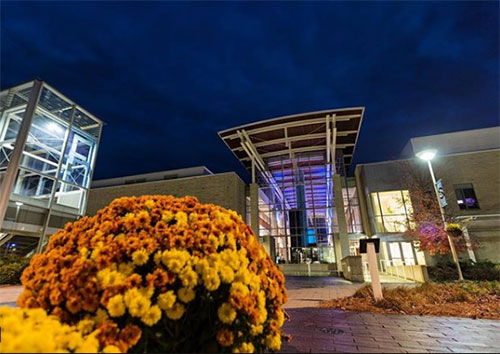 Stockton News will be taking a break for turkey next week, but will return Friday, Nov. 30, with a jam-packed issue.
We're always looking for stories to share. Send us your story ideas.
Happy Thanksgiving, Ospreys!