Stockton News - May 4, 2018

WHAT WE'RE TALKING ABOUT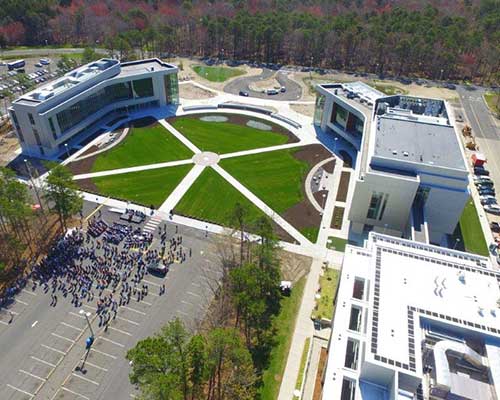 Stockton Dedicates New Academic Quad Expansion
More than 200 people attended the dedication and ribbon-cutting of the new Academic Quad expansion on May 2 (pictured right). President Harvey Kesselman called the event "an extraordinary moment in Stockton's history" and focused on the opportunities the buildings would offer students. The $48 million project adds almost 100,000 square feet of academic space in a new Health Sciences Center and second Unified Science Center.
Stockton University's 38th Annual Scholarship Benefit Gala
Over 700 people supported Stockton University's 38th Annual
Scholarship Gala
at Borgata Hotel Casino & Spa on April 28, which along with sponsorships and donations, raised more than $500,000 (pictured below). Net proceeds from the event support the Stockton University Foundation Benefit Gala Endowed Scholarship Fund, which provided more than $112,000 in scholarships to over 100 students last year.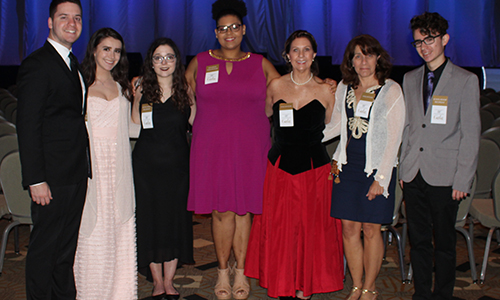 Trustees Recognize Student Achievements at Board Meeting
The many talents of Stockton students were the focal point of the Board of Trustees meeting on May 2 as the board recognized students for their academic talents, athletic prowess and personal character.
Stockton freshman Liam Rea, and his brother Sean, a senior at Brick Township High School, were recognized for helping save the life of a drowning teenager while on a spring break family vacation in Montego Bay, Jamaica.

Executive Director of Athletics Kevin McHugh presented senior athlete Jared Lewis with his NCAA championship ring, noting that Lewis is the most decorated student athlete in Stockton's history. See Lewis in action on this sizzle reel.

Eight students were recognized as recipients of the Board of Trustees Fellowships for Distinguished Student Awards for summer/fall 2018. They are: Aimee Balint, Tyler Black, James Langschultz, Anastasia (Nastya) Morozova, Dennis Pham, Shilo Preveti, Jamie Walters and Qudratullah Qadiri.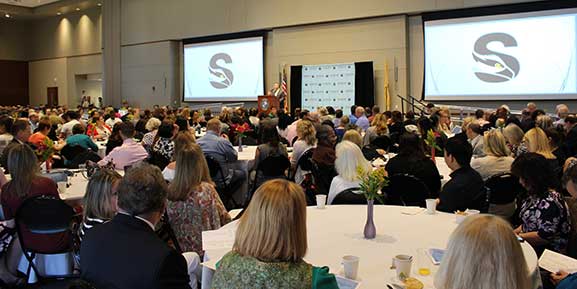 Employee Recognition Breakfast
Faculty and staff gathered for the annual Employee Recognition Breakfast on May 3 in the Campus Center Event Room (pictured right). The event featured a video where faculty and staff shared why Stockton is special, the people who Influenced them and why they love their job.
Looking for Commencement Stories!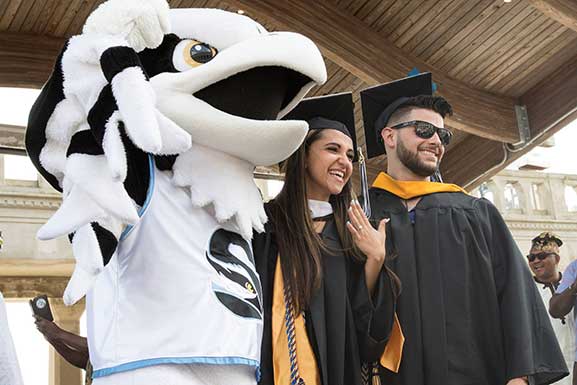 Stockton's Commencement ceremonies are next week and University Relations & Marketing is looking for your story ideas! Last year, we were able to capture a marriage proposal of two of our recent graduates after the ceremony at Boardwalk Hall (pictured left). We would to love capture more of these moments. If you know of a story idea that is happening at Commencement or have a great story to tell about a Class of 2018 graduate, email us to let us know.
AC UPDATE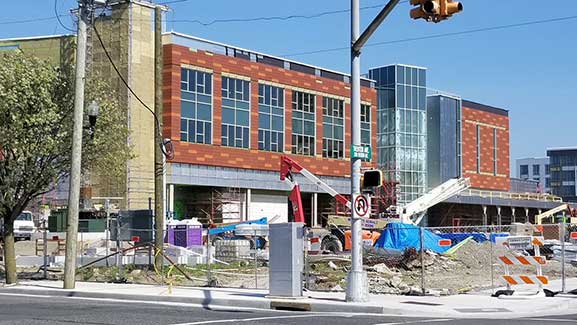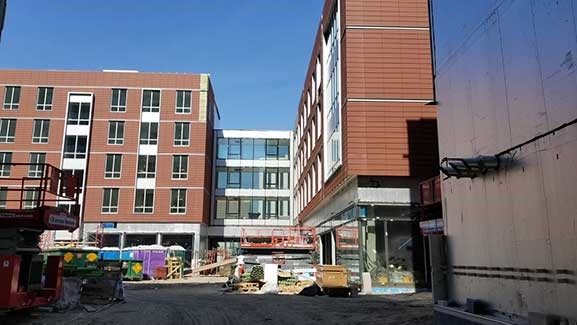 Stockton University's Atlantic City campus continues to take shape! These latest photos of the new academic building (left) and residential hall (right) were taken this week.
SPOTLIGHT ON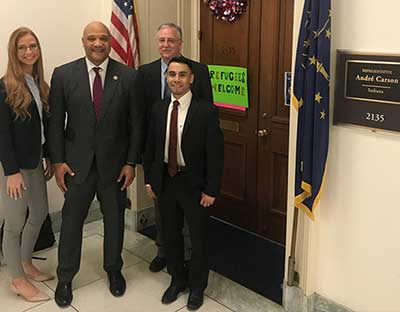 David Mariche-Banos '18, a Biochemistry/Molecular Biology major, met with U.S. Senators including Sen. Cory Booker (D-NJ) and Sen. Pat Toomey (R-PA) as well as members of the House of Representatives, including N.J. Congressman Frank LoBiondo (R-2nd) during the American Society of Biochemistry and Molecular Biology (ASBMB) Hill Day in Washington, D.C. from April 11-13.

"My participation as a representative at 2018 ASBMB Hill Day provided me with a setting to network with like-minded scientists and encouraged me to combine science with advocacy for funding in biomedical research," Mariche-Banos said.

During the trip, participants received a crash-course in advocating for science policy. "At the end of the day, advocating for science felt good, and my partner and I felt that the people we spoke with definitely understood our common causes for advancing experimental research," he said.

Mariche-Banos (pictured far right) was among 18 people chosen by the ASBMB nationwide to attend Hill Day.
FRAME-WORTHY
Military & Veterans Graduation Coining Ceremony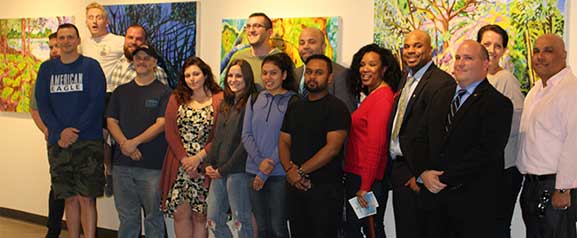 Graduating seniors with ties to the military were presented with special Stockton coins at a ceremony in the Art Gallery. Fifty seven seniors are eligible for the coin this year. The Student Veteran Organization also held a ceremony to dedicate and raise the SVO flag in the Arts and Sciences Circle May 1. The SVO flag will remain on display with the flags of other student organizations. View the Flickr photo gallery.

WHAT'S TRENDING #STOCKTONU
Flickr Photo Gallery: Photos from Stockton's annual Bring Your Child to Work Day on April 26 are now available.
ROLE CALL
Marissa Levy '00 has been appointed interim dean of the School of Social & Behavioral Sciences, effective July 1, 2018. Levy has been part of the Stockton faculty in Criminal Justice since 2004. As a faculty member, she has served in a variety of leadership roles including coordinator of the Criminal Justice program, chair of the Institutional Review Board, coordinator of the B.A./M.A. Dual Degree program, and interim director of the M.A. in Criminal Justice program. Her extensive service to Stockton includes serving on the Faculty Review Committee, the Academic Honesty Policy Board, and as the co-editor of Stockton's Middle States Self-Study. She is also a Stockton alumna, holding a B.A. in Criminal Justice from the University.

Abigail Williams '15 recently joined as a clerk typist in the School of Business. Williams previously worked as a TES in the Office of E-Learning and as a student worker in the Office of the Registrar. "I've truly enjoyed getting to work with and assist faculty and students in my positions here at Stockton," Williams said. "I knew that I wanted to work in a higher education setting ever since I first started here as a student worker. I'm thrilled to be part of the Stockton family."

Did You Know?
Stockton now offers University employees and all members of their households access to the Deer Oaks Employee Assistance Program (EAP), a free and confidential program that offers a wide variety of counseling, referral and consultation services. Did you know Stockton's EAP provides services and resources on relocation? Learn more.
UPCOMING EVENTS
Thursday, May 17 – Stockton Center on Successful Aging's (SCOSA) Annual Festival

Spring 2018 - Take a Jitney Shuttle Tour to Stockton's Atlantic City Campus
Learn more about living and learning at Stockton in Atlantic City. Mobile tours will all leave from the Stockton Campus Center. The short version tours will be about one hour. Longer tours, which include a walking tour, will take about two hours.

Tour Dates:
May 24 – 10 a.m. July 10 – 10 a.m.
June 5 – 11 a.m. July 17 – 3 p.m.
June 18 – 2 p.m. July 31 – 11 a.m.
For more information, contact Haley Baum or Brian Jackson.
Stockton News | View More News