Stockton News May 31, 2018

WHAT WE'RE TALKING ABOUT
Stockton Athletes Finish Strong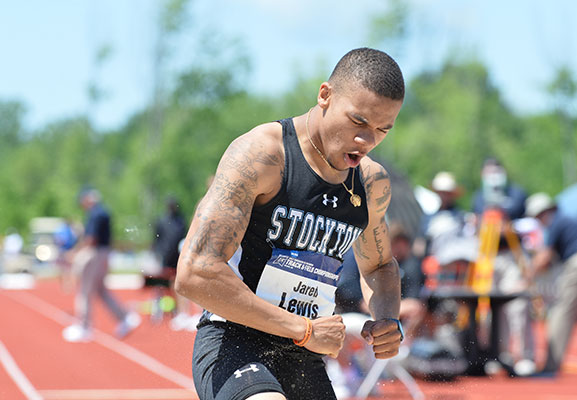 Jared Lewis ended his amazing career with his ninth All-American Honor. Kaitlyn Dermen earned All-American status for the first time with a fourth-place finish in the pole vault at the NCAA Championships in La Crosse, Wis.
State of the Arts and 'Hellenism Through the Ages'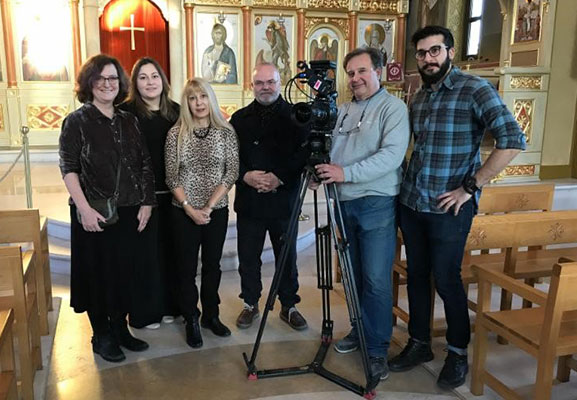 Stockton University and the New Jersey State Council of the Arts, in collaboration with PCK Media, co-produced a segment for State of the Arts, featuring renowned artist Georgios Kordis and his mural "Hellenism Through the Ages in Nature, Spirit and the Arts," currently on permanent display in the Constantelos Hellenic Collection and Reading Room at Stockton. The episode aired May 27 on WHYY on NJTV.
The mural is a representation of Distinguished Professor of History and Religious Studies, Emeritus Rev. Dr. Demetrios Constantelos' vision of the continuity and contribution of Hellenism from Antiquity to the present.
The segment features interviews with Tom Papademetriou, professor of History and executive director of the Interdisciplinary Center for Hellenic Studies, and Amy Papalexandrou, assistant professor of Art History.
In November 2017, Lisa Honaker, dean of the School of Arts & Humanities (ARHU), Nancy Messina, former assistant dean of ARHU, and Pantelia (Lia) Bairaktaris, associate director of the Office of Research and Sponsored Programs, traveled to Athens, Greece to capture and experience first-hand the raw essence of Kordis' inspirations. The first segment was filmed at Kordis' studio in Athens and a Greek Orthodox Church in neighboring Vouliagmeni. Later in March 2018, Susan Waller of PCK Media, filmed the final segment in the Constantelos Reading Room at Stockton.
AC UPDATE
Vice President for Administration and Finance Michael Angulo and Interim Director of Operations Atlantic City Campus Alex Marino led a tour of Stockton's Atlantic City campus on May 30 for representatives from the New Jersey Economic Development Authority (NJEDA), Atlantic County Improvement Authority (ACIA), Atlantic County Economic Alliance (ACEA), DEVCO and Jingoli.
---
Take a Jitney Shuttle Tour to Stockton's Atlantic City Campus
Learn more about living and learning at Stockton in Atlantic City. Mobile tours will all leave from the Campus Center. The following tours include a walking tour and take about two hours.
Tour Dates:

June 5 – 11 a.m. July 17 – 3 p.m.
June 18 – 2 p.m. July 31 – 11 a.m.
July 10 – 10 a.m.
For more information, contact Haley Baum or Brian Jackson.
SPOTLIGHT ON
Anchor Award for Education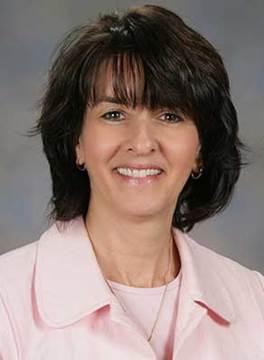 Victoria Schindler
, professor of Occupational Therapy, was recently honored by the Mental Health Association
(MHA)
in Atlantic County. She received the Anchor Award for Education at the Evening of Wellness Reception and Charity Auction at the Ram's Head Inn in Galloway on May 15.
Schindler said she was
thrilled and honored to receive the award from the Mental Health Association. She has collaborated with MHA on various initiatives since 2000.
"Our collaboration expanded from our students completing service learning groups to our students completing 12 week internships and to MHA hosting physical and occupational therapy students from Colombia, South America,"
Schindler explained.
"So, although MHA honored me with this award, I am also very honored to be a part of such a meaningful, beautiful organization. I am very grateful for this award, and I look forward to many future years of collaboration with MHA."
interdependent study each semester.
FRAME-WORTHY
Osprey's Eye View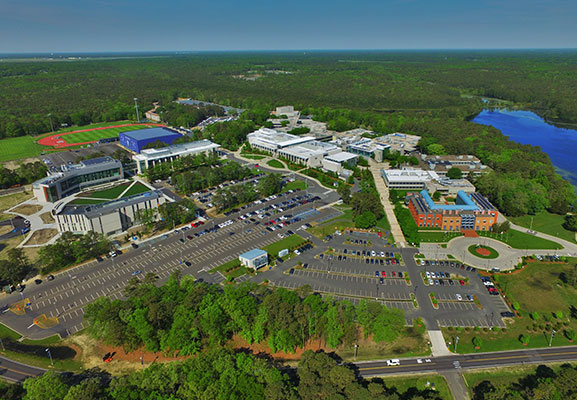 Latest drone photo of Stockton's main campus in Galloway, featuring the new academic quad expansion.
Behind The Scenes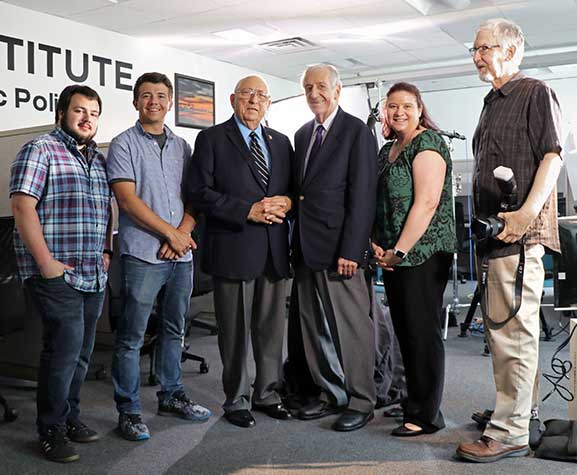 Ambassador William J. Hughes with his brother Dan and a film crew from Glasstown Productions were at the Stockton Polling Institute on May 30 conducting interviews for a documentary on Hughes' life.
WHAT'S TRENDING #STOCKTONU
Twitter: With 100 courses offered in Fall 2018, students can choose #StocktonAC as a one-stop destination for living, learning and earning. #LiveStocktonAC #97Days
Facebook: #TransformationTuesday: Stockton's community gardeners chose to get their hands dirty and the results are looking great.
Facebook: Stockton's Physics Club took a trip to Switzerland and France with Jason Shulman, associate professor of Physics, to tour CERN, the world's largest particle physics laboratory.
FROM THE SIDELINES
After competing as an independent this spring, the Stockton University men's lacrosse team will join the Colonial States Athletic Conference (CSAC) as an associate member effective July 1.
ROLE CALL
Stockton Welcomes New Staff Members
Angel Hernandez was named interim associate director of EOF-Atlantic City effective May 29. Hernandez, an EOF alumnus of The College of New Jersey, has more than a decade of experience working in student and academic affairs. He recently served as the assistant director of Housing Operations at Temple University. Previously, he served as the assistant director for the Office of Diversity and Academic Success in the Sciences at Rutgers University, where he also served as a coordinator of an academic student support program. Hernandez holds an Ed.D. in Educational Leadership from Rowan University, a M.Ed. in College Student Affairs from Rutgers University; and a B.A. in Sociology & Women's and Gender Studies from The College of New Jersey.
Kathleen Malloy joined as an assistant director of Advancement Services in the Office of Development & Alumni Affairs. She possesses eight years of experience in higher education public relations, counseling and financial aid student services. Malloy worked at Rowan College at Gloucester County (RCGC) in the Office of Financial Aid as an administrator serving on various committees. She received her Bachelor's and master's degrees from Rowan University. "Higher education access and affordability is a real concern for students and their families. I consider it a privilege to be part of Stockton University's Office of Development & Alumni Affairs."
---
Did You Know?
Stockton now offers University employees and all members of their households access to the Deer Oaks Employee Assistance Program(EAP), a free and confidential program that offers a wide variety of counseling, referral and consultation services. Did you know Stockton's EAP provides services and resources on relocation? Learn more.
CONSTRUCTION CORNER
Due to the expansion of 350-plus parking spaces in Lot 8, Delaware Avenue will be closed for three weeks. The Pomona Road Intramural Athletic Fields will still be accessible from Pomona Road.
UPCOMING EVENTS
Saturday, June 2 - 10th Annual GLJ Legacy Ride