Stockton News May 24, 2018

WHAT WE'RE TALKING ABOUT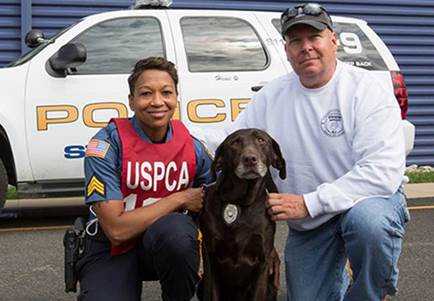 K9 Dogs Sniff Their Way to National Titles at Stockton
Officers and their canine partners from Stockton University, the Passaic County Sheriff's Office and the Chester County Pa. Sheriff's Office sniffed their way to the top at the 2018 United States Police Canine Association National Detector Dog Trials held at Stockton University on May 20-23. Stockton's very own Sgt. Tracy Stuart and her partner Hemi, were named the 2018 National Explosives Detection Team Champions. Stuart and Hemi also placed first in package searches and fourth place in room searches, and Stuart took third place in the team award.
Stockton Shares Service-Learning Opportunities with Community Partners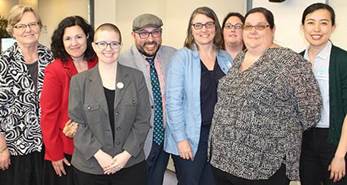 Stockton faculty, staff and community members shared how they can benefit from service-learning opportunities at the inaugural Service-Learning Symposium held on May 16 at the Townsend Residential Life Center.
2018 Women in Academia Conference
Stockton hosted its 5th annual Women in Academia Conference featuring award-winning independent documentary filmmaker and video installation artist, Roxana Walker-Canton, on May 22 in the Campus Center. The conference featured a panel discussion, a networking lunch and sessions like finding balance in work and life, developing your role as an ally, facilitating faculty safety, gender bias, yoga, meditation, mentorship and faculty of color recruitment and retention.

Dare to Dream
Stockton's Learning Access Program coordinated with the N.J. Office of Special Education and Professional Development to host the Dare to Dream Student Leadership Conferenceon May 14. The conference highlights information, strategies and key practices to prepare high school students with disabilities for college, employment and career. This year'sevent featured stories of leadership and a variety of workshops on self-discovery, learning styles and developing career paths. Stockton alumni Donald Campbell, director of Atlantic Center for Independent Living, and Marissa Douglas of the Atlantic Center for Independent Living, also attended the event.
AC UPDATE
Take a Jitney Shuttle Tour to Stockton's Atlantic City Campus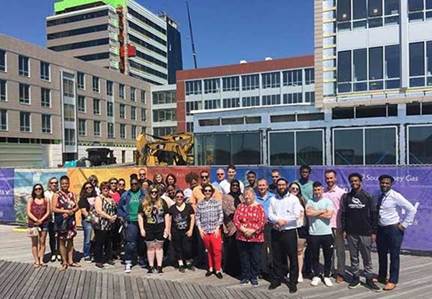 O
n May 24, Chief Operating Officer, Atlantic City Campus
Brian Jackson
and Assistant Dean of Students, Atlantic City
Haley Baum
led their largest collaborative Atlantic City tour to date.
Want to l

earn more about living and learning at Stockton in Atlantic City? Mobile tours will all leave from the Campus Center. The following tours include a walking tour and take about two hours.
Tour Dates:

June 5 – 11 a.m. July 17 – 3 p.m.
June 18 – 2 p.m. July 31 – 11 a.m.
July 10 – 10 a.m.
For more information, contact Haley Baum or Brian Jackson.
The Final Countdown
Starting this Monday, May 28, we are counting down 100 days until the first day of classes at Stockton University Atlantic City. Search #StocktonAC on our social media channels.
SPOTLIGHT ON
Textual Scholarship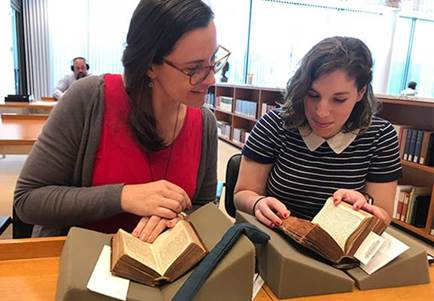 As part of their Textual Scholarship course, students Jenna Geisinger and Shilo Previti traveled to the Beinecke Rare Book Library and Louis Walpole Library at Yale University this month with Aleksondra Hultquist, visiting assistant professor of Writing & First-Year Studies. While there, they saw a first edition of Aphra Behn's Letters Between a Nobleman and his Sister and learned how to conduct card catalogue research.

"Our trip to the rare book library made our research tangible. We held a first edition copy, a small tattered book that had clearly been reprinted and rebound with unevenly cut pages like a scandalous story read in secret," Geisinger said.

"We read the trial that had been through several print runs, and the printed copy of Ford Lord Grey of Werke's confession of the Rye House Plot and pleading letter to King James II after Monmouth's Rebellion," Geisinger said. "It felt like the perfect end to the semester. We lived with the story for so long, it was nice closure."
They also hiked to Judge's Cave and spent time at the Yale Center for British Art. Hultquist teaches Textual Scholarship as an interdependent study each semester.
FRAME-WORTHY
SCOSA Festival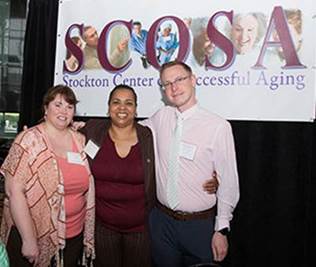 Stockton Center on Successful Aging hosted its annual Successful Aging Festival on May 17. This year's theme was "Engage at Every Age," with special focus on educational, wellness, social and civic engagement. The festival held a variety of sessions related to SCOSA's mission to "Nurture Body, Mind and Spirit through Research, Education and Service."
Stockton Colleagues Surprise Associate Dean of Students With Honorary Quilt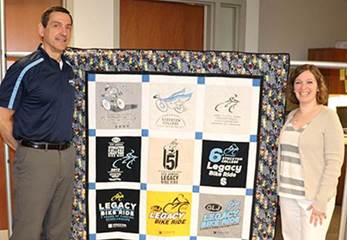 As a special tribute for his hard work on the 10th annual G. Larry James Legacy Fund Bike Ride, Jennifer Radwanski, director of new student and family programs, stunned ride organizer Craig Stambaugh, associate dean of students, with a quilt made using T-shirts from the nine previous rides, bordered in a pattern of bike riders. Dean of Students Pedro Santana said the quilt is a perfect tribute to both James and Stambuagh's work in keeping Larry's memory alive and also helping students.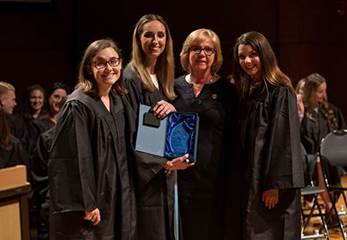 Nursing Pinning Ceremony
The School of Health Sciences hosted its Bachelor of Science in Nursing Pinning Ceremony on May 10 for its 30 students representing the class of 2018. Followed by the pinning of graduates was the lighting of candles and the Nightingale Pledge. A few graduates also received awards for their achievements. Shannon Pilsbury was awarded the Academic Achievement Award for Nursing, Krystyn DiLuigi received The Leadership Award for Nursing, and Charles Elsea was awarded the Dr. Mary Ellen Florence Professionalism Award.
WHAT'S TRENDING #STOCKTONU
Instagram: Let's give a high five to Hemi and Sgt. Tracy Stuart. Together they competed in explosives detection during the USPCA National Detector Dog Trials at #StocktonU.

Facebook: Salman Rafat chooses to serve. After six years of military service in the U.S. Army, he chose Stockton to study Health Science, so he can continue helping others.
FROM THE SIDELINES
Lacrosse Teams Capture ECAC Championship Titles
Juniors Gaby Ojeda and Tamara Torales were selected to the All-ECAC Second Team in women's lacrosse. Ojeda and Torales each received their second postseason honor of the year. The pair was voted to the NJAC First Team last month.
Softball Teammates Recognized by National Fastpitch Coaches Association
Softball teammates Meg Murzello and Alexandra Cosenzo were recognized with all-region honors by the National Fastpitch Coaches Association. Murzello was voted to the NFCA East Region First Team while Cosenzo received her second straight NFCA East Region Third Team accolade.
ROLE CALL
Did You Know?
Stockton now offers University employees and all members of their households access to the Deer Oaks Employee Assistance Program(EAP), a free and confidential program that offers a wide variety of counseling, referral and consultation services. Did you know Stockton's EAP provides services and resources on relocation? Learn more.
PUBLIC SAFETY CORNER
Fire Up the Grill Safely This Summer
If you plan to barbecue this Memorial Day or anytime this summer, keep yourself, children, pets and property safe.

The U.S. Fire Administration (USFA) recommends the following tips for preventing burns and controlling the flames while you grill outside:
Only use your grill outside. Keep it away from siding and deck rails.
Wear short sleeves or roll them up when cooking on the grill.
Open your gas grill before lighting.
Use long-handled barbecue tools.
Keep a three-foot safe zone around grills, fire pits, and campfires. This will help keep kids and pets safe.
Never leave your grill, fire pit, or patio torches unattended.
Clean your grill after each use. This will remove grease that can start a fire.
Place the coals on your grill in a metal can with a lid once they have cooled.
For more information on first aid for burns or fire prevention during the summer months, visit the USFA Summer Fire Safety page.
UPCOMING EVENTS
Saturday, June 2 - 10th Annual GLJ Legacy Ride